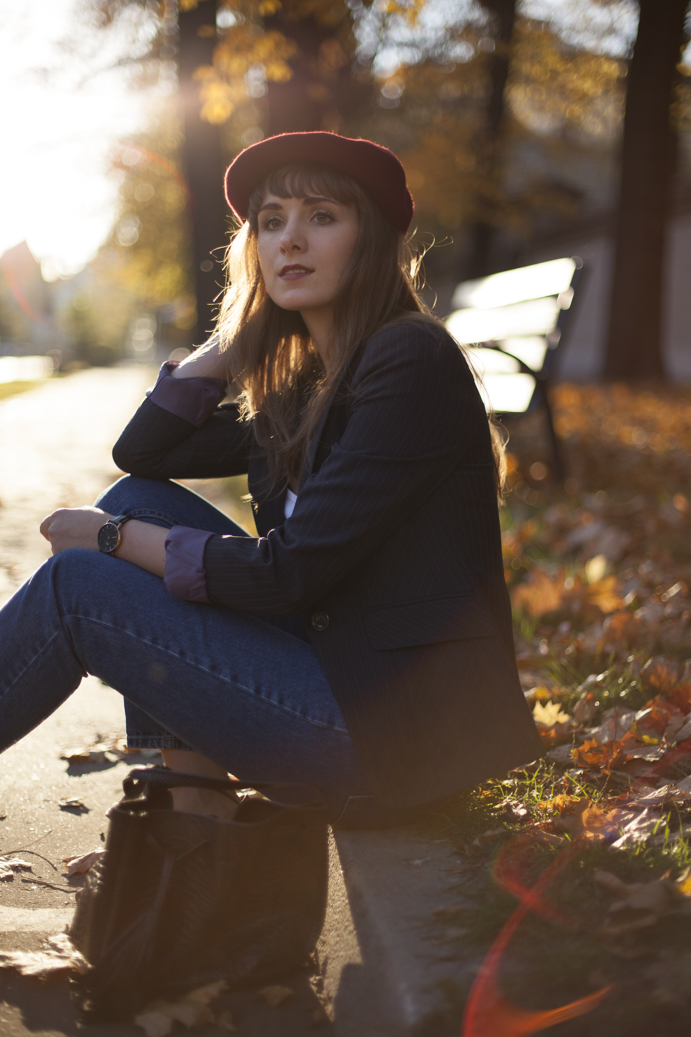 Mój ostatni wpis był napełniony smutkiem. Każdy z nas ma w życiu takie momenty, kiedy coś idzie nie tak. Ważne jest jednak to, jak zareagujesz i co zrobisz z tym, co dostajesz od losu.
Podziel się z innymi
To, że opisałam, jak się czuję, bardzo mi pomogło. Spojrzałam na sprawę z dystansem. Podzielenie się tym z innymi odjęło mi ciężar z serca. Otrzymałam wiele cudownych wiadomości i wsparcie od innych, jakiego się nawet nie spodziewałam. Okazało się, że wokół mnie są osoby, które chętnie mi pomagają, wesprą w ciężkiej sytuacji. Dostałam więcej, niż oczekiwałam. To pokazało mi, że należy dzielić się swoimi odczuciami z innymi. Samo to, że ktoś Cię wysłucha, już będzie lekarstwem. Zobaczysz, że wiele jest wokół życzliwych, chętnych do niesienia pomocy ludzi. Wiem, że może to być trudne, czasem jednak trzeba wyjść ze swojego wewnętrznego świata do innych.
Nie zdawałam sobie sprawy, że mogę tak szybko wrócić do poprzedniego stanu. A nawet czuć się o wiele lepiej i to w tak krótkim czasie. Takie kryzysy są ważne, bo ustawiają na powrót priorytety naszym życiu. I czynią Cię o wiele silniejszą, niż mogłaś przypuszczać. Nawet krótki okres spędzony z ukochaną osobą, jak również odcięcie się od wszystkich negatywnych myśli i sytuacji sprawiło, że stałam się bardziej radosna, pewna siebie, niezależna i bardziej odporna.
Zrobiłam w życiu bilans i porządek. Zapomniałam to, co było złe, by skupić się jedynie na wszystkich pozytywnych ludziach i rzeczach, które mnie otaczają, uczą i zachwycają.
Polecam to także i Tobie. Zostaw za sobą wszystko, co Ci ciąży. Są rzeczy, których po prostu nie zmienisz. Skup się na tym, co sprawia, że stajesz się piękniejszym człowiekiem. Nie czekaj na cud, sama bądź cudem dla innych.
Moja wiosenne propozycja
Wraz z budzącą się wiosną mam dla Ciebie lekką propozycję. Dżinsy, biały top i żakiet w drobne prążki dopełnione delikatną biżuterią i niezwykle dziewczęcym beretem.
Życzę Ci pełnej spokoju i jasności wiosny.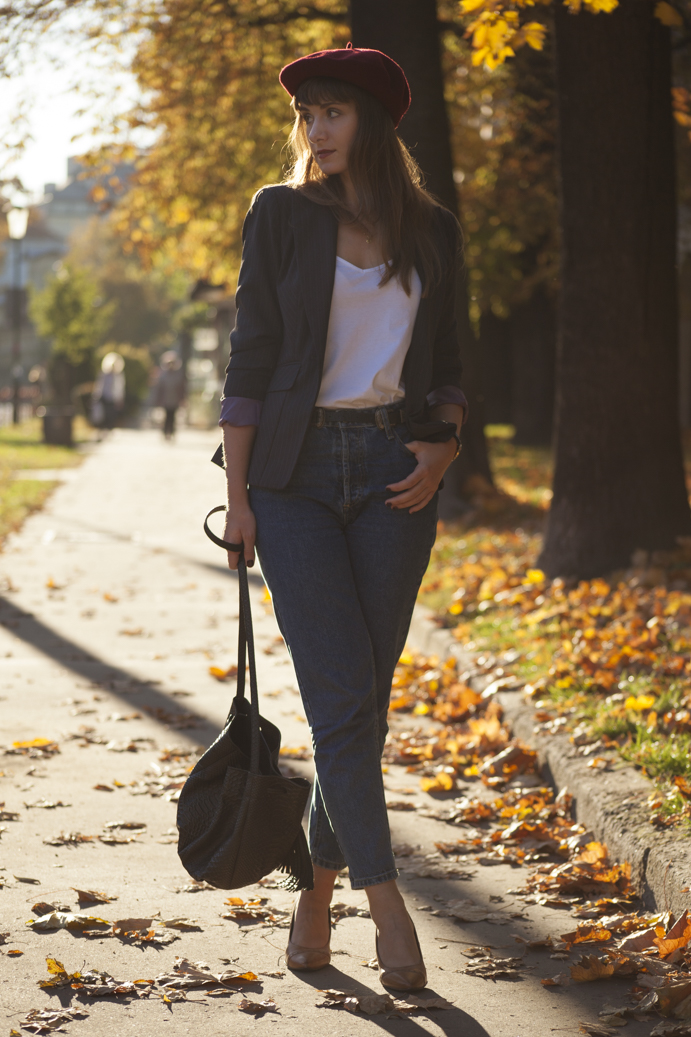 ---
Spring cleaning
My last post was filled with sadness. Each of us has moments in life when something goes wrong. The important thing is how you react and what you do with what you get from life.
Share with others
The fact that I described how I feel helped me a lot. I looked at everything with a kind of detachment. Sharing this with others took away the burden of my heart. I received many wonderful messages and support from others, which I did not even expect. It turned out that around me there are a lot of people willing to help me and support in a difficult situation. I got more than I expected. This shows that you should share your feelings with others more. The very fact that someone will listen to you will be a cure. You will see that there are many friendly people willing to help. I know it can be difficult, but sometimes you have to get out of your inner world to others.
I did not realize that I could go back to my former condition so quickly. And even feel a lot better in such a short time. Such crises are important because they set the priorities of our lives back. And they make you much stronger than you could have imagined. Even a short period spent with my beloved person, as well as isolation from all negative thoughts and situations, made me more cheerful, confident, independent and more resistant.
I made balance and order in my life. I forgot what was wrong to focus only on all the positive people and things that surround me, teach and delight me.
I also recommend it to you. Leave behind you everything that is uncomfortable for you. There are things you just can not change. Focus on what makes you become a more beautiful person. Do not wait for a miracle, be a miracle for someone else.
My spring outfit
Along with the spring awakening, I have a light outfit for you. Jeans, white top, and jacket with light stripes complemented with delicate jewelry and an extremely girlish beret.
I wish you complete peace and brightness of spring.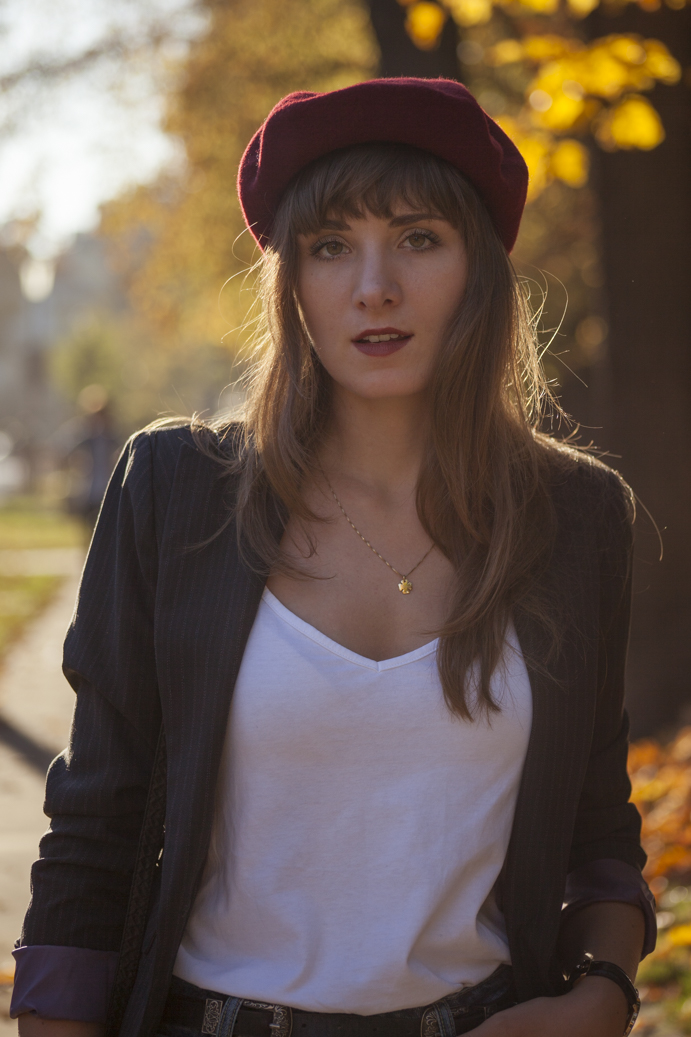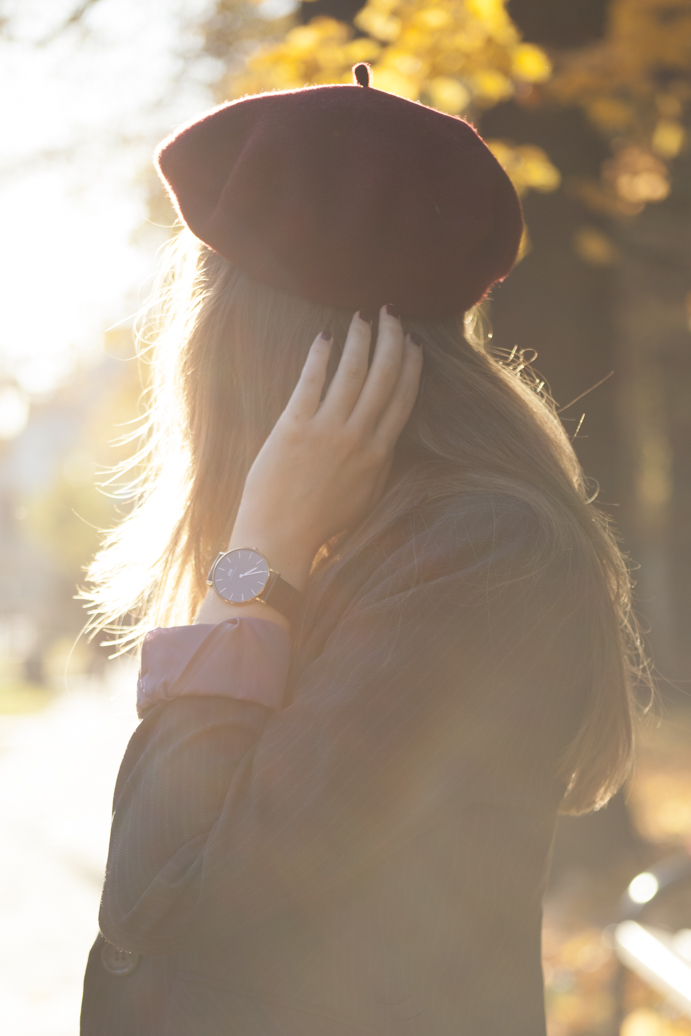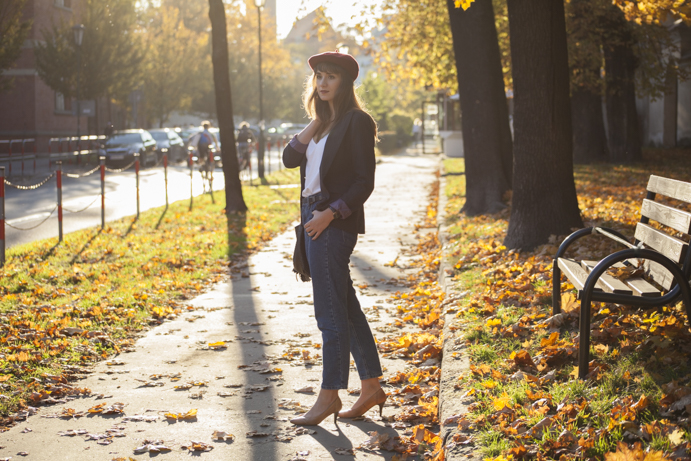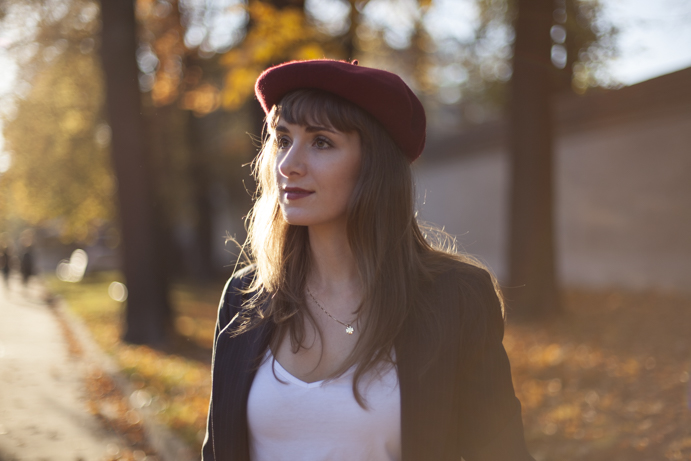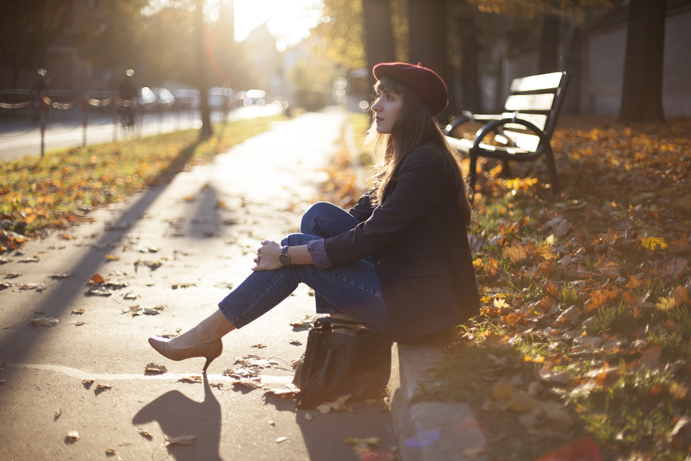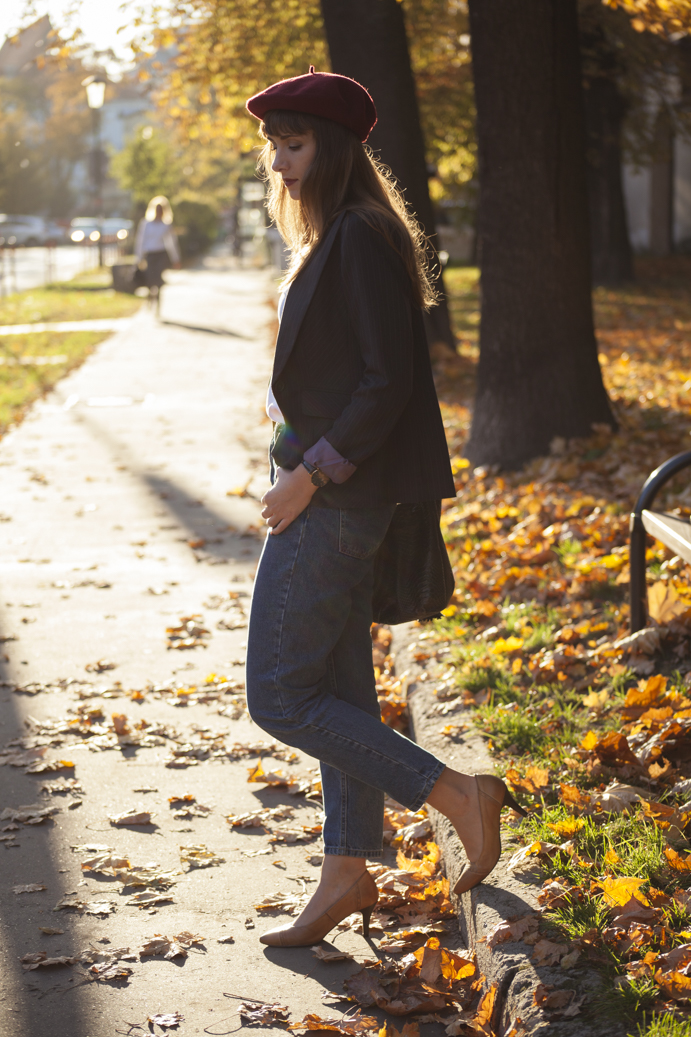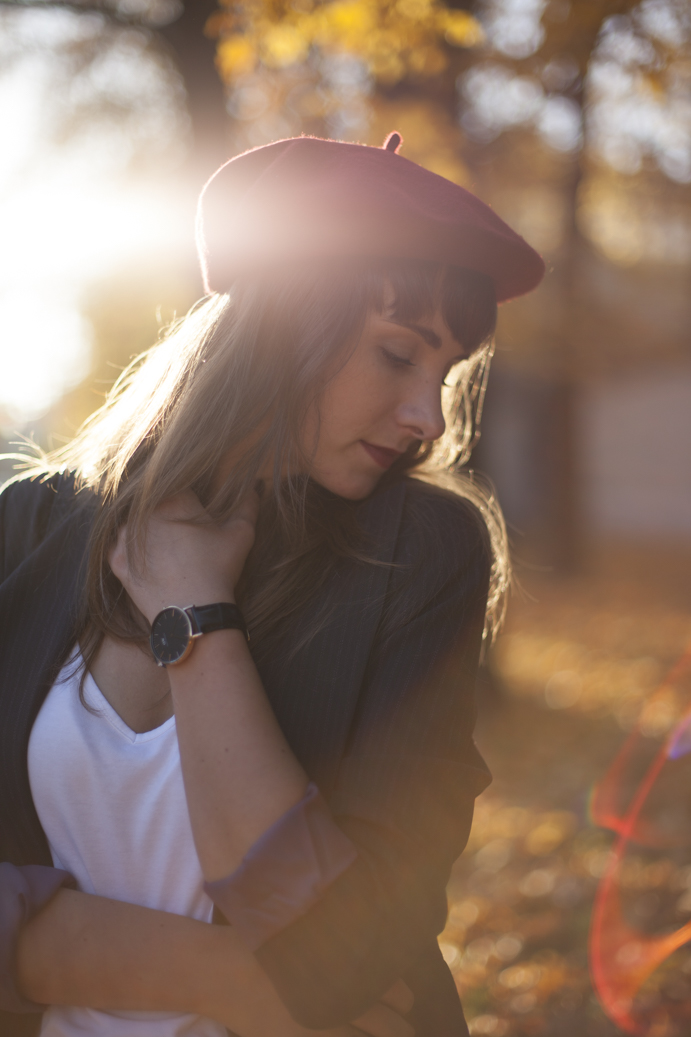 Spodnie i pasek Stradivarius | Top Asos | Zegarek Daniel Wellington | Torebka Zofia Chylak | Buty Lasocki | Żaket SH
Stradivarius | Top Asos | Watch Daniel Wellington | Bag Zofia Chylak | Shoes Lasocki | Vest SH