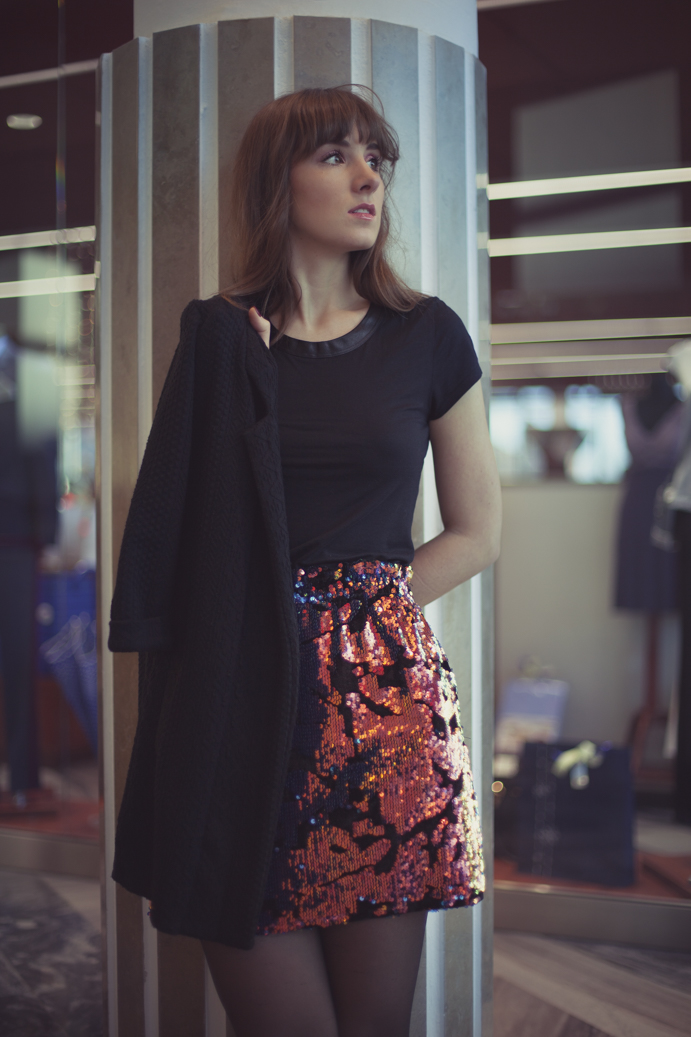 Sylwester już za kilka chwil. Masz już swoją kreację ? Ja w ostatnich latach wybierałam stonowane stroje w ciemnych odcieniach – głównie były to czarne sukienki. Jednak mam głębokie i wyraźne poczucie, że Nowy Rok będzie wyjątkowy. Muszę go więc odpowiednio przywitać, a przy okazji pożegnać stary rok, który również był dla mnie bardzo dobry.
Jedyny taki wieczór
W tym roku, po raz pierwszy w życiu, spędzę tę noc z tylko jedną osobą. Zazwyczaj Sylwestra świętuję w dużym gronie znajomych, bawiąc się całą noc, do upadłego. Teraz, jako, że z Eloi nie widzieliśmy się zbyt często, postanowiliśmy, że to będzie chwila tylko dla nas. Wspólnie przygotujemy uroczystą kolację, będziemy tańczyć, wypijemy szampana, zastanowimy się, jak będzie wyglądało nasze kolejne 12 miesięcy…
To, że będziemy tylko we dwoje nie oznacza wcale, że spędzimy ten wieczór w dżinsach! Taka okazja wymaga odpowiedniej oprawy.
Magia cekinów
Wybrałam proste zestawienie, w którym główne skrzypce gra kolor. I to jaki! Głęboki, mieniący się milionem barw. Ta spódnica z cekinami pięknie odbija światło i rozświetla cała sylwetkę.
Raz w roku pozwalam sobie na takie cekinowe szaleństwo.
By stonowac całość, dodałam czarny t-shirt i długi żakiet, zakrywający większą część spódnicy – dodaje to równowagi i klasy. Jako, że spódnica sama w sobie jest mocnym elementem, zrezygnowałam z dodatków i biżuterii.
Bądź szczęśliwa
Chcę życzyć Ci dużo odwagi w Nowym Roku. Byś mogła sięgać po wszystkie swoje marzenia. Nie przejmuj się, że coś Ci kiedyś nie wyszło. Postaw grubą kreskę i zaczynaj od nowa – masz możliwości i siłę by zdobyć wszystko, czego pragniesz!
---
New Year's Eve starts in a few moments. Do you already have your party outfit? In the past years, I have chosen subdued outfits in dark shades – mainly black dresses. However, I have a deep and clear impression that the New Year will be very special for me. So I must welcome it properly, and by the way, say goodbye to the old year, which was also very good for me.
The special evening
This year, for the first time in my life, I will spend this night with only one person. Usually, I celebrate a New Year's Eve with a large group of friends, playing all night long, until I drop. As we didn't see each other too often, we decided that it would be a moment only for us. Together, we will prepare a dinner, dance, drink champagne, we will dream about how our next 12 months will look like …
The fact that we will only be together does not mean that we will spend this evening in jeans! Such an opportunity requires appropriate clothing.
The magic of sequins
I chose a simple statement in which the main violin is played by the color. But what a color! Deep, sparkling with millions of tones. This skirt beautifully reflects the light and illuminates the entire figure.
Once a year I allow myself for such a sequential madness.
In order to tone up the whole, I added a black t-shirt and a long jacket covering most of the skirt – it adds balance and class. As a skirt is a big statement piece, I resigned also from any accessories and jewelry.
Joy to your life!
I want to wish you a lot of courage in the New Year. So that you can reach for all your dreams. Do not worry that something went wrong. Set a thick line and start again – you have the potential and strength to get everything you want!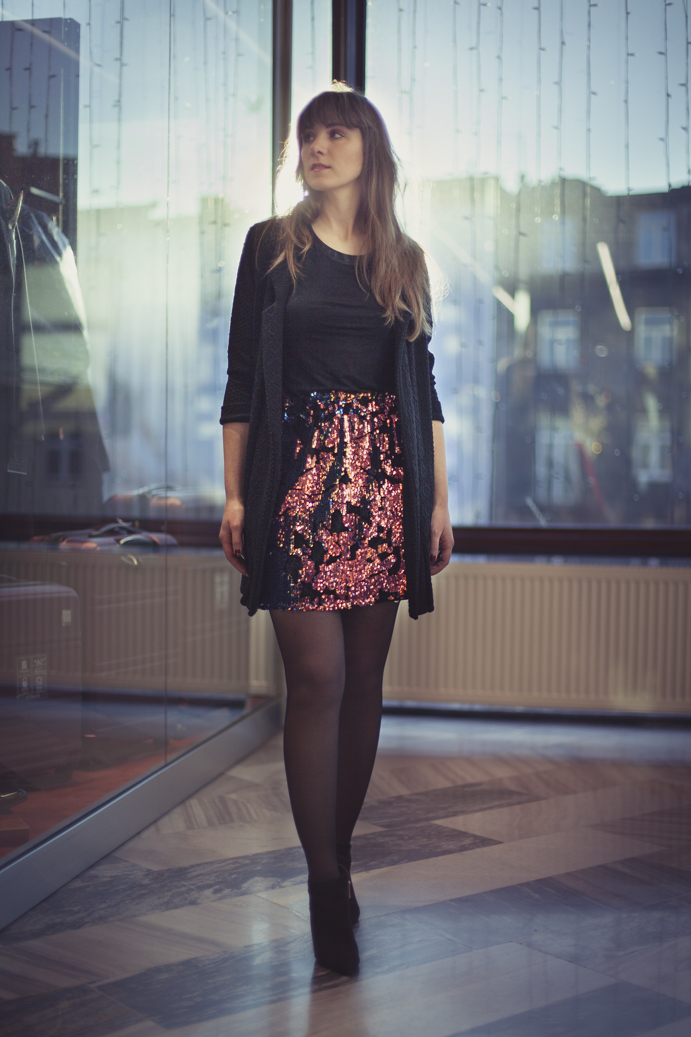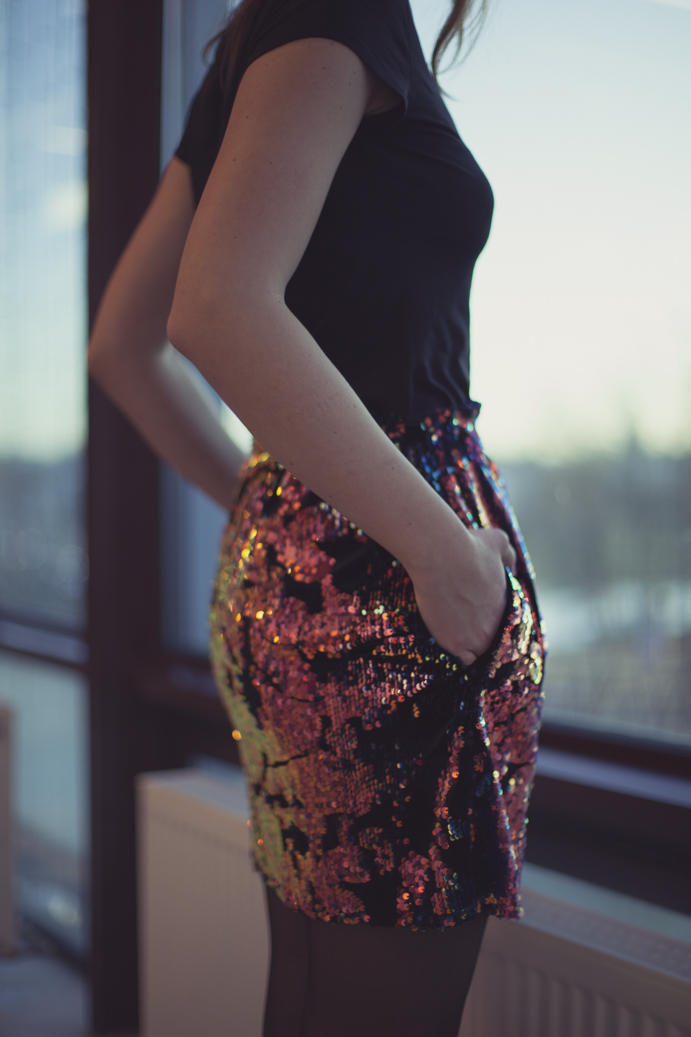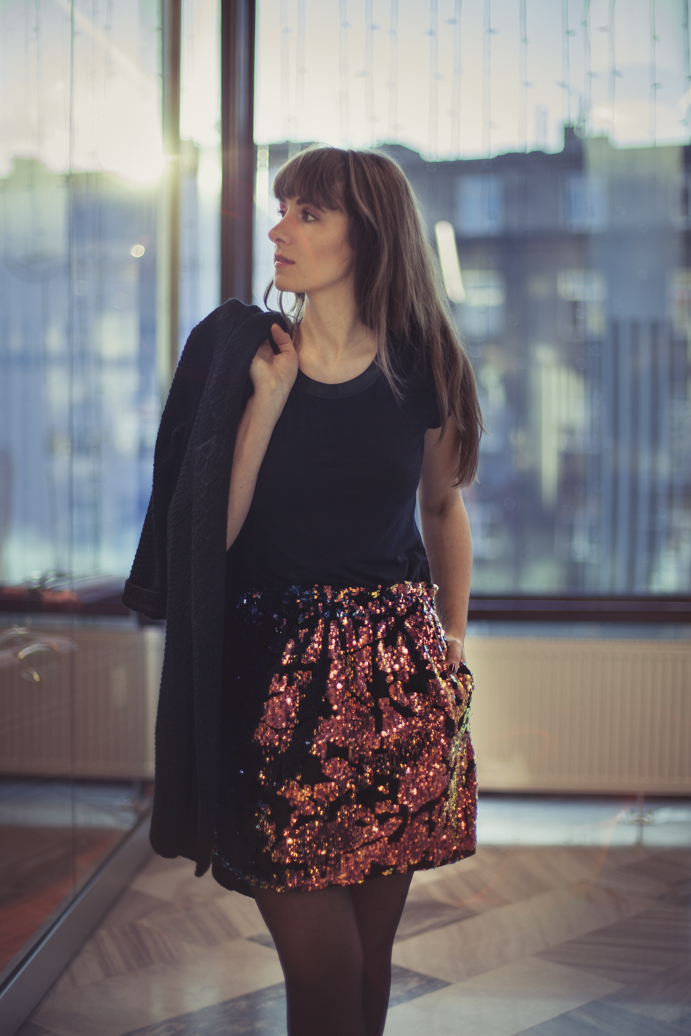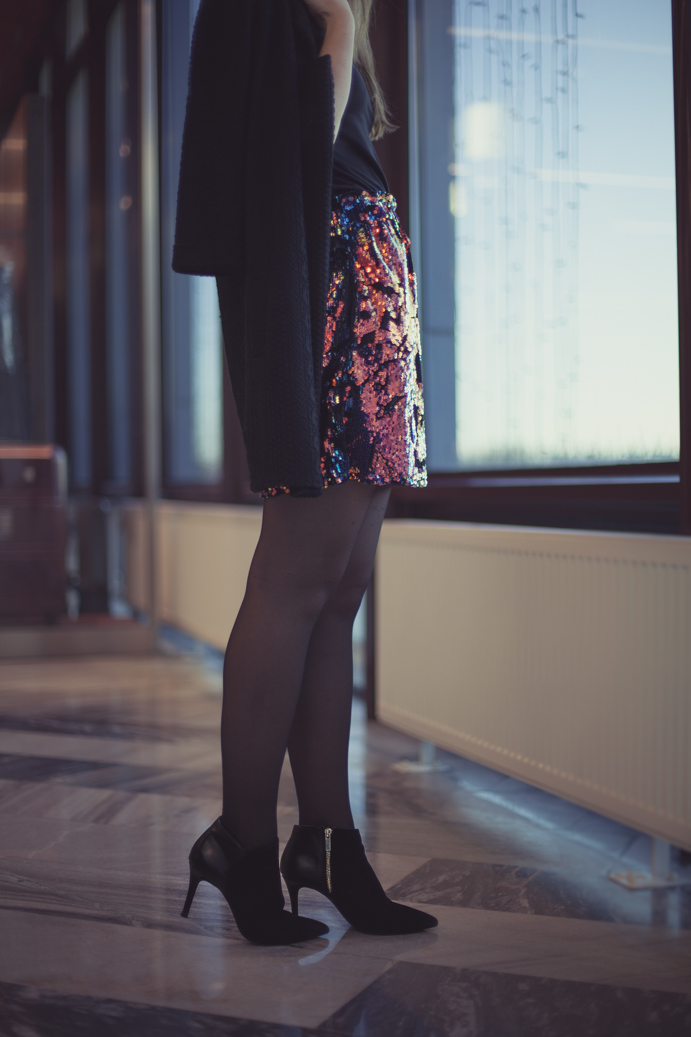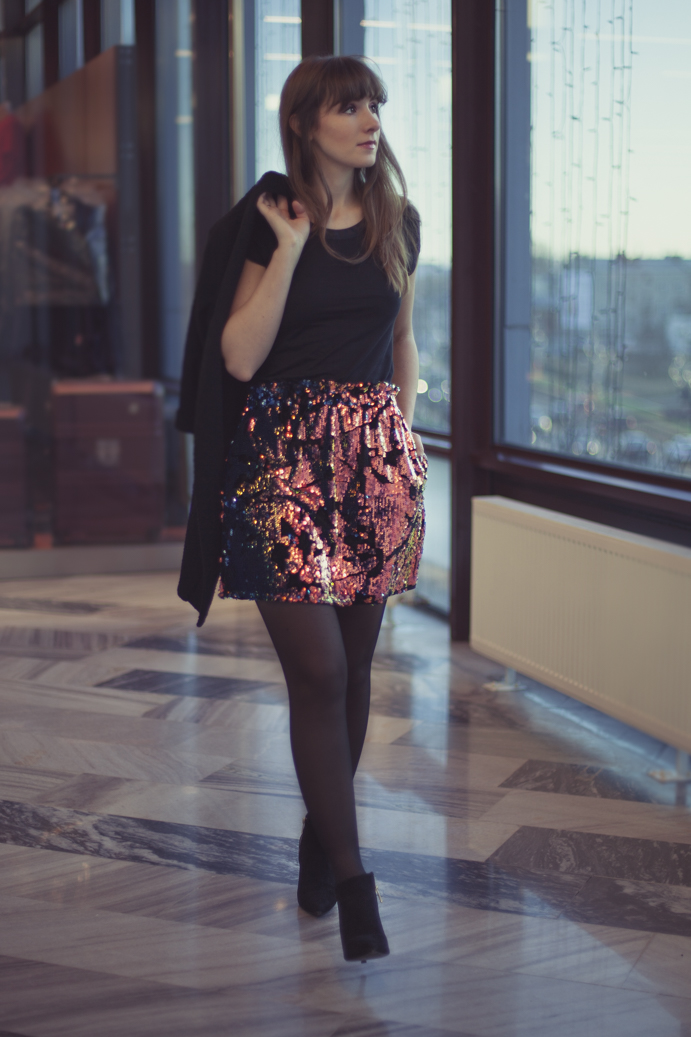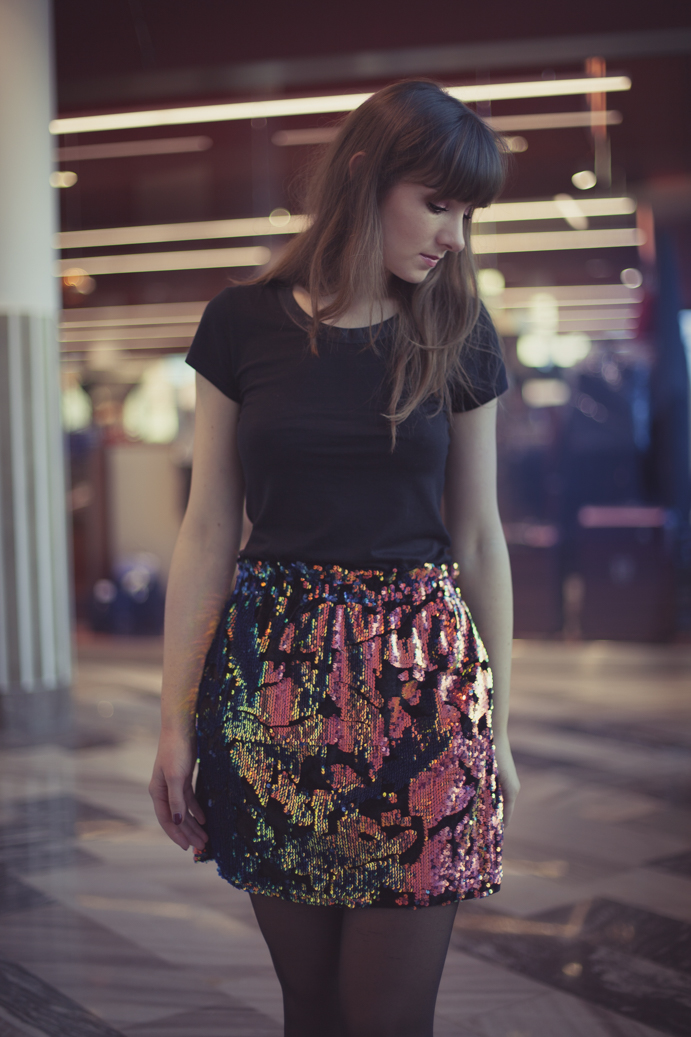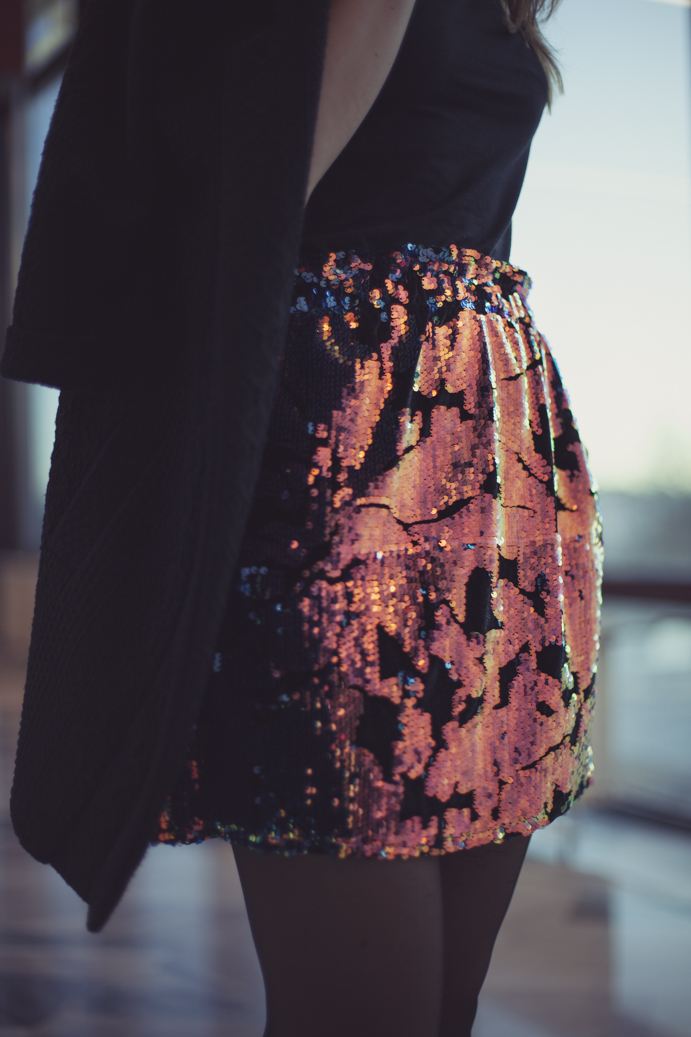 Spódnica Zara | T-shirt Banana Republic | Żakiet River Island | Buty Stradivarius
Skirt Zara | T-shirt Banana Republic | Jacket River Island | Shoes Stradivarius