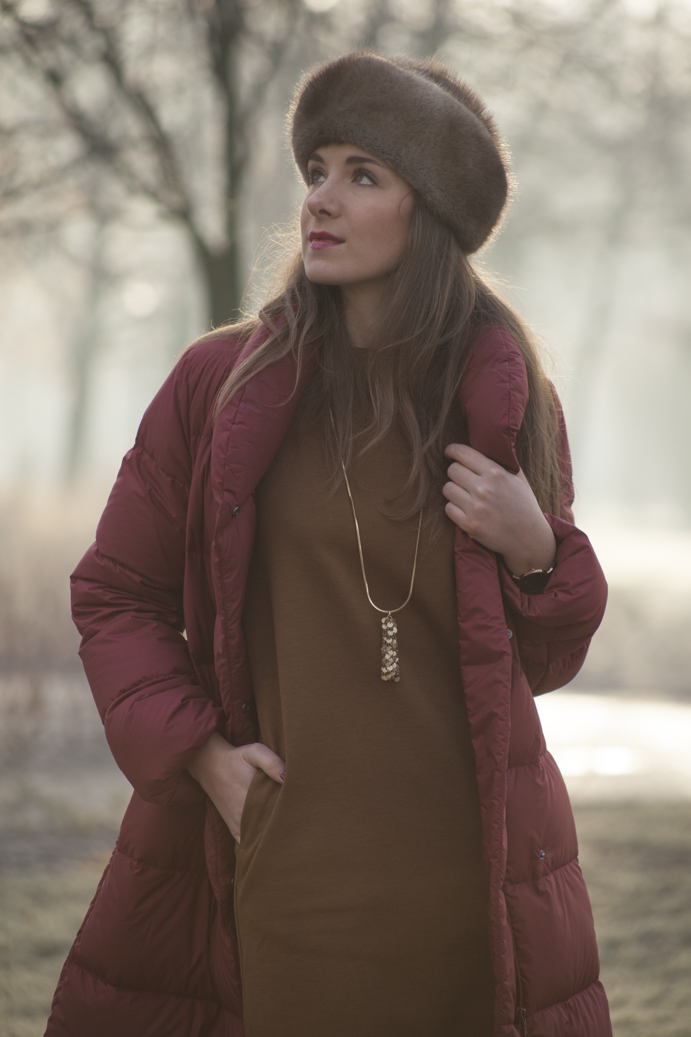 W duże mrozy nie warto ubierać się lekko tylko po to, by stylowo wyglądać. Liczy się przede wszystkim to, by było ciepło.
Najważniejsze są proporcje
Wiele kobiet obawia się kurtek i płaszczy puchowych ze względu na ich objętość i to, że dodają nam kilku dodatkowych centymetrów. Nic bardziej mylnego – nie ważne, czy będziemy miały kilka centymetrów więcej, czy mniej – najważniejsze są odpowiednio zachowane proporcje. To dzięki nim sylwetka wygląda dobrze, niezależnie od rozmiaru noszonych ubrań.
Dla wszystkich kobiet, a w szczególności dla tych, które chcą podkreślić swoją talię, odpowiedni będzie płaszcz z paskiem, który optycznie wyszczupli sylwetkę. Długi płaszcz w wielkie mrozy to oczywiście najlepsza z możliwych opcji.
Jeśli natomiast masz drobną budowę ciała, nie warto przesadzać z grubością kurtki – może to wyglądać karykaturalnie i deformować sylwetkę.
Najbezpieczniejszym rozwiązaniem, niezależnie od wzrostu czy budowy ciała, jest kurtka o długości do linii bioder. Będzie chroniła przed zimnem w najważniejszych miejscach, jednocześnie nie skracając nóg i nie destabilizując sylwetki. Zawsze warto wybierać model z zaznaczoną talią, wygląda bardziej kobieco.
Jaką puchówkę wybrać?
Obecnie w sklepach znajdziesz ogromny wybór kurtek puchowych. Są te w kolorach metalicznych, w tym złote, które wyglądają cudownie. Modne są również białe oraz oversizowe, gigantyczne kurtki. Musisz jednak pamiętać, że zakup kurtki to raczej inwestycja na lata, warto więc przemyśleć sprawę i kupić coś klasycznego, w czym dobrze będziesz czuła się w następnych sezonach. Najlepiej wybrać stonowany kolor, który będzie można urozmaicić poprzez odpowiednie dodatki (czapka, szalik, torebka).
By uzyskać elegancki efekt, staraj się, w miarę możliwości, dobierać buty na obcasie oraz proste, ale dobre jakościowo dodatki. Podniesie to rangę tego sportowego z założenia ubrania.
Futrzana czapka
Mój puchowy płaszcz kupiłam w Uniqlo. To moja sprawdzona i ulubiona marka odzieżowa (jak się już pewnie zorientowałaś). Ich ubrania mają świetną jakość, są funkcjonalne, ciepłe, klasyczne. Płaszcz jest niesamowicie cienki i leciutki, jednak chroni przed mrozem jak żaden inny.
By moje zestawienie nie było zbyt sportowe, zamiast wełnianej czapki wybrałam futrzaną. Dodaje takiej przedwojennej elegancji. Pod płaszczem mam prostą sukienkę w kolorze ochry, ozdobioną złotym naszyjnikiem. Wszystkie barwy są ciepłe i doskonale się uzupełniają.
W tym roku na własnej skórze przekonałam się, że kurtki puchowe to sama dobroć i pierwszy raz w życiu nie marzłam w zimę. Dlatego zachęcam Cię, jeśli tak jak ja wcześniej omijałaś je szerokim łukiem ze względu na walory estetyczne – można je jakoś opanować 🙂
Ciekawa jestem, jakie są Twoje patenty na przetrwanie mroźnej, polskiej zimy.
---
Down coat
During the cold days, it's not the point to dress lightly just to look stylish. What matters most is that you should be warm.
Proportions above all
Many women are afraid of vests and down coats due to their volume and the fact that they add us a few extra centimeters. Nothing more wrong – it does not matter if we will have a few centimeters more or less – the most important is the appropriate proportions. It is thanks to them that the silhouette looks good, regardless of the size of the clothes worn.
For all women, and especially for those who want to emphasize their waist, a coat with a belt that optically slimline will be the best option. The long coat when it's cold outside is, of course, the perfect choice.
If you have a small body structure, do not overdo it with the thickness of the jacket – it may look caricature and deform the figure.
The safest solution, regardless of height or body structure, is a jacket with a length to the hip line. It will protect against the cold in the most important places, at the same time not shortening the legs and not destabilizing the figure. It is always worth choosing a model with a marked waist, it looks more feminine.
Which one to choose from?
Currently, you will find a huge selection of down jackets in the shops. There are those in metallic colors, including gold that looks wonderful. There are also those white and oversized, giant jackets, so in fashion. However, you must remember that buying a jacket is more an investment for years, so it's worth considering and buying something classic, which you will feel good in the next seasons. It's best to choose a subdued color that can be varied with the appropriate accessories (cap, scarf, purse).
To get an elegant effect, try, if possible, choose high heels and simple, but good quality accessories. It will raise the rank of this sports clothes.
Fur hat
I bought my down coat in Uniqlo. This is my favorite fashion brand (as you probably already knew). Their clothes are of great quality, they are functional, warm and classic. The coat is incredibly thin and very light, but it protects against cold like no other.
To make my statement not too sporty, instead of a wool cap I chose fur. It adds such an elegance. Under my coat, I have a simple ocher dress, decorated with a golden necklace. All colors are warm and perfectly complement each other.
This year I found out that down jackets are all that is the best and for the first time in my life I did not freeze in the winter. That's why I encourage you to give it a chance and try. Despite its sporty look, you can manage to wear it classy.
I wonder what your patents are for surviving the cold winter.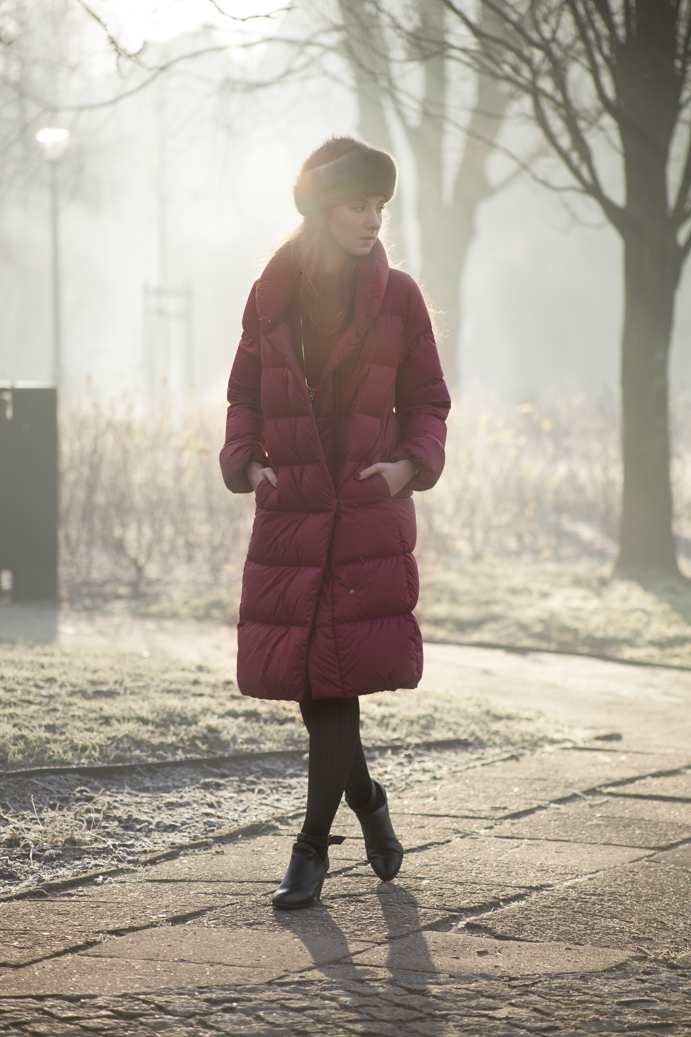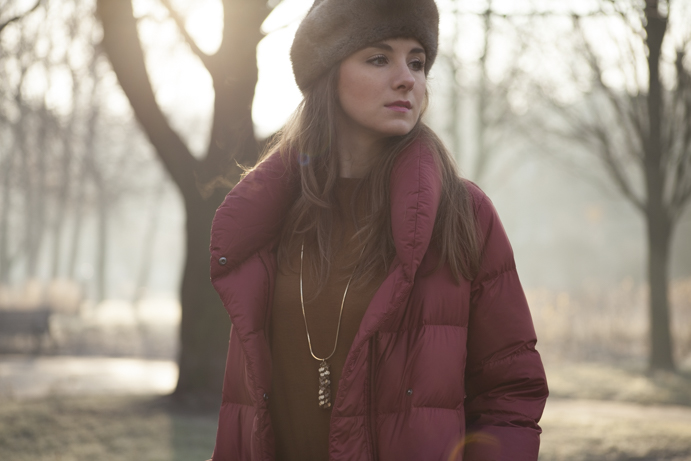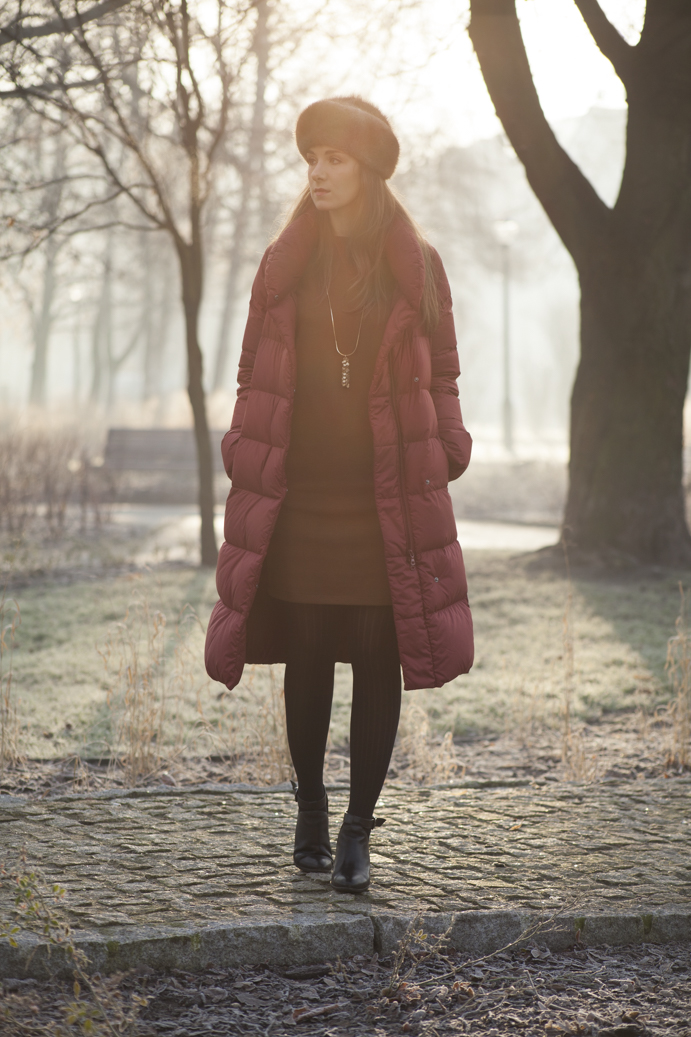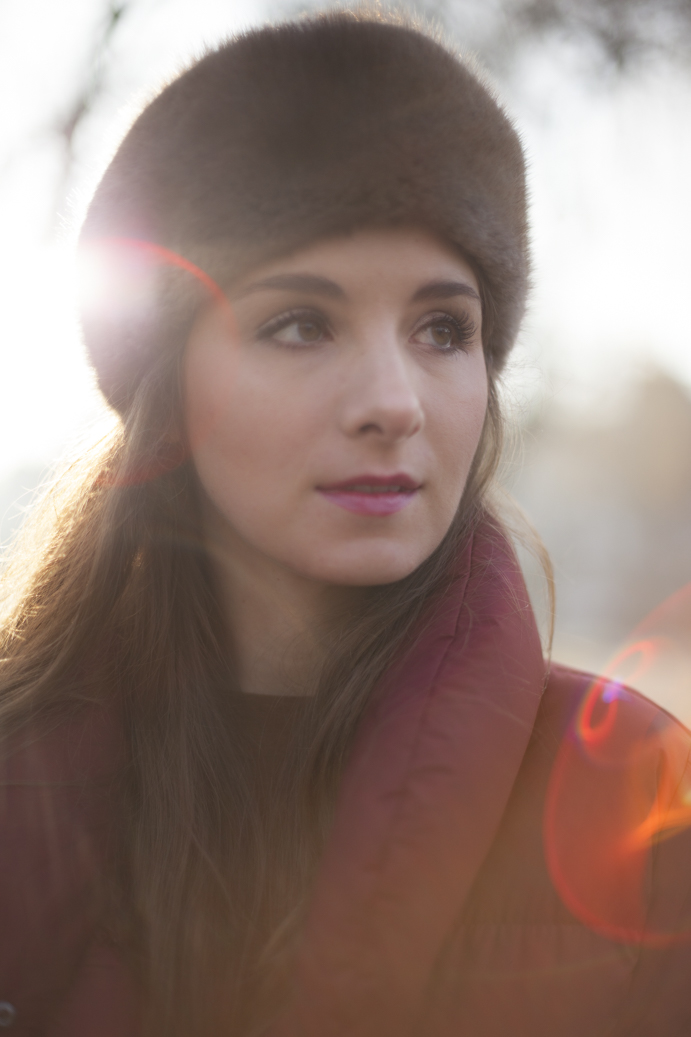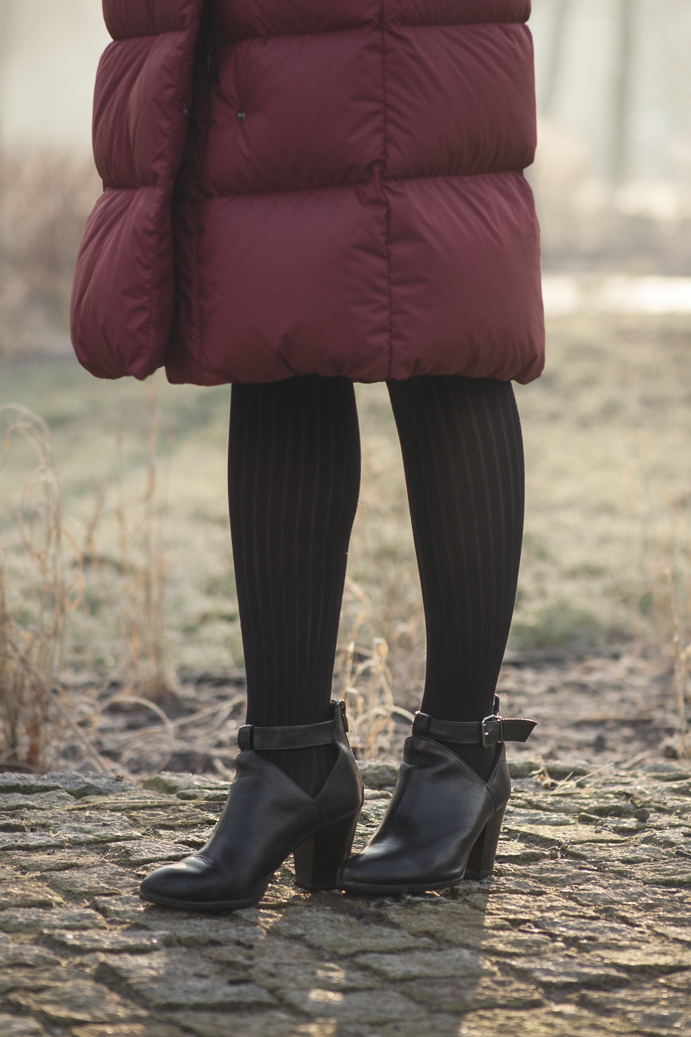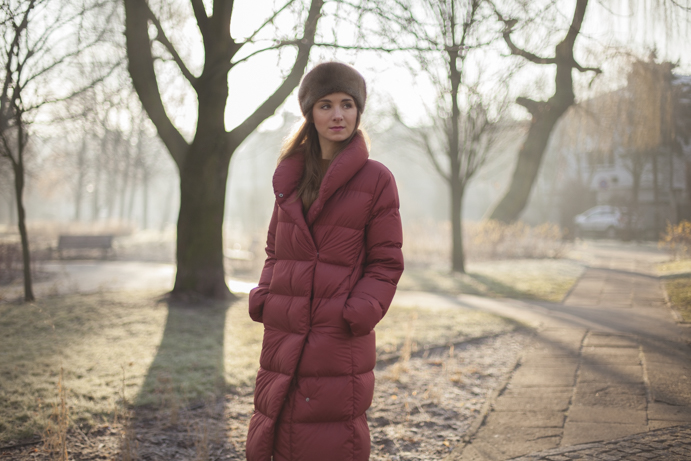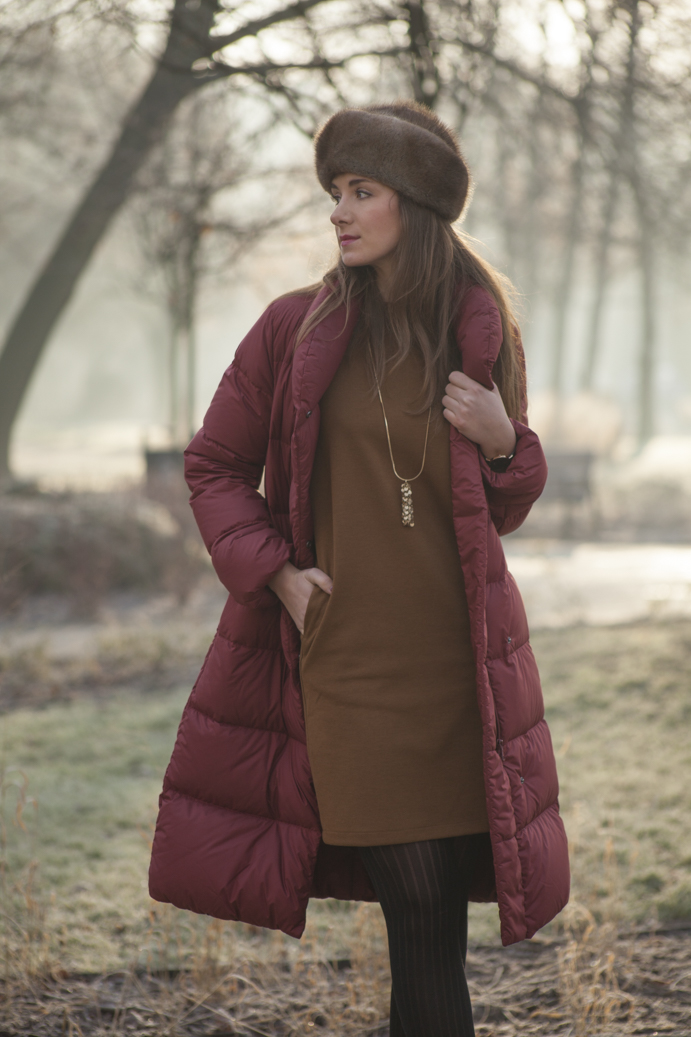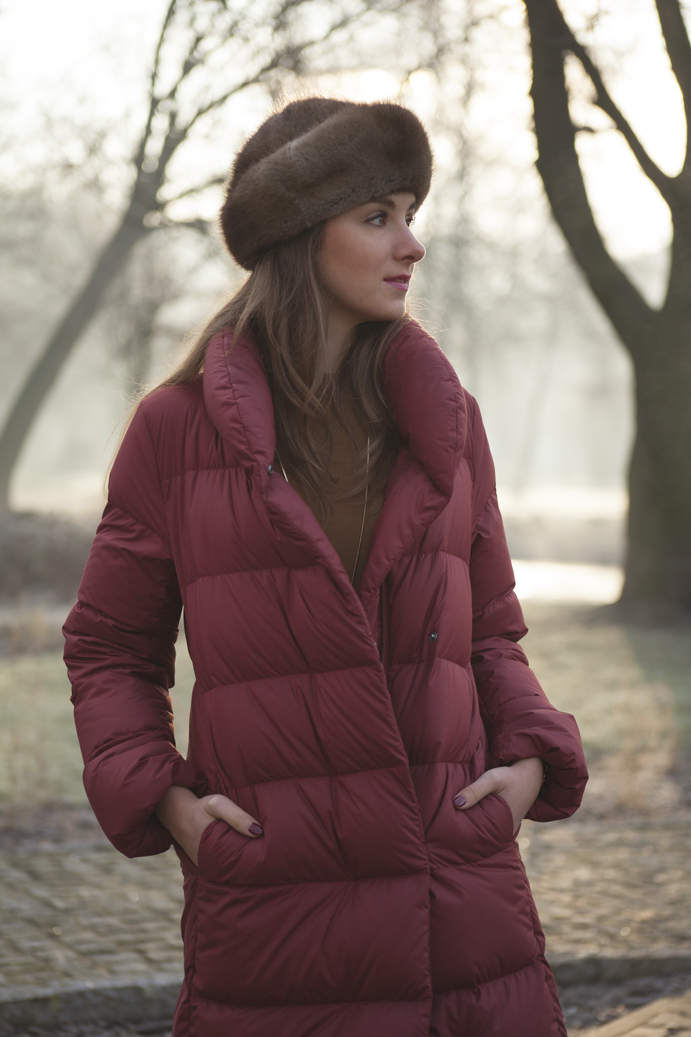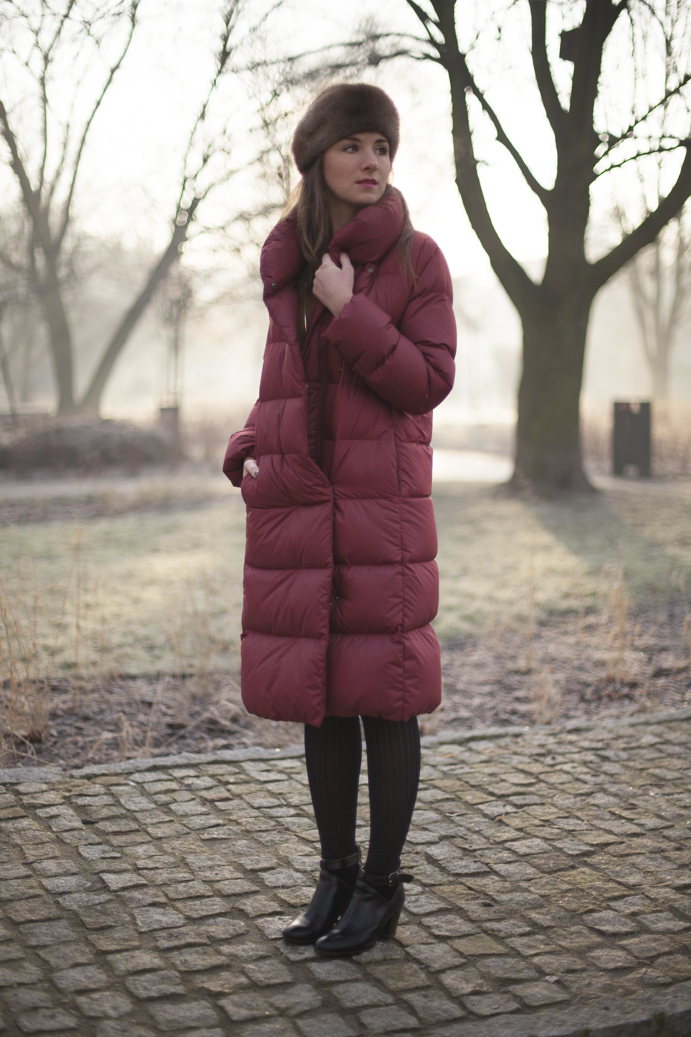 Płaszcz i sukienka Uniqlo | Buty Lasocki | Naszyjnik Parfois | Zegarek Daniel Wellington | Czapka SH
Coat and dress Uniqlo | Shoes Lasocki | Necklace Parfois | Watch Daniel Wellington | Hat SH