Zmiany na blogu!
Witam Was w Nowym Roku! Mam nadzieję, że będzie jeszcze lepszy niż 2013.
Dla mnie był to rok specjalny, gdyż właśnie na początku zeszłego roku postanowiłam spełnić jedno z moich marzeń i założyć  tego bloga. I nie żałuję tej decyzji, jestem wdzięczna za wszystkie emocje i chwile radości, które towarzyszyły mi przez ten rok, a które były również Waszym udziałem!
Jeśli chodzi o noworoczne postanowienie, wprowadzam  ułatwienie dla obcojęzycznych czytelników. Od początku roku teksty będą tłumaczone na angielski.
Społeczna odpowiedzialność zakupów
W dzisiejszym wpisie chciałabym pokazać Wam moją podróżną torbę. Tej "idealnej" szukałam długo, ale opłacało się. Poza doskonałą jakością, wartościami sentymentalnymi i osobistymi upodobaniami, warto, byśmy również zastanowili się nad społeczną odpowiedzialnością naszych zakupów.  Ale do rzeczy.
Garbaria z Fezu
Torba została zakupiona (po długich negocjacjach i z uczestnictwem ogromnych emocji, a jakże) w Maroku, a dokładniej w Fezie, w jednej z najstarszych garbarni świata. Niemal od średniowiecza proces  wyprawiania skór  w tym miejscu nie uległ zmianie, tradycyjnych metod używa się po dziś dzień. Do zmiękczania skór  stosuje  się między innymi gołębich odchodów, co każdy zwiedzający może potwierdzić, gdyż zapach wokół tego miejsca jest bardzo intensywny i nie należy do neutralnych, a już bardzo daleko mu do przyjemnych. Jednak by złagodzić nieco ten szok, obsługa garbarni rozdaje na wejściu małe, świeże gałązki mięty, które orzeźwiają nieco zapach wokoło.
Z uwagi na kilkuwieczne tradycje, miejsce to jest objęte patronatem UNESCO, jako ochrona rzadkich umiejętności wytwarzania, które mogą zaniknąć, zostać zapomniane. Bo przecież o wiele szybciej, łatwiej i na pewno taniej jest uzyskać takie produkty np. w Chinach.
To właśnie przekonało mnie, by kupić tą cudowną torbę, która, mam nadzieję, posłuży mi w wielu moich podróżach. Fakt, że przyczyniam się do podtrzymywania tradycji oraz rzadkich umiejętności lokalnych rzemieślników naprawdę do mnie przemawia.
Niestety torba jeszcze trochę śmierdzi. Z jednej strony, wskazuje to na jej autentyczność i dodaje uroku, z drugiej, może jestem lekko przewrażliwiona i tylko ja czuję ten zapach  Tak na poważnie, mam nadzieję, że szybko dojdzie do siebie w naszych polskich warunkach.
P.S. więcej zdjęć z tej magicznej wyprawy możecie znaleźć na moim koncie Instagram (tiger_in_the_flowers).
Changes on my blog
Happy New Year everyone! I hope 2014 will be even better than 2013. For me, it was quite a special year, because exactly one year ago I decided to carry one of my dreams out and create this blog. I don't regret my decision and I am grateful for all emotions and time of happiness, which I have experienced, and which were also your contribution!
When it comes to New Year's resolution, I would like to introduce a facility for foreigner readers – from the beginning of this year, all posts will be translated into English.
Social responsibility of buying
Today I would like to show you my travel bag. The 'one' that I've been looking for for a really long time, but it was completely worth it! Besides good quality, sentimental values and personal taste, it is important to think about social responsibilities while we
shopping.

That's why I decided to buy this beautiful bag. I hope it will serve me for a very long time during my journeys. The fact that I contribute to upholding the tradition and the rare skills of local craftsman really appeal to me!

The tannery of Fez, Morocco
Coming back to my bag. I bought it (after such a long negotiation process and with lots of emotions, of course) in Morocco, in the city of Fez, where one of the oldest tannery in the world is situated. The process of tanning the leather hasn't changed from almost the Middle Ages there. By now, they manufacture products using traditional methods only.  
To tenderize a leather i.a. the pigeon's feces are used. As you can imagine, this is really sensible for every visitor, because the smell around is very intensive and not so pleasant. To reduce the strength of this smell, every tourist gets a twig of fresh mint. Such a small thing, but it makes the visit in the tannery bearable.
Taking into consideration a very long tradition, this place is under UNESCO protection to save very rare manufacturing skills of the workers, that can be simply forgotten. It is so important because everybody knows, that nowadays in China the same product can be produced faster, easier, and much cheaper.

Unfortunately, the bag smells a bit… On the one hand, it means it's an authentic product, but on the other, maybe it's just me – I'm too sensitive and it is only noticeable for me? To be serious, I hope in our colder climate it will get over soon.


P.S. more photos of this magic trip you can find on my Instagram's account (tiger_in_the_flowers).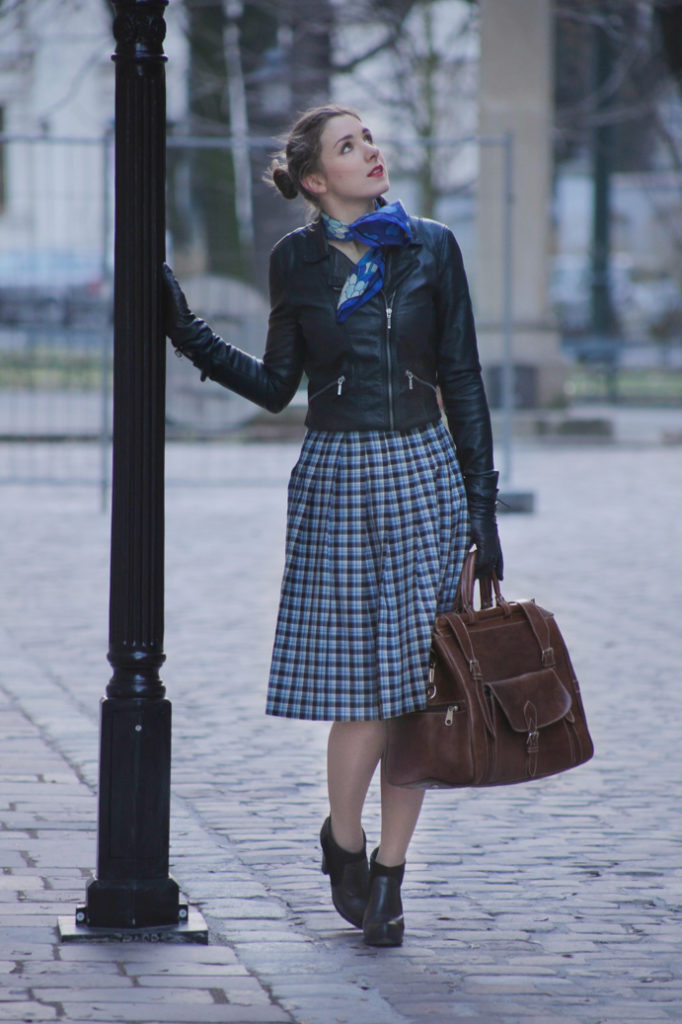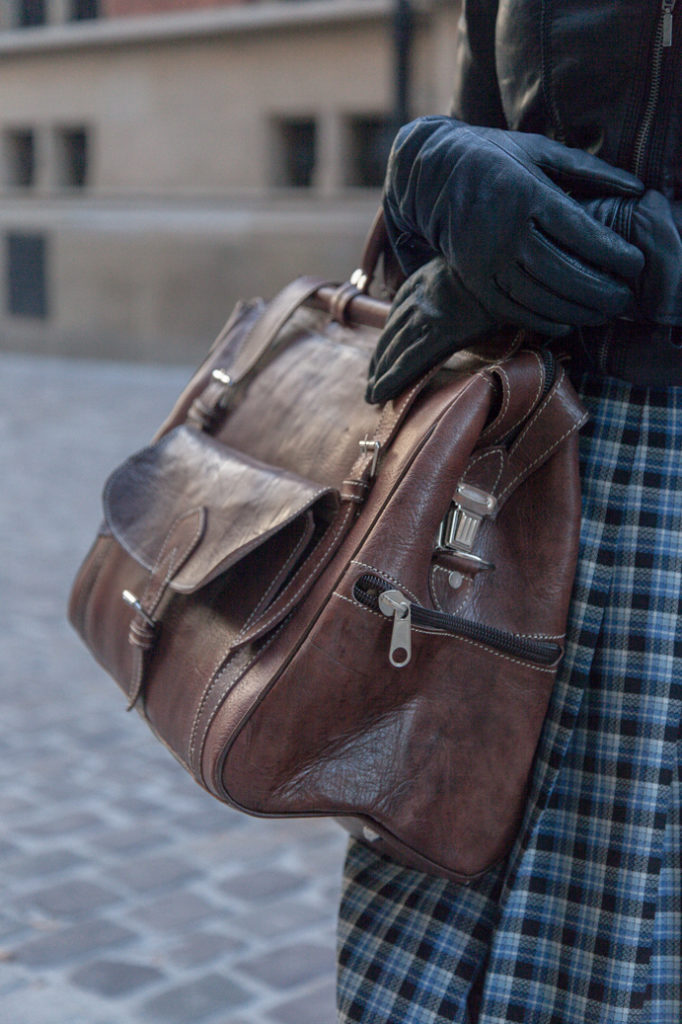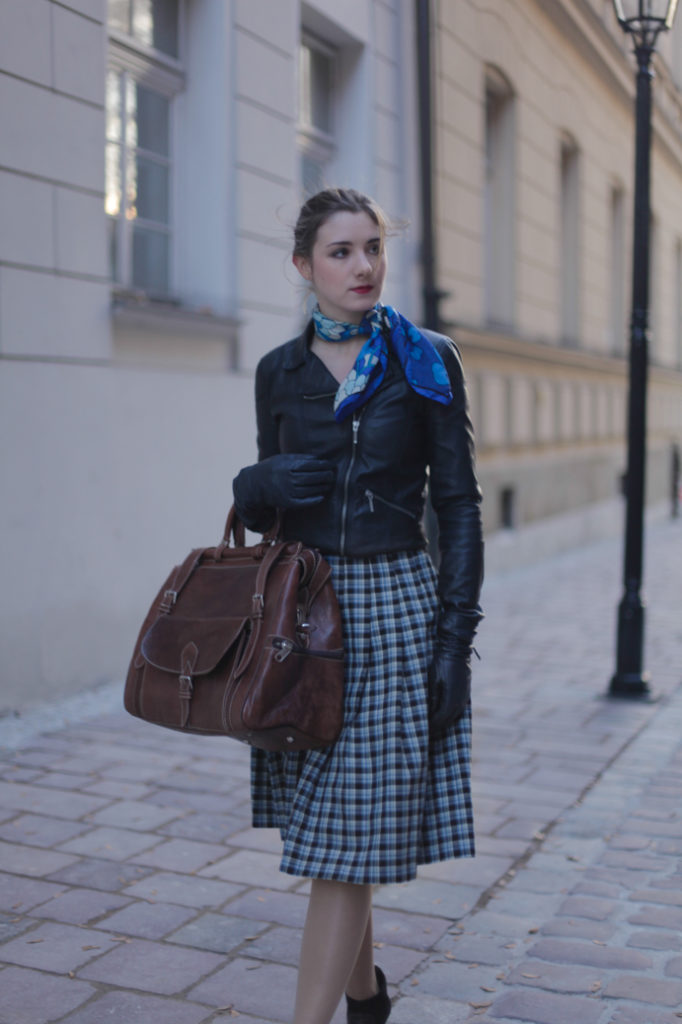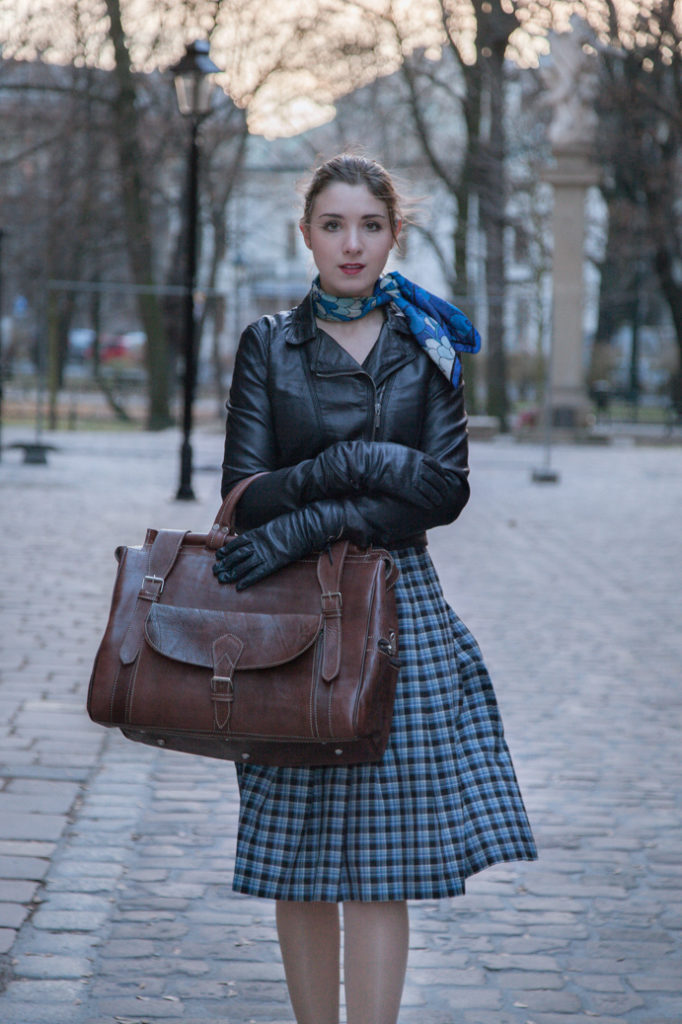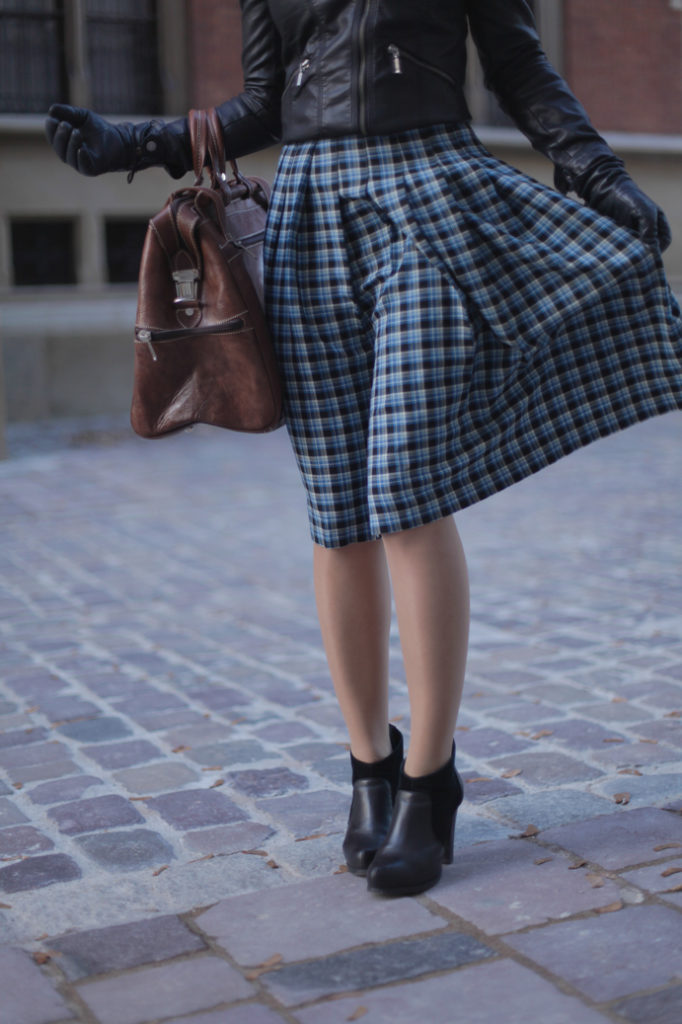 Kurtka Zara | Buty Reserved | Spódnica, hustka vintage | Torba podróżna wyrób lokalny Maroko
Jacket Zara | Shoes Reserved | Skirt, scarf vintage | Traveling bag local workmanship Morocco