Wiem wiem, co sobie pomyślicie. Że chyba oszalałam, pokazując wam takie zdjęcia, kiedy za oknem śnieg. Ale u mnie w sercu wiosna 🙂 Poza tym dawno nie było wpisu z serii working girl. A pracować trzeba. Do pracy, jak wiecie, najlepiej jest ubierać się klasycznie. Nie wiem jak was, ale mnie ostatnio bardzo, bardzo ciągnie w stronę klasyki.
Klasyczny trencz – jak go nosić
Bohaterem tego wpisu jest ponadczasowy trencz. Warto w niego zainwestować, ponieważ wszedł już do kanonu mody i zawsze wygląda świetnie. Do dżinsów, eleganckich spodni, sukienki. Widziałam, że niektóre dziewczyny noszą go zamiast sukienki i też wygląda dobrze w ciepłe jesienne lub wiosenne dni. Generalnie, sprawdza się w każdej sytuacji.
Do tego szare spodnie w kant, kremowa bluzka i czarne szpilki, kolejny klasyk. Chyba każda z nas takie ma, a przynajmniej mieć powinna 🙂
Taki bazowy zestaw możecie wykorzystać zawsze. Mi przywodzi na myśl 5th Avenue w Nowym Jorku. Elegancka nonszalancja 🙂
Następny wpis będzie już bardziej zimowy, obiecuję!
---
I know what you're thinking. That probably I went crazy, showing you these pictures when there is snow outside! But my heart is full of spring 🙂 Besides, it is quite a long time since I've posted the 'working girl' series last time. And we all need to work darlings. As you know, the best to wear to work is classic. I don't know how about you, but recently I'm so much inspired by the classical items.
The classic trench – how to wear it?
The hero of this post is a timeless trench coat. It's worth to invest in it, as it has already entered the canon of fashion and always looks great. With jeans, elegant trousers, dresses. I saw that some girls wear it as a dresses and it also looks good in warm autumn or spring days. Generally, it works in every situation.
I've chosen gray elegant trousers, cream blouse and black heels, another classic. I think each of us have one, at least, should have 🙂
Such a base set you can use always. For me, it recalls 5th Avenue in New York City. The elegant nonchalance style 🙂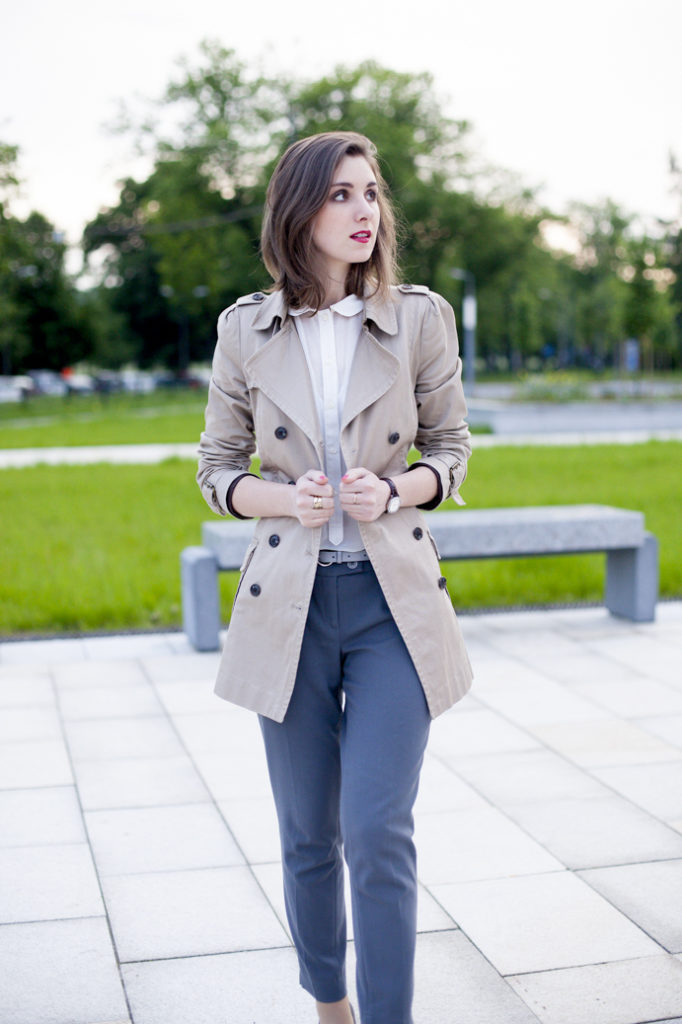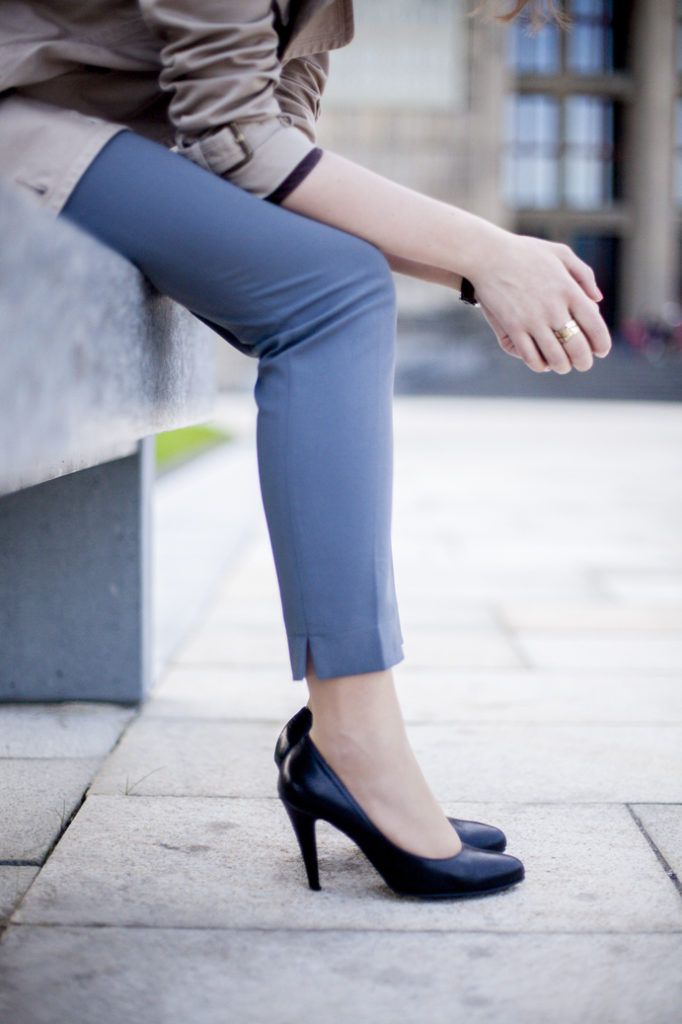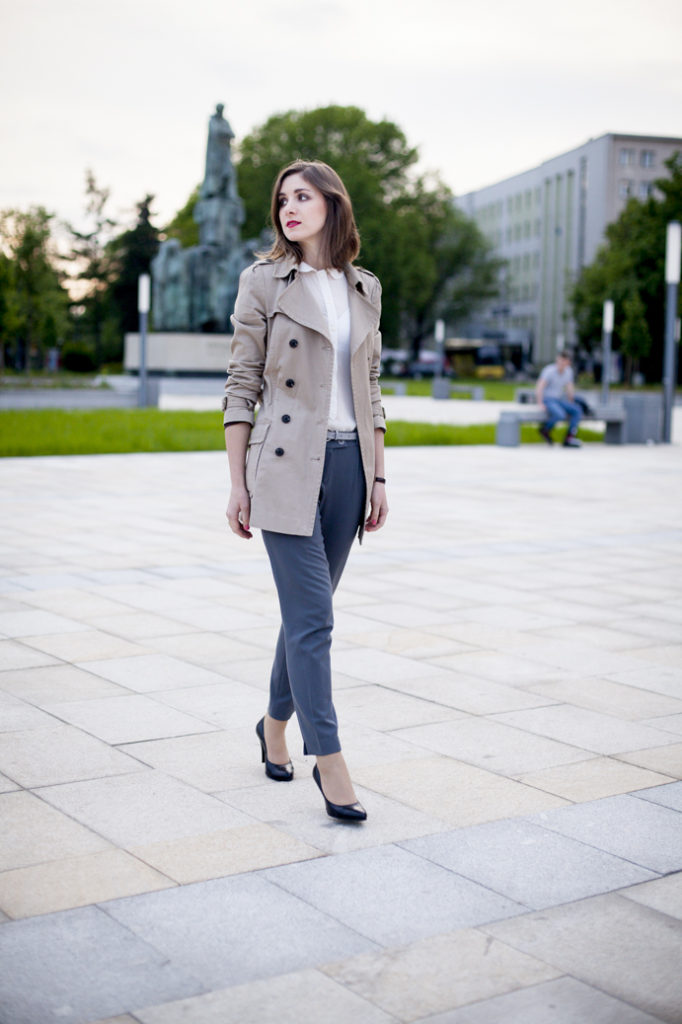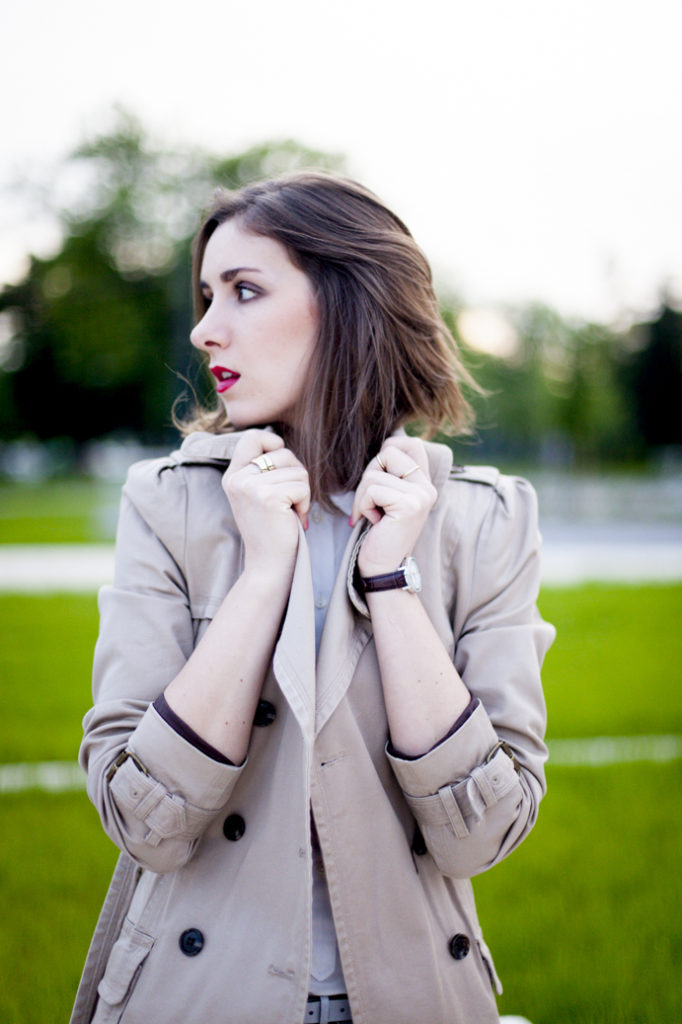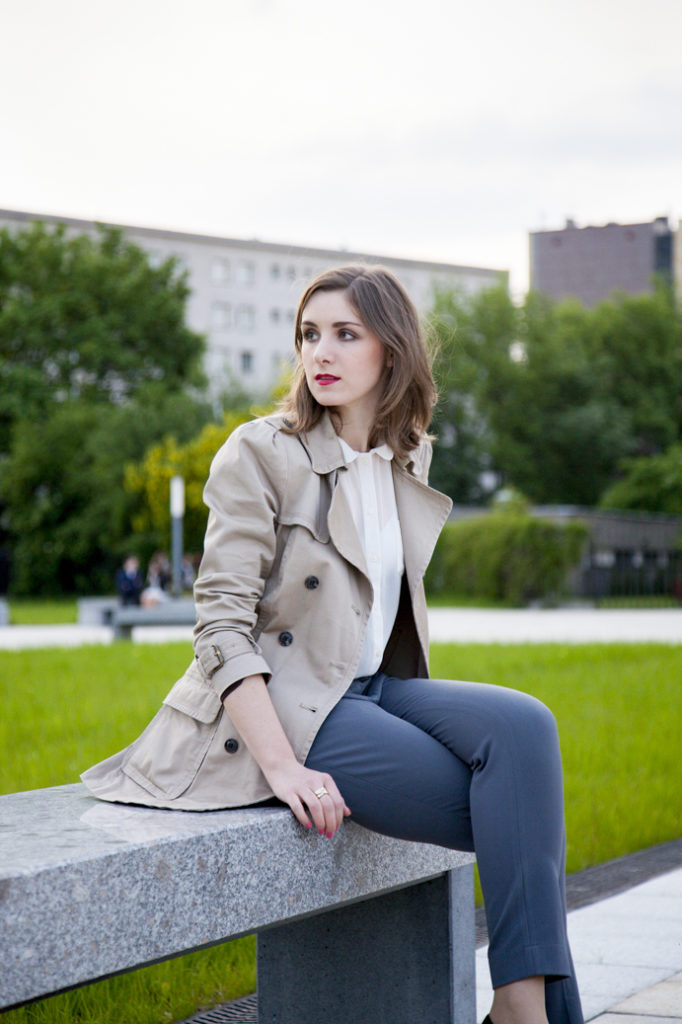 Trencz Zara | Spodnie Echo | Bluzka New Look | Szpilki Ryłko | Biżuteria And Other Stories | Zegarek Lorus
Trench Zara | Trousers Echo | Blouse New Look | Shoes Ryłko | Jewellery And Other Stories | Watch Lorus