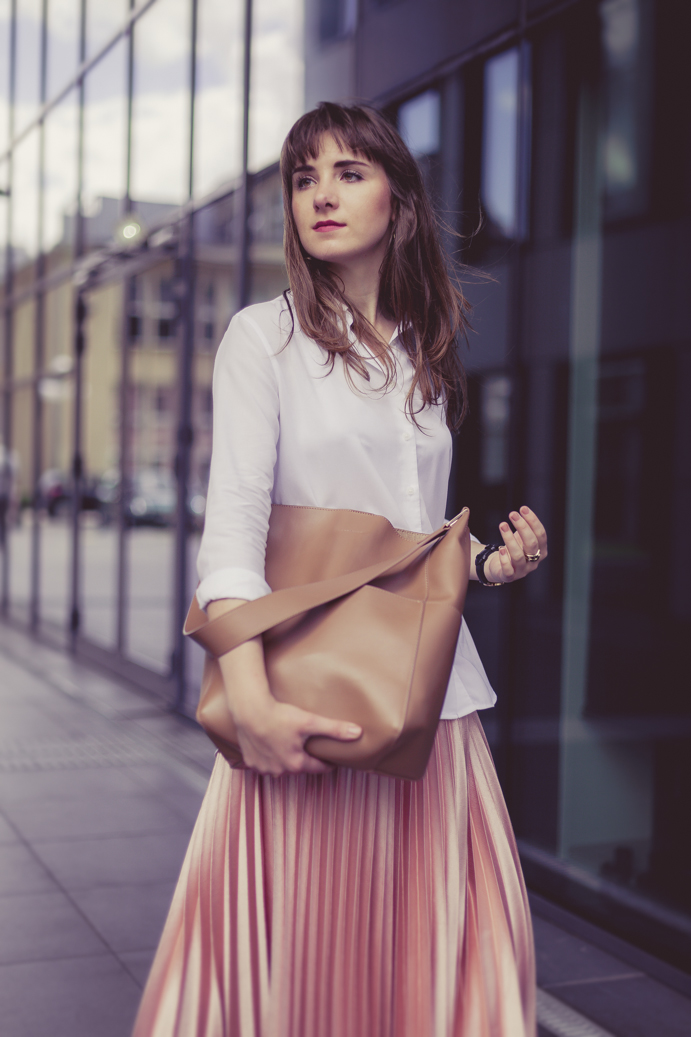 Dziś chciałam przedstawić Ci kolejny trend na lato. To jeden z moich faworytów modowych, bo moja miłość do plisowanych spódnic nie zna granic!
W ramach wstępu
Wszystko zaczęło się ubiegłej jesieni, kiedy na wybiegach u Prady, Valentino, Gucci'ego, plisy przeżyły swoje odrodzenie.
Odrodzenie, ponieważ plisowane spódnice rozpowszechniły się na większą skalę w XX w., co jakiś czas wracając do łask.
Tego lata najpopularniejszym krojem jest spódnica midi, zwężana w talii i rozszerzana na dole, o metalicznym kolorze lub połysku.
Z czym zestawić plisowaną spódnicę?
Najlepiej prezentuje się z dopasowanym topem lub luźnym t-shirtem oraz skórzaną kurtką, oversizowym żakietem czy bomberem.
Lubię także połączenie z dużymi, wełnianymi swetrami oraz koszulami.
Surowy charakter wełny, skóry czy dżinsu równoważy delikatność plisów i połyskujący materiał.
Dlatego, że taka długość spódnicy wizualnie zabiera ponad dwie trzecie naszego ciała, dzięki przerysowanym górom, sylwetka zachowuje odpowiednie proporcje.
Co do obuwia, według mnie, ta długość najlepiej sprawdza się ze szpilkami i sandałami na obcasach – idealnie wydłużają sylwetkę.
Dużą popularnością cieszy się jednak szkoła sportowa: spódnica plisowana w zestawieniu z trampkami czy sneakersami. Wygląda to interesująco, owszem, ale jest zarezerwowane dla dziewczyn o długich i szczupłych nogach.
Mój wybór
By delikatny, połyskujący róż nie zdominował całości, dobrałam oversizową białą koszulę i minimalistyczną, torebkę o pięknym, karmelowym odcieniu. Taki zestaw będzie idealny nie tylko do pracy, ale na wszystkie letnie wyjścia.
---
Pleated skirt
Today I wanted to present you another trend for the summer. This is one of my fashion favorites, because my love for pleated skirts knows no boundaries!
As part of the introduction
It all started last autumn, when Prada, Valentino and Gucci presented a great variety of pleated skirts during their shows. The dresses faced the rebirth.
Rebirth, because pleated skirts were known on a larger scale since the 20th century, occasionally returning to grace.
This summer the most popular cut is the midi skirt, tight at the waist and extended at the bottom, with a metallic color or gloss.
How to wear pleated skirt?
The best choice is to match it with top or loose t-shirt and leather jacket, oversized jacket or bomber.
I also like the combination of large woolen sweaters and shirts.
The raw nature of wool, leather or jeans equates the softness of the pleats and the glossy material.
Because that skirt length visually takes over two thirds of our body, thanks to the bigger tops, the silhouette retains the right proportions.
As for shoes, in my opinion, this length looks best with high heels and sandals – they perfectly lengthen the silhouette.
The sport school is very popular: pleated skirt in combination with sneakers or converse. It looks interesting, but is reserved for girls with long and slim legs.
My choice
So as the delicate, shimmering pink did not dominate the whole outfit, I've matched it with an oversized white shirt and a minimalist bag with a beautiful caramel colour. Such a look will be ideal not only for work, but for all summer occasions.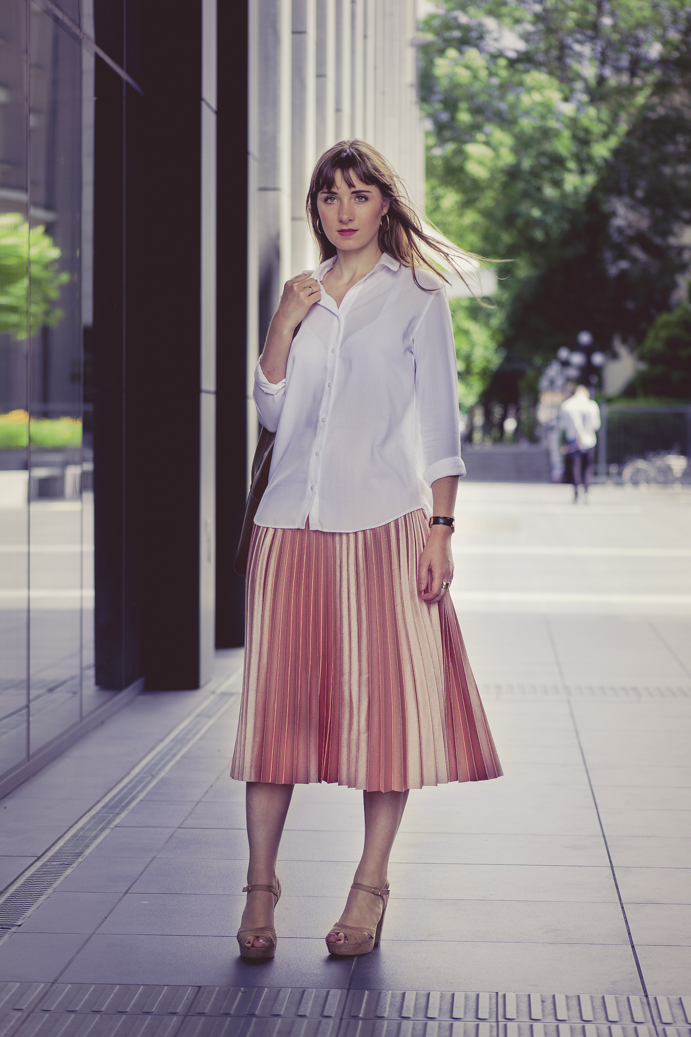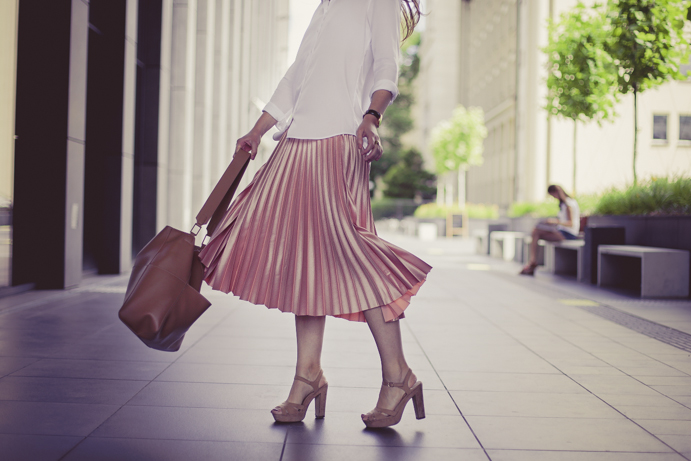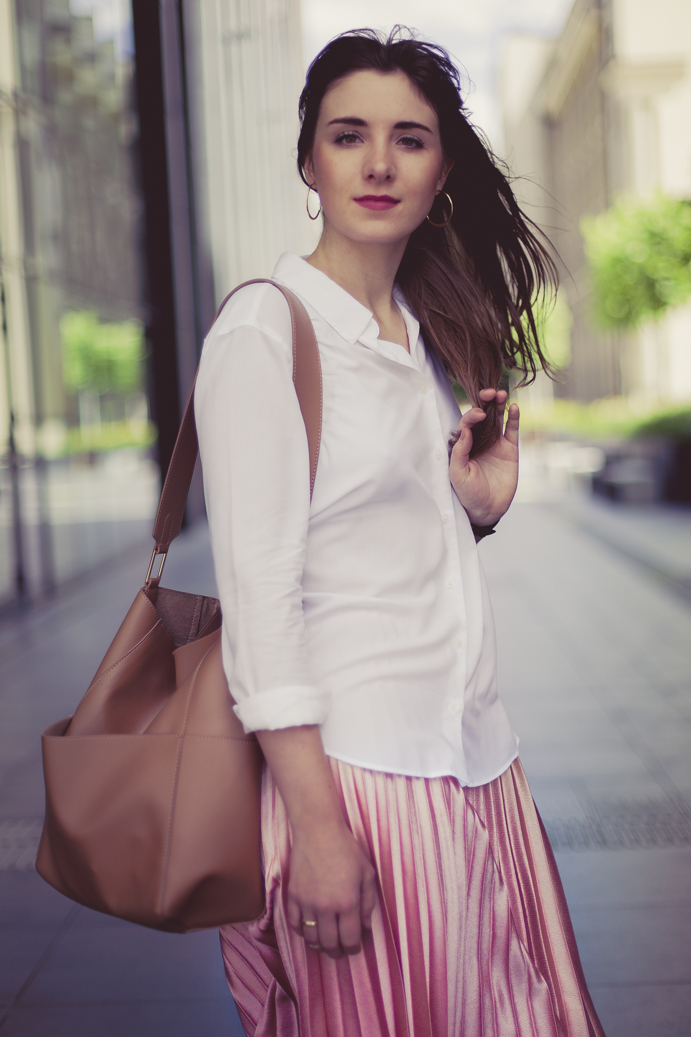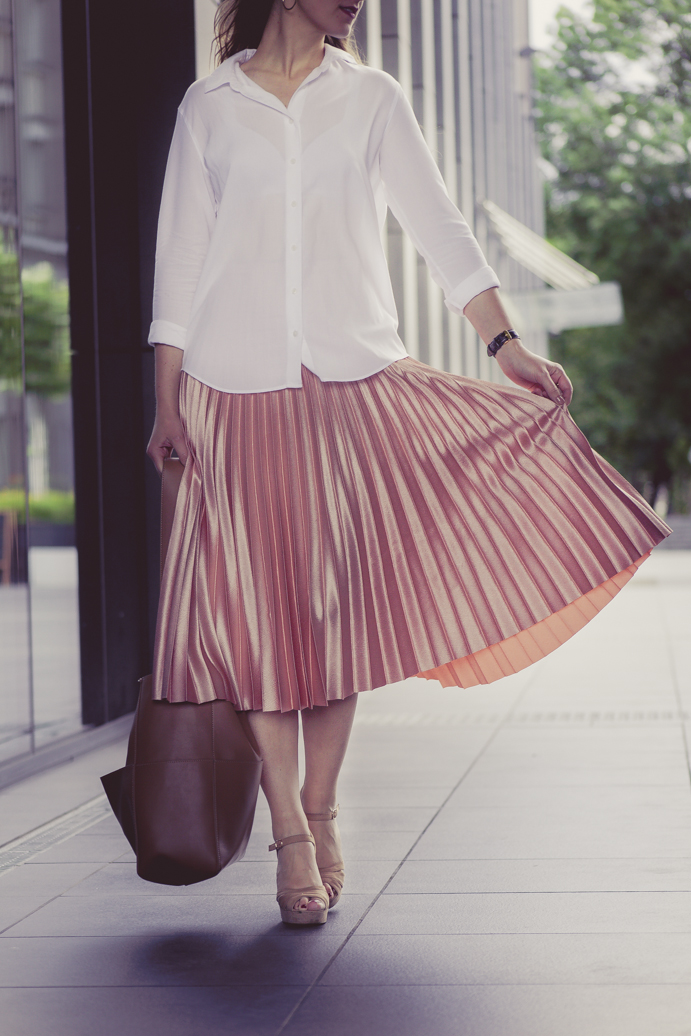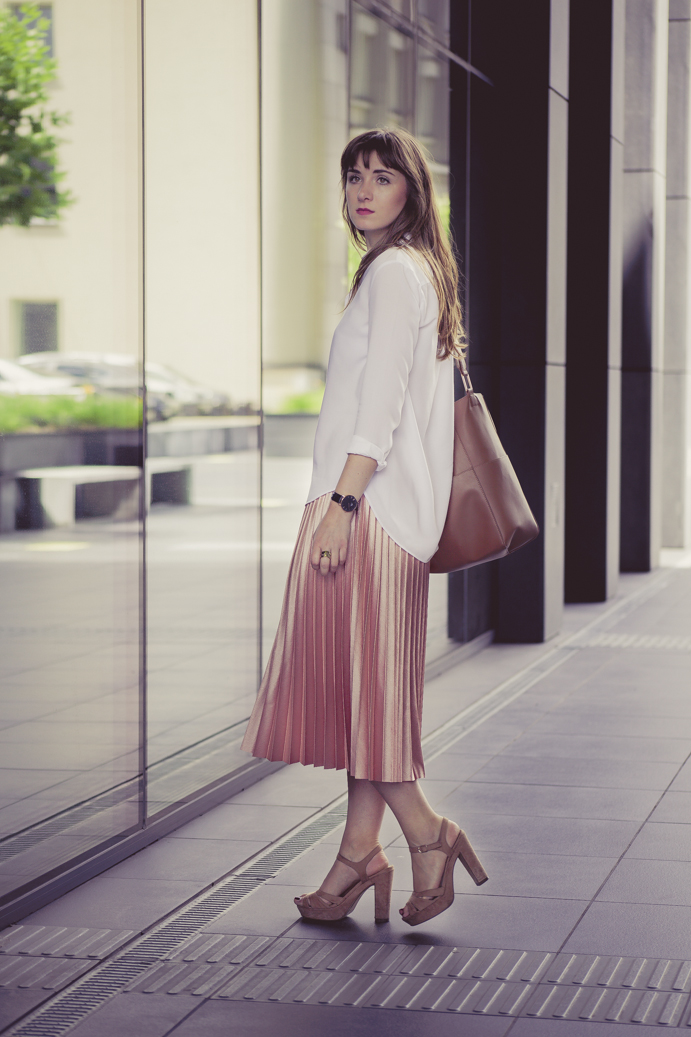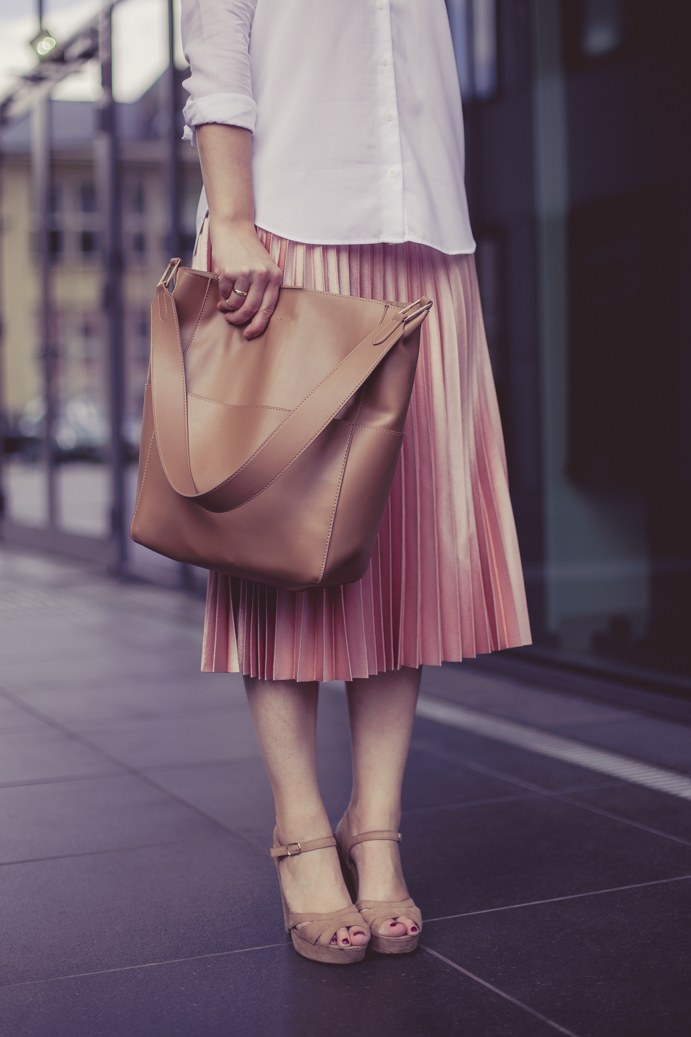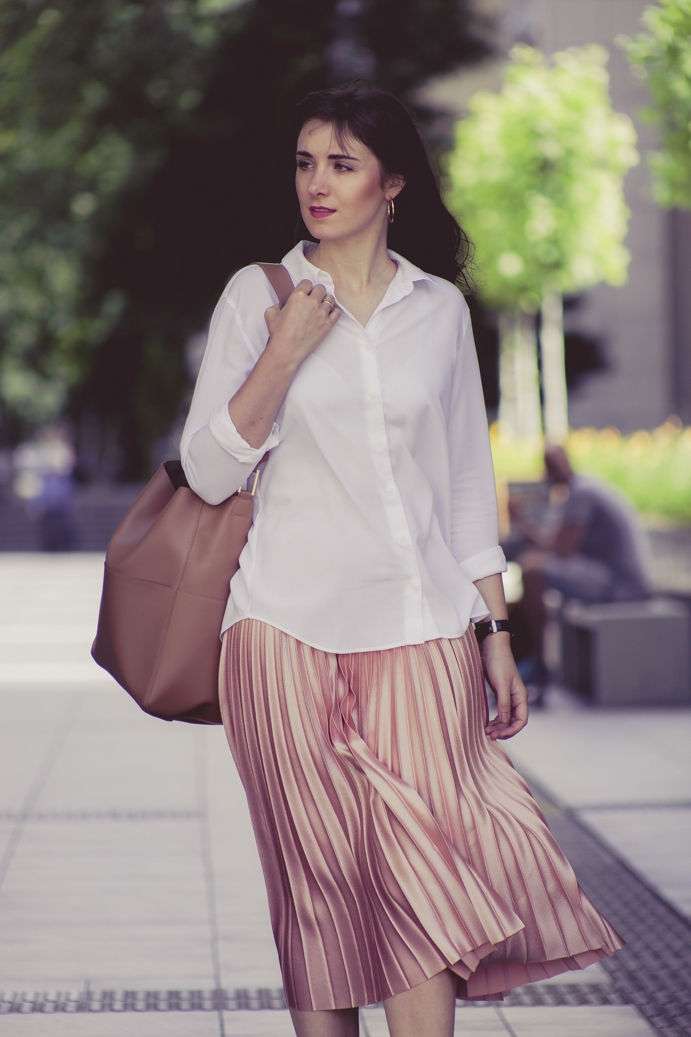 Spódnica Zara | Koszula Uniqlo | Torebka Reserved | Sandały New Look | Biżuteria And Other Stories | Zegarek Daniel Wellington
Skirt Zara | Shirt Uniqlo | Bag Reserved | Sandals New Look | Jewelry And Other Stories | Watch Daniel Wellington