Czarno-białe groszki
Sukienki w groszki nieśmiało pojawiły się w sklepach na początku wiosny. Ale dopiero jesienią następuje ich wielki powrót.
Jest to wzór trochę zapomniany, nieczęsto się do niego wraca. Być może dlatego, że jest mało nowoczesny – przywodzi na myśl odległe lata 80-te. Jednak tej jesieni zobaczysz go wszędzie, głównie w czarno-białej wersji.
Sukienka
Groszki wyglądają niezwykle dziewczęco, stąd też szukając długiej sukienki, wybrałam właśnie ten wzór. Jej krój w kształcie litery A pozwala na dowolność ruchów, co jest bardzo praktyczne podczas wakacyjnych wypraw. Dodatkowym plusem jest zmysłowe wycięcie na plecach i kieszenie. Materiał jest lekki, przewiewny, przyjemny – idealny na ciepłe dni.
Sukienka dostępna jest na stronie NewChic, więcej o tej marce pisałam we wcześniejszym poście. Można zamówić ją aż w 6-ciu wersjach kolorystycznych – ja wybrałm czarną 🙂
By zrównoważyć wizualnie ten wzór, wybrałam czarne, mocne dodatki. Przede wszystkim sandały Birkenstock, które może nie są szczytem elegancji i wysublimowania, jednak w czasie podróży spisują się idealnie. Są niesamowicie wygodne, świetnie przylegają do stopy i są niezwykle lekkie. No i pasują do większości zestawów.
Plecak
Zamiast torebki wybrałam mały plecak. Plecaki to też jeden z gorętszych trendów tej jesieni – zobaczysz je w każdym sklepie. Wybrałam prosty krój z imitacji czarnej skóry – będzie również odpowiedni do pracy.
Często przemieszczam się na rowerze, więc jest to dla mnie o wiele wygodniejsza opcja niż torebka, która często utrudnia jazdę.
Jest to bardzo prosty, ale funkcjonalny i wygodny zestaw, który pasuje do większości okoliczności.
A Ty? Masz już swoje groszki?
---
Polka dots
Polka dots dress timidly appeared in stores early this spring. But it is only in the autumn that they are facing a big come back.
This is a quite a forgotten pattern, not often returning to fashion. Perhaps because it is not so modern – reminds of the distant era of vintage clothing from the 80's. But this autumn, you'll see it everywhere, mostly in black and white.
Dress
The polka dots looks very girly, so looking for a long dress, I chose exactly this pattern. Its A-shaped cut allows for freedom of movement, which is very practical during holiday trips. An additional advantage is a beautiful cut on the back and pockets! The material is lightweight, airy, soft – ideal for warm days.
The dress is available on the site NewChic, more about this brand I wrote in an earlier post. It is available in 6 color versions!
To visually equate this pattern, I chose black, strong accessories. First of all Birkenstock sandals, which may not be the top of elegance and sublimation, but during the trip, they act perfectly. They are incredibly comfortable, stick perfectly to the foot and are extremely lightweight. And fit most of the outfits.
Backpack
Instead of a bag, I chose a small backpack. Backpacks are also one of the hotter trends this autumn – you'll see them in every store. I chose a simple form which is an imitation of black leather – it will also be suitable for work.
I usually use my bike as a form of everyday transport, so it is a much more convenient option for me than a bag that often hinders the ride.
This is a very simple but functional and comfortable outfit that suits most circumstances.
And you? Do you have your own polka dots already?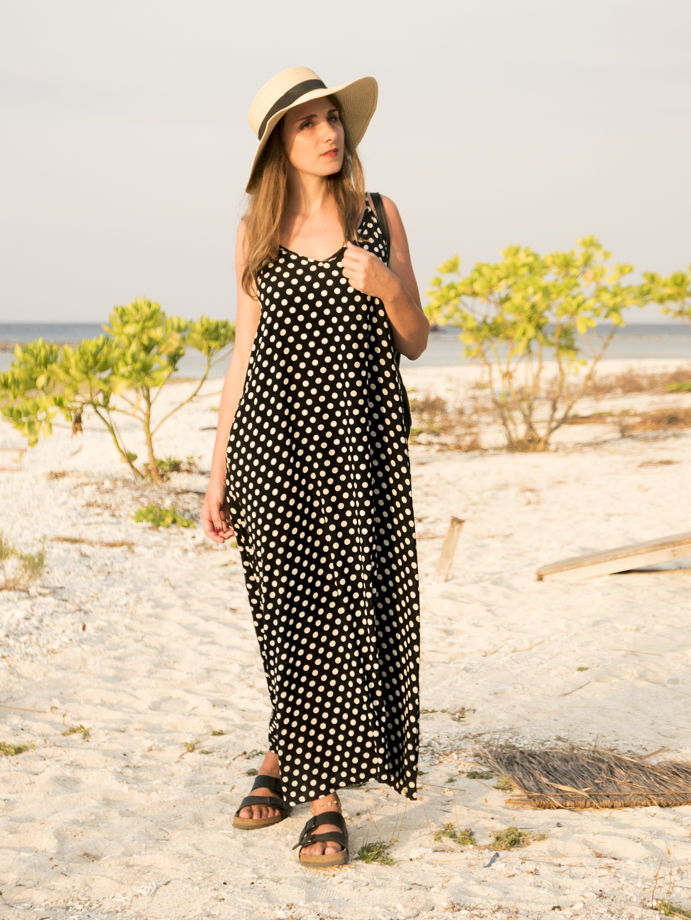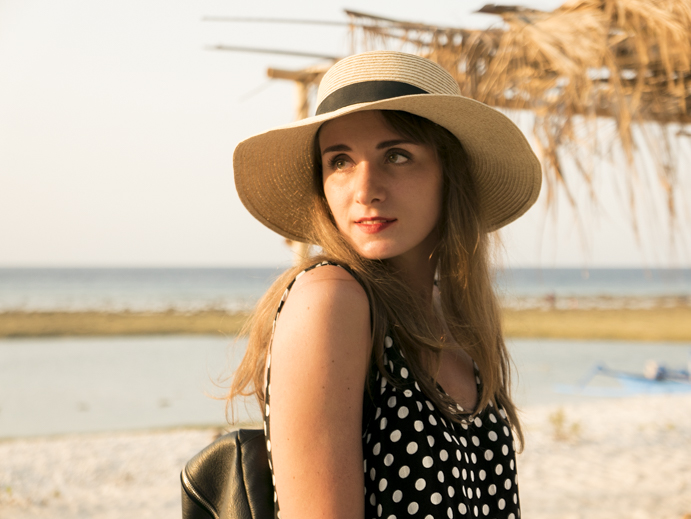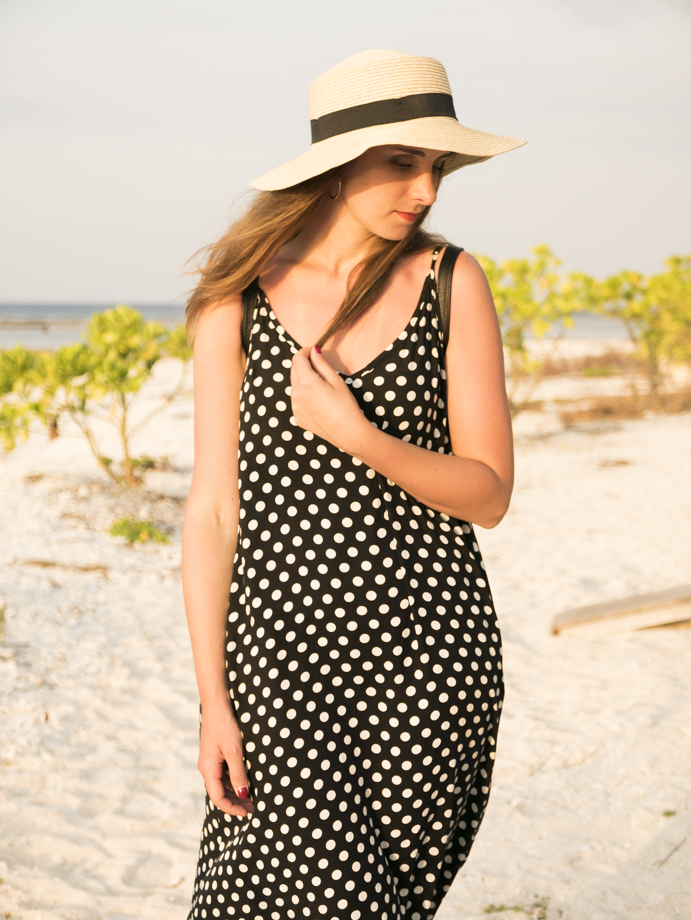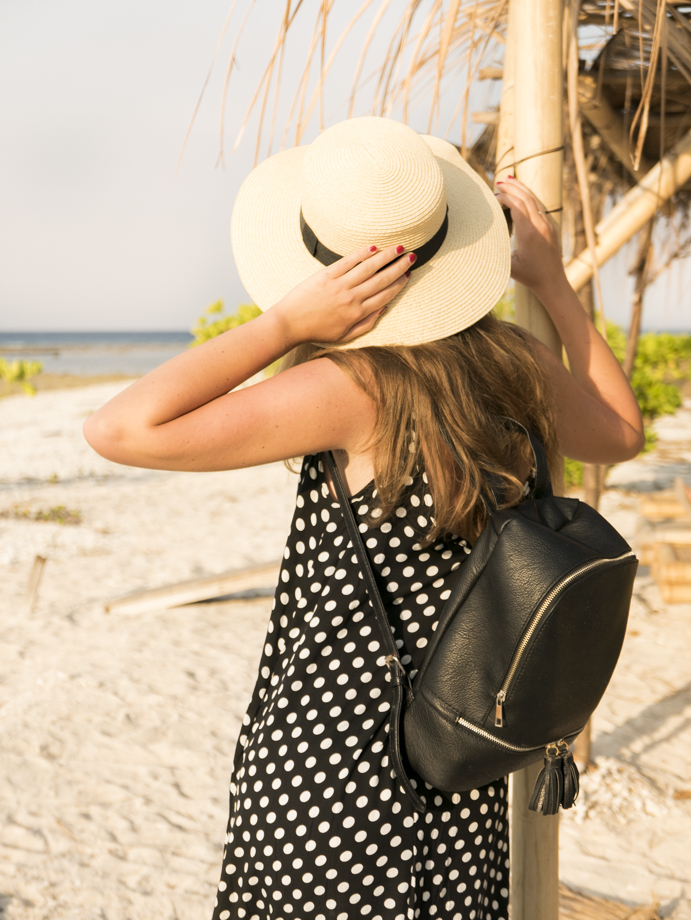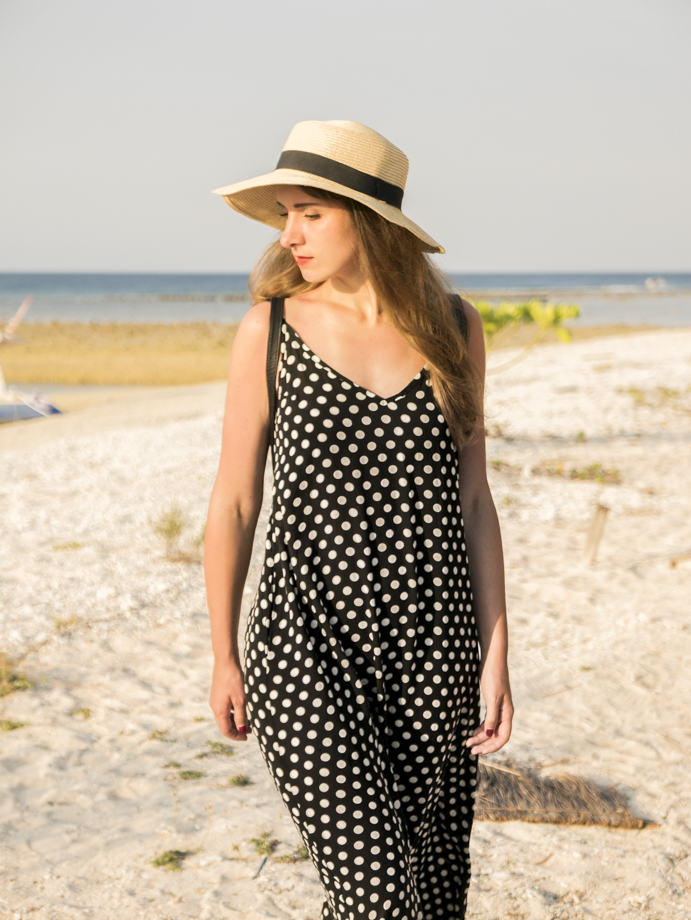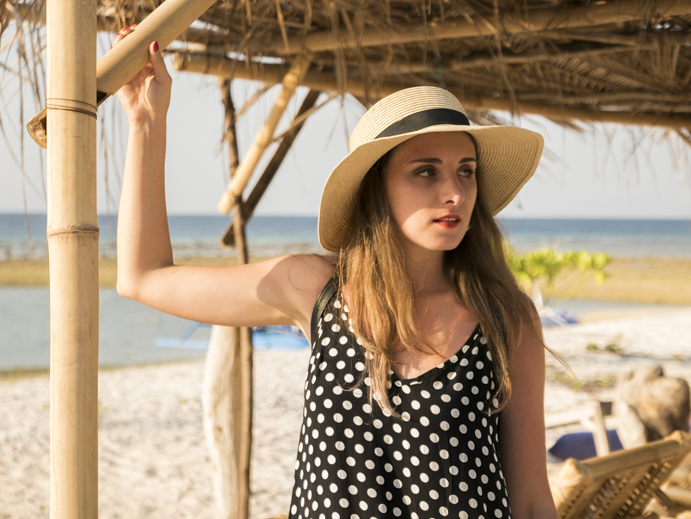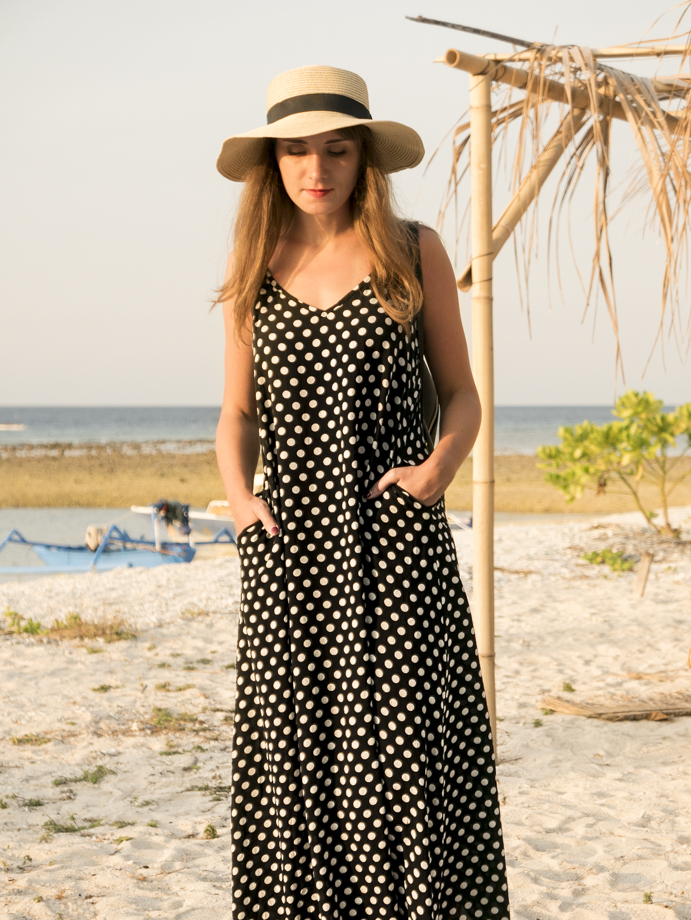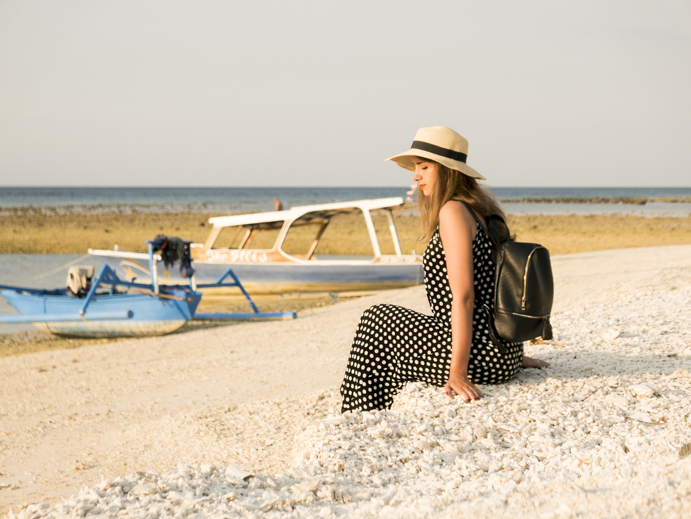 Sukienka NewChic | Sandały Birkenstock | Kapelusz i łańcuszek H&M | Plecak Stradivarius
Dress NewChic | Sandals Birkenstock | Hat and necklace H&M | Backpack Stradivarius