Potrzebowałam zmiany. A zmianę, jak pewnie sami wiecie, najlepiej jest zacząć od nowej fryzury. Nic nie daje takiego poczucia otwierania nowego rozdziału jak właśnie mała metamorfoza.
W moim przypadku nie tak całkiem nowa – to raczej powrót do korzeni.
Okulary marzeń
Znalazłam też w końcu okulary marzeń. Zazwyczaj noszę soczewki, bo trudno mi było znaleźć okulary, w których czułam się dobrze. Wszystkie wydawały mi się zawsze zbyt banalne. Ponad rok temu dowiedziałam się o polskiej marce Massada, która tworzy ręcznie wykonywane oprawki inspirowane stylem retro. Pisałam z resztą o nich wcześniej na blogu (
tutaj
). I jakoś od tamtego czasu podświadomie do nich dążyłam. Nie zapomnę chyba nigdy dnia, kiedy odbierałam moje zamówienie. Byłam tak podekscytowana, jakbym dostawała co najmniej Oscara!
Wybór oprawek
Ze względu na to, że mam ciemną oprawę oczu, wybrałam model z jasnymi oprawkami. Nadają lekkości i rozświetlają twarz. Być może teraz częściej będziecie oglądać mnie na zdjęciach w okularach. Wiem, że nie wszyscy są zachwyceni tymi dwoma zmianami, ale ja czuję się zbyt dobrze, zarówno w grzywce jak i w okularach, by się tym przejmować.
The Grand Budapest Hotel
Moja dzisiejsza stylizacja jest bardzo dziewczęca. Zazwyczaj do stworzenia nowego wpisu inspirują mnie przebyte podróże lub obrazy: zdjęcia i filmy. Często, gdy coś mnie zaintryguje, w głowie już układają mi się pomysły na kolejną sesję.
Tak było i tym razem, gdy po raz drugi oglądałam The Grand Budapest Hotel. Nabrałam ogromnej ochoty, by stworzyć taki magiczny, trochę surrealistyczny obraz.
Ciekawa jestem co Was najbardziej inspiruje przy tworzeniu Waszej garderoby?
---
I needed some changes. And as it comes to change, as you probably know from your own experiences, it is the best to start with a new hairstyle. Nothing gives such a feeling of opening a new chapter as a small metamorphosis. In my case not so completely new – it is rather a return to the roots.
Dreamed glasses 
What is more, I finally found my dream glasses. Usually, as you could notice, I wear lenses, because it was always difficult for me to find glasses in which I felt good. All of them seemed  too ordinary to me. Over a year ago I've found out the Polish brand Massada Eyewear, which creates handmade retro-inspired frames. I've already mentioned them on my blog (here). And since then I somehow subconsciously sought to them. I will probably never forget the day when I received my order. I was so excited as I was getting at least an Oscar prize!
Choosing the right design
Due to the fact that I have dark eyes, I chose a model with bright holders. They give lightness and brighten my face. I know that not everyone loves these two changes I've made, but I feel so good with, both the bangs and glasses, that I even not worry about it.
The Grand Budapest Hotel
My today's outfit is very girly. There are always travels and images like photos or movies that inspires me to create the new post. Often, when something intrigues me, I already put the ideas in my head for the next photo session. So it was like that this time. I watched for the second time The Grand Budapest Hotel. And I loved it so much. This gave me a huge desire to create such a magical, slightly surreal image.
I wonder what most inspires you when you create your wardrobe?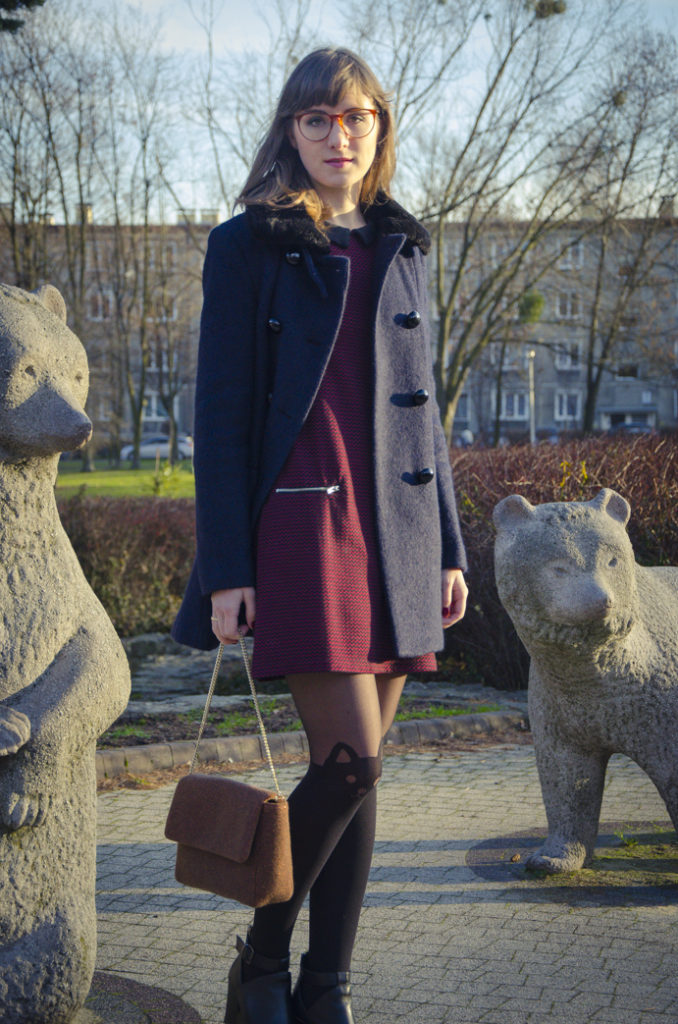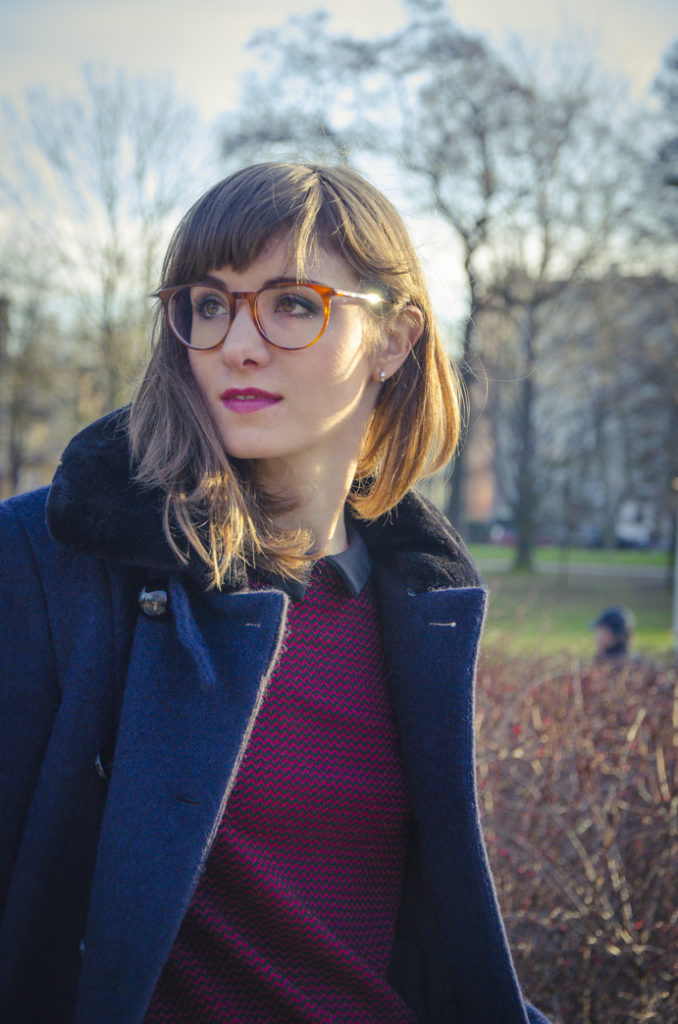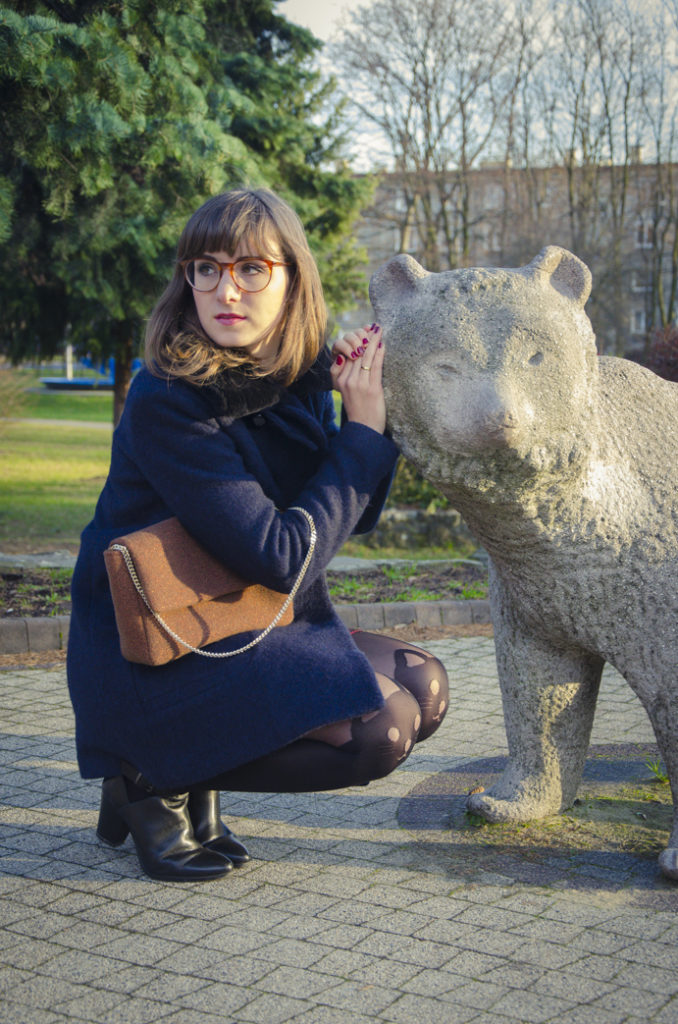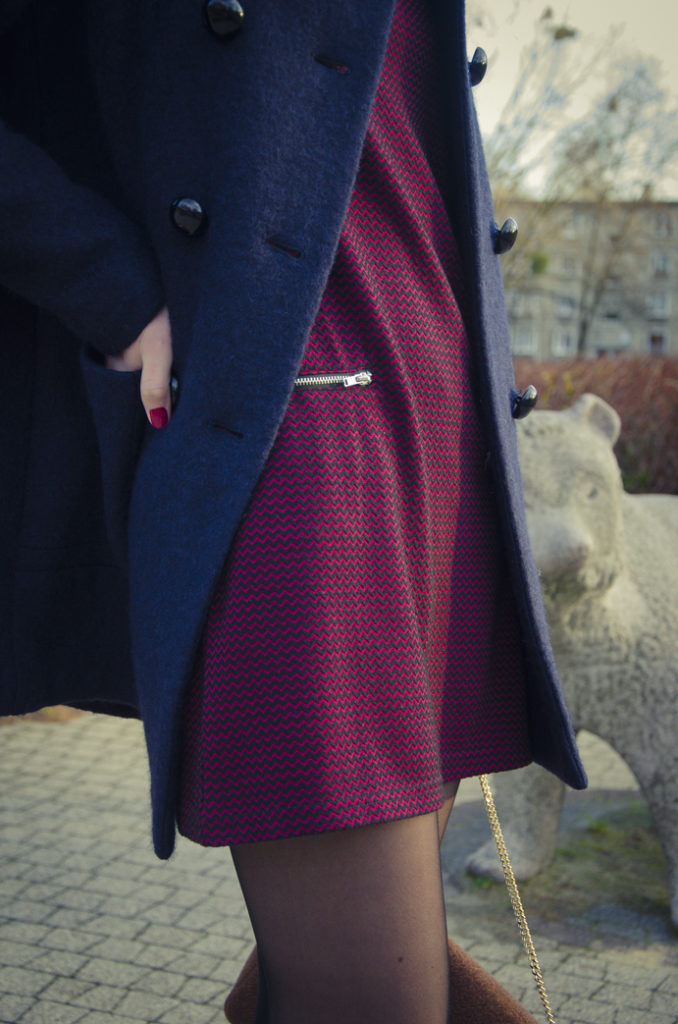 Okulary Massada Eyewear | Płaszcz Zara | Sukienka H&M | Torebka Au Printemps Paris | Rajstopy Calzedonia | Buty Lasocki
Glasses Massada Eyewear | Coat Zara | Dress H&M | Bag Au Printemps Paris | Tights Calzedonia | Shoes Lasocki