Lato mija bezpowrotnie. Jeśli jesień będzie łaskawa, obdarzy nas jeszcze kilkoma ciepłymi popołudniami, ale na więcej liczyć nie możemy.
Czasem wieczorami ogrzewając dłonie na kubku z gorącą herbatą przypominam sobie najciekawsze zdarzenia minionych wakacji.
Co wpływa na to, że niektóre momenty czy dni pamiętasz tak dokładnie, a czasem całe miesiące giną gdzieś w otchłani Twej pamięci i nie sposób przypomnieć sobie co się wtedy działo?
Wydaje mi się, że wszystko zależy od nas samych.
Jeśli nieustannie myślisz o przyszłości, zamartwiasz się i trapisz lub wymyślasz najróżniejsze scenariusze, nie zauważysz nawet piękna, które Cię otacza. Jeśli użalasz się nad sobą, wyrzucasz sobie, że coś jest z Tobą nie tak, porównując się do kogoś innego lub jeśli bez przerwy myślisz, że posiadając jakąś rzecz Twoje życie nagle nabierze innej wartości, to również żyjesz tylko w swojej głowie.
Co robić?
Wyjdź na zewnątrz. Rozejrzyj się, zanotuj każdy drobny szczegół życia codziennego. Starszą Panią w kapeluszu z pieskiem, gołębia na dachu, kolor liści, przypadkowy uśmiech nieznajomego w autobusie. Bo życie składa się z takich małych momentów.
Żyj chwilą!
Żyj tu i teraz, bo przyszłość dzieje się właśnie w tej chwili! Ciesz się tym, co masz w zasięgu ręki i twórz piękne wspomnienia.
Bądź świadoma każdej minuty Twojego życia. Nie marnuj go, bądź aktywna. Bo wspomnienia rodzą się wtedy, gdy delektujesz się chwilą. Kiedy robisz rzeczy niestandardowe, nowe. Nie będziesz pamiętać godzin spędzonych przed telewizorem czy poświęconych przeglądaniu facebooka.
Za to jedna rozmowa może zmienić całe Twoje życie.
I ostatnia rzecz, bądź miła dla innych. To nadaje życiu elegancji.
---
Summer is passes irrevocably. If the autumn is kind, it will give us a few warm afternoons, but we can not expect more.
Sometimes in the evenings when I warm my hands on a cup of hot tea I recall the most beautiful moments of past holidays.
Why some instants or days you remember so precisely, and sometimes the whole months are lost somewhere in the depths of your memory and there is no way to remember what happened then?
I think that everything depends on us.
If you constantly think about the future, worrying and afflicting or invent various scenarios all the time, you wont even notice the beauty that surrounds you.
If you constantly feel sorry about yourself, think that something is wrong with you, comparing yourself to someone else, or if you think that by having something your life suddenly take on a different value, you also live only in your head.
What to do?
Go outside. Look around, make a note of every small detail of everyday life. Old lady in a hat with her dog, pigeon on the roof, changing colours of the leaves, a smile of a stranger in the bus. Because life consists of such small moments.
Live here and now, the future is happening right now! Enjoy what you have at hand and create beautiful memories.
Stay aware of every minute of your life. Do not waste it, be active. Because memories are born when you savor the moment. When you do things unusual, new. You will not remember hours spent watching TV or scrolling facebook wall.
But one conversation can completely change your whole life.
And the last thing, be nice to others. It makes your life more elegant.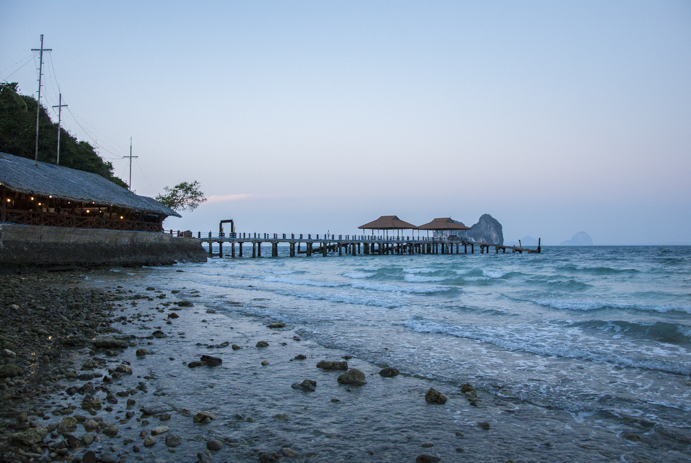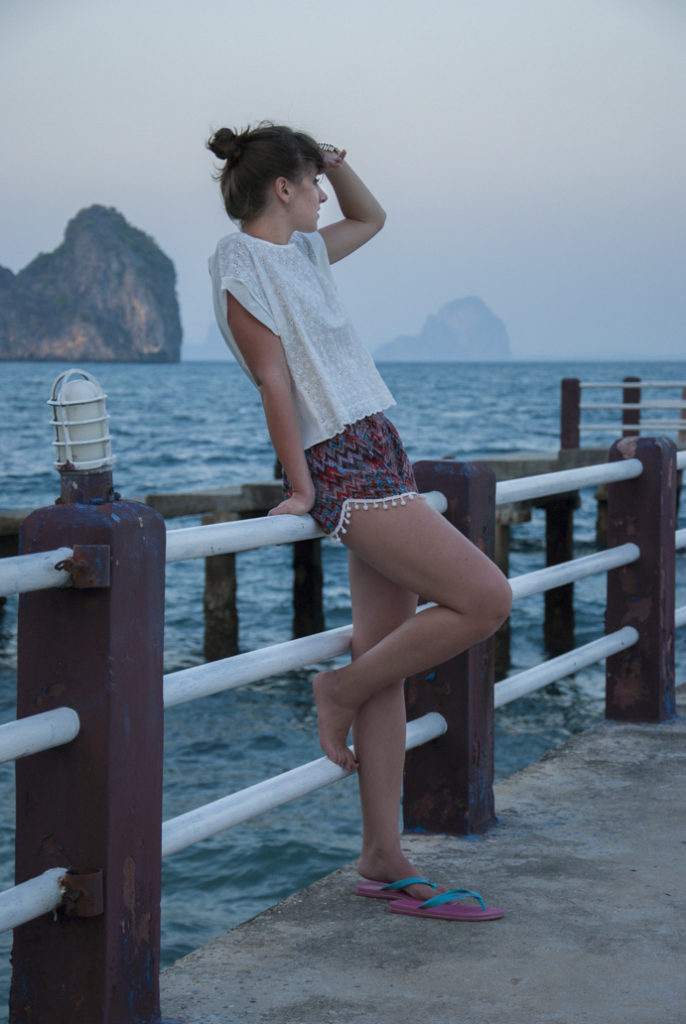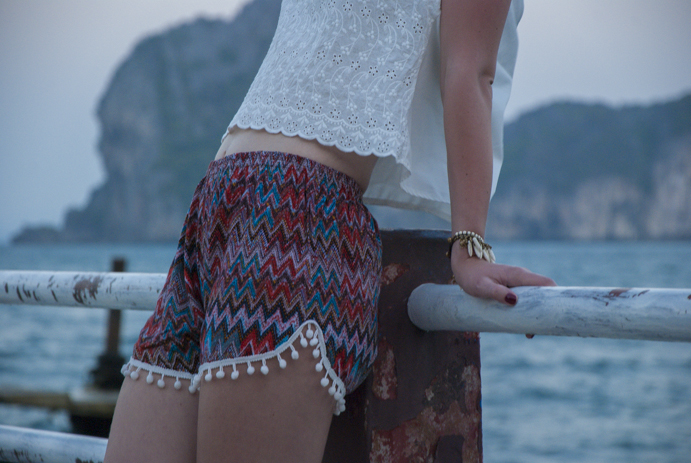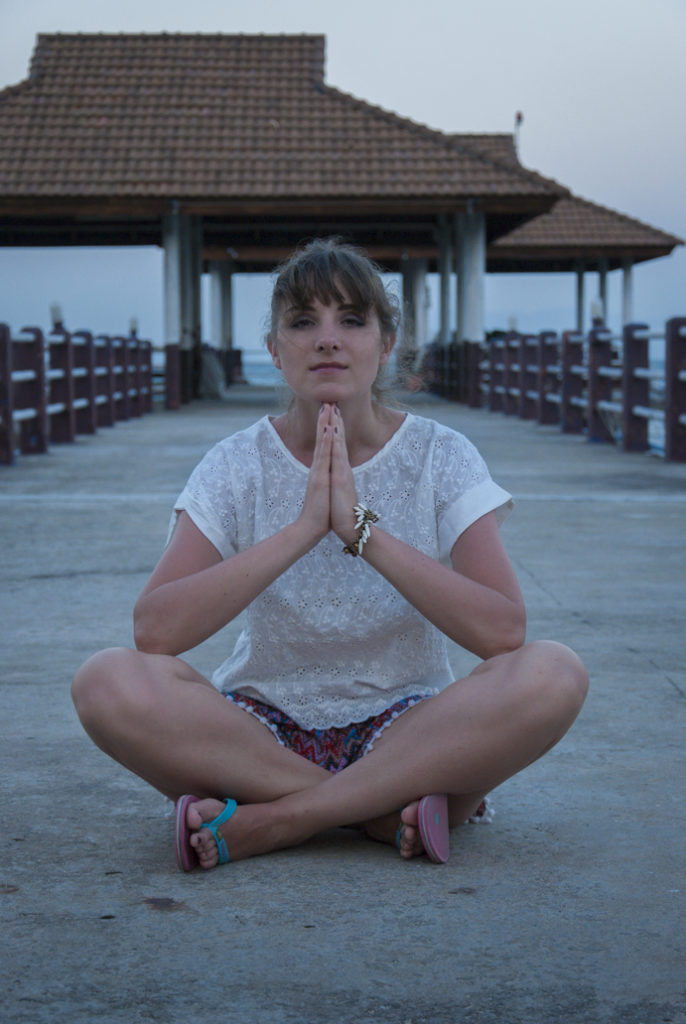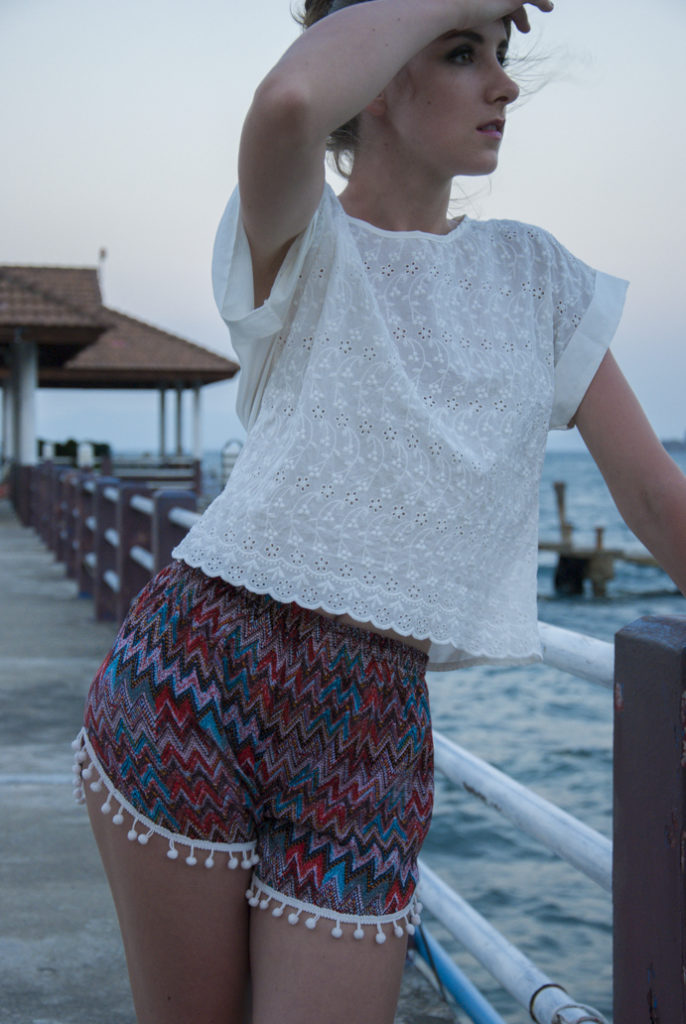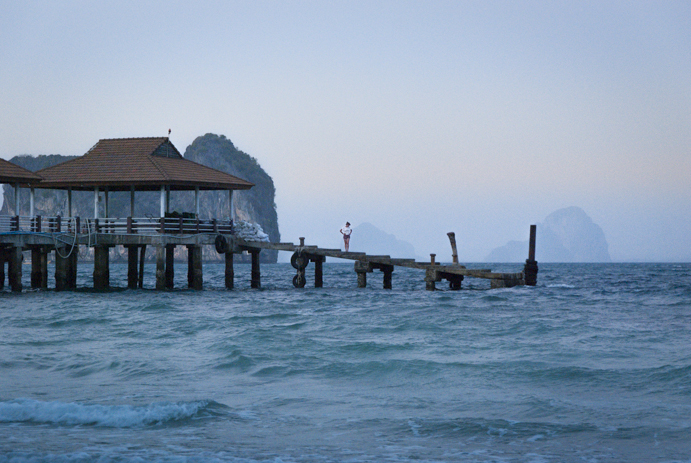 Bluzka, spodenki, bransoletka kupione na targu Chatuchak w Bangkoku | Japonki Ipanema
Top, shorts, bracelet bought on Chatuchak Market in Bangkok | Flats Ipanema