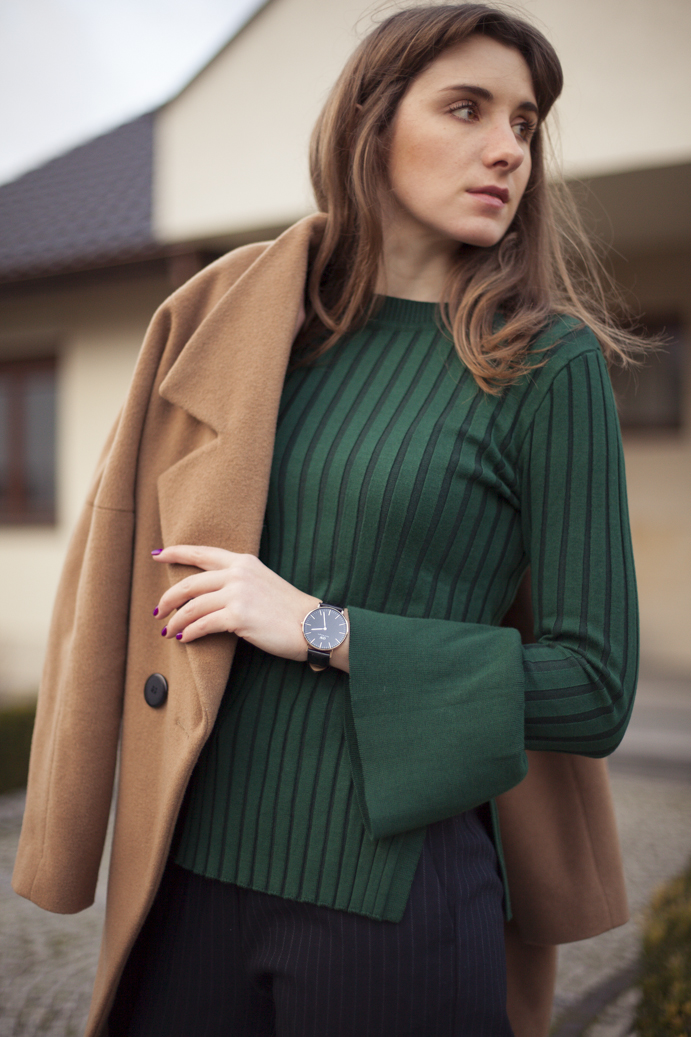 Szmaragdowy to piękny, głęboki i szlachetny kolor. Z czym go połączyć, by wydobyć jego niesamowitą barwę?
Zielony mnie uspokaja
W domu uwielbiam otaczać się kwiatami, szczególnie tymi o ciemnozielonych liściach. Kiedy byłam mała, był to mój ulubiony kolor. Później, na długi czas został wyparty przez ciemny fiolet. Powrócił do mnie dopiero niedawno, latem, gdy przygotowywałam sukienkę na ślub mojej siostry. Wpadła nam w ręce piękna, szmaragdowa koronka, z której później uszyta została moja kreacja.
Wielkie wyjście
Ciemna zieleń stworzona jest zresztą do wielkich wyjść (patrz: Michelle Obama). To idealny kolor dla sukni wieczorowych. Przepięknie wygląda w połączeniu ze złotem. Ze srebrem nabiera o wiele chłodniejszego wyrazu, za to, według mnie, lepiej pasuje blondynkom.
Na co dzień
Na co dzień, by wydobyć ten niesamowity kolor, najlepiej jest zestawić go z klasycznymi, spokojnymi kolorami, jak czerń, biel, granat i beż.
Jeśli lubisz niekonwencjonalne rozwiązania, połącz szmaragdowy z pudrowym różem, czerwonym, pomarańczowym, fioletem czy błękitem. Nie przejdziesz niezauważona!
Szmaragdowy sweterek
Ja wybrałam bardziej klasyczne rozwiązanie. Zestawiłam go z granatem, beżem i złotem.
Sweterek, który mam na sobie, jest klasyczny w swej formie, jednak przyciąga uwagę dzięki szerokim, rozkloszowanym rękawom. Takie rozszerzane rękawy są teraz bardzo modne.
Sweterek otrzymałam od StyleWe, platformy, o której pisałam Ci już wcześniej. Tak jak w przypadku spódnicy, jego jakość jest bardzo dobra. Noszę go często, prałam już kilkakrotnie i na razie wygląda tak, jak na początku.
Jeśli jesteś ciekawa, rzuć okiem na to, co oferuje platforma StyleWe, może znajdziesz tam coś odpowiedniego dla Ciebie?
I napisz mo koniecznie, co sądzisz o szmaragdowym kolorze i z czym najchętniej byś go połączyła?
---
Emerald is a beautiful, deep and noble color. How to match it to underline its amazing tone?
Relaxing green
At home I love to surround myself with flowers, especially those with dark green leaves. When I was young, it was my favorite color. Later, it has been replaced by a dark purple for a long time. It returned to me only recently, in the summer, when I prepared a dress for the my sister's wedding. I fell into a beautiful emerald lace, which my dress was made of later.
Special occasion
Dark green is made for the big events, galas, special nights out (see Michelle Obama). It's the perfect color for evening gown. It looks amazing in combination with gold. With silver it becomes much cooler but, in my opinion, it match better with blond hair.
Everyday
On a daily basis, to bring this amazing color out, it is the best to compare it with classic, calm colors like black, white, navy blue and beige.
If you like unconventional solutions, match emerald with light pink, red, orange, violet or baby blue. Such a great combination!
Emerald sweater
I chose a more classic solution. I combined it with a navy blue, beige and gold.
The sweater, which I'm wearing, is very classic in its form, but attracts the attention with wide, flared sleeves. Such an expanded sleeves are very fashionable at the moment.
I received this sweater from StyleWe, platform, that I wrote you about earlier on the blog. The same as with the skirt, the quality is amazing. I wear it often, I washed it several times and so far it looks like at the beginning.
I strongly recommend to take a look at what the StyleWe platform offers right now, maybe you'll find something for you?
And don't forget to let me know what do you think of emerald color and how would you prefer to matched it with?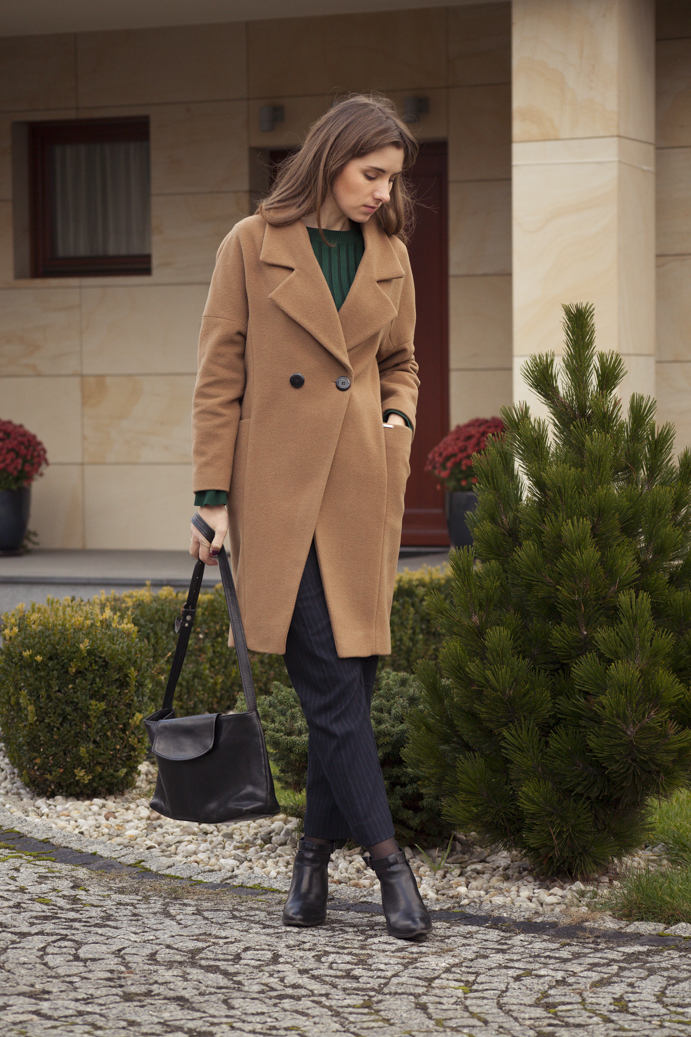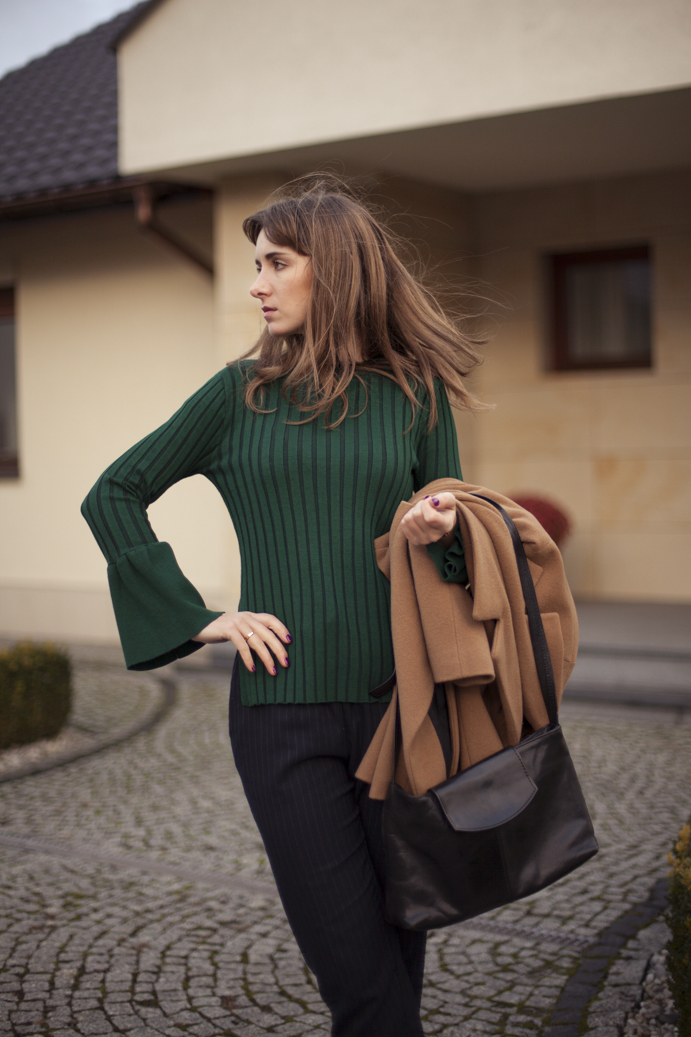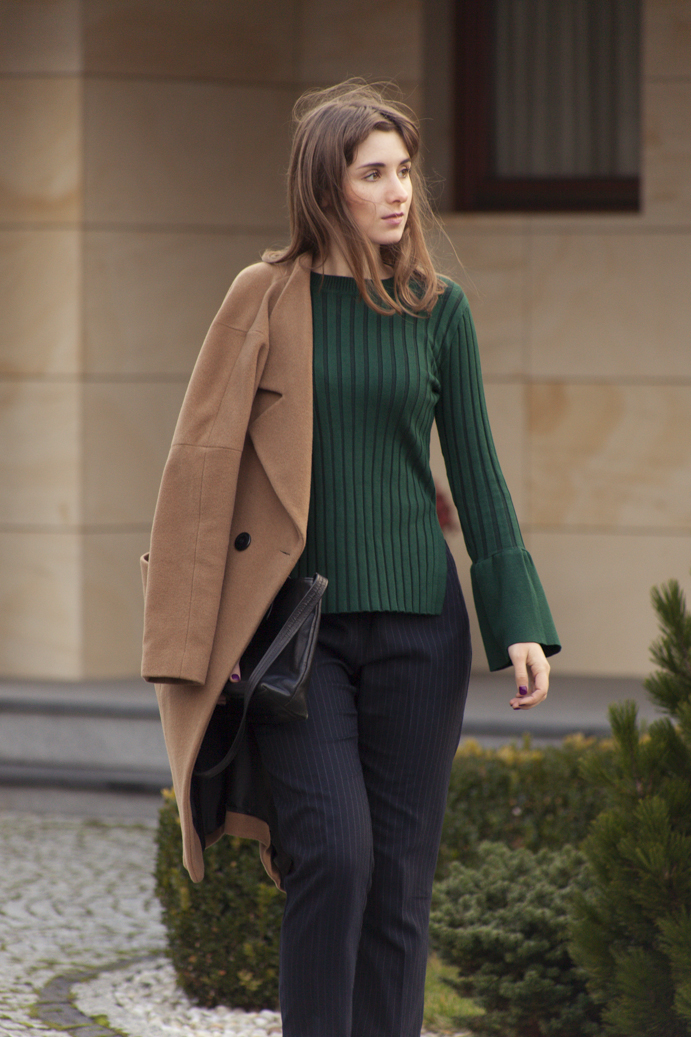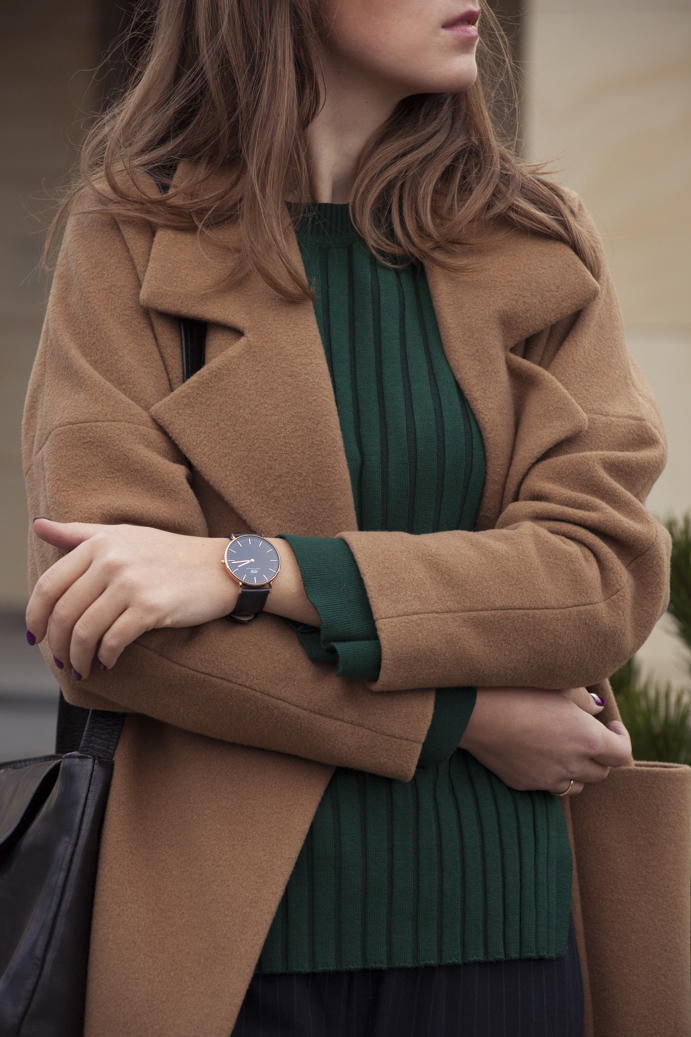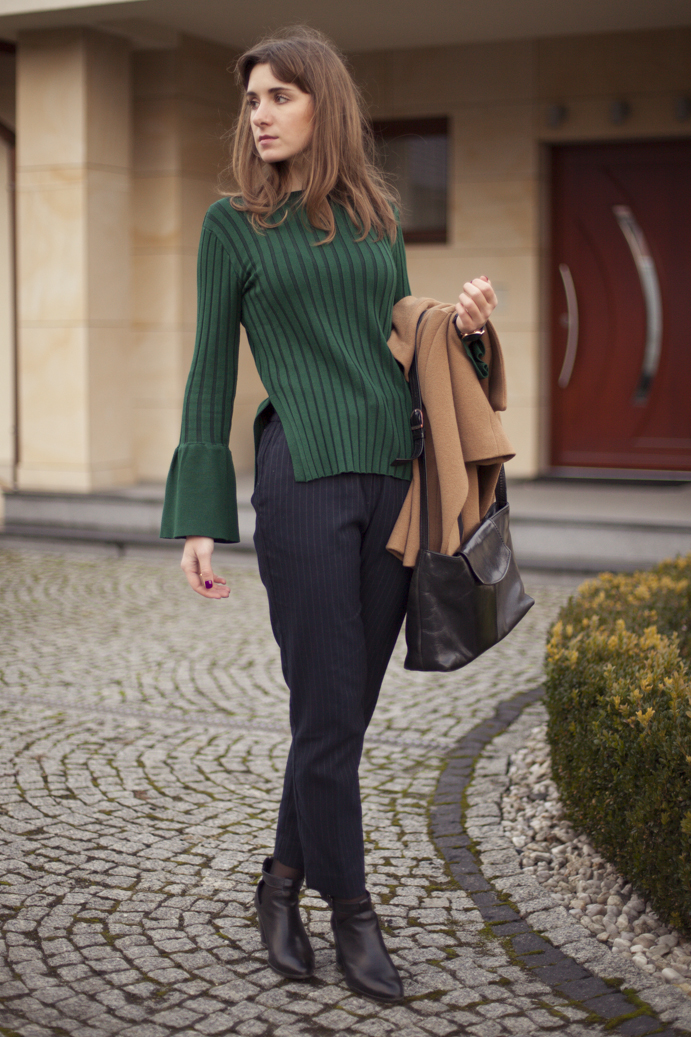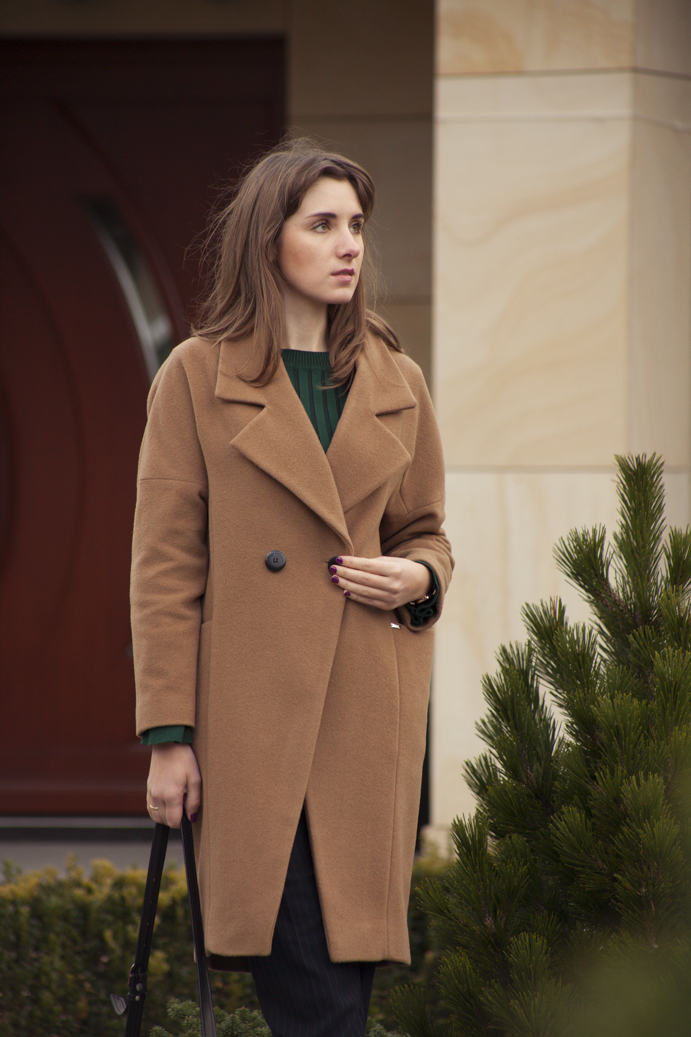 Sweter JIANSHAN| Spodnie H&M | Płaszcz Simple | Zegarek Daniel Wellington | Buty Lasocki
Sweater JIANSHAN | Trousers H&M | Coat Simple | Watch Daniel Wellington | Shoes Lasocki