Witajcie! Dni
mijają mi w tak ekspresowym tempie! Za oknami już lato w pełni, ptaki śpiewają,
czyli wszystko tak, jak być powinno.
Oto trzy reczy,
które urzekły mnie w maju.
Hi everyone!
Days are passing by so fast those times. Summer is already here, birds are
singing, everything on the right place.
There are three things
that have fascinated me in May.
1. "Universa Opera Otwarta" Jana A. P.
Kaczmarka – koncert na krakowskim Rynku, w którym miałam przyjemność
uczestniczyć. A była to przyjemność dla zmysłów niedoopisania. Muzyka poruszająca,
wykonanie nienaganne, świetne, jak na plenerową imprezę nagłośnienie, słowem –
bez zarzutu.
Koncert odbywał się z okazji
650-lecia założenia Uniwersytetu Jagiellońskiego. Utwór, plasujący się na
granicy sztuki wysokiej i popularnej, został specjalnie na tę okazję napisany
przez Jana A. P. Kaczmarka. Dzieło, w którym teraźniejszość przeplata się
z historią niesie ze sobą przesłanie, że Rozum ma zawsze pierwszeństwo
przed Siłą. Niby takie oczywiste, ale jednak nie dla wszystkich…
1. "Universa Opera Otwarta" by Jan A. P.
Kaczmarek – the concert on the Cracow Market Square, that I had a pleasure to
attend. And it was a pleasure indescribable for my senses. The music was
touching; performance impeccable; great, as for the open air event, sound, in a
word – irreprochable.
The
concert was organized to celebrate 650 years of Jagiellonian University. The
composition, that places between the high and popular art, was created
especially for this ocation by Jan A. P. Kaczmarek. In this masterpiece, the
present interwines with the history and gives us the meaning that the Reason
has always priority over the Strenght. It is so obvious, but some still can't
follow…



2. Rowery. Fenomen, rzecz, która mnie
totalnie pochłonęła. Od bardzo dawna marzyłam o posiadaniu takiej miejskiej
damki z wiklinowym koszem. I w tym miesiącu moje marzenie nareszcie mogło
zostać zrealizowane! Przez cały maj miałam obsesję i gdy tylko widziałam kogoś
na rowerze, od razu się przyglądałam, choć wcześniej raczej nie zwracałam na to
uwagi. Muszę przyznać, że zaczęły mi się wyłaniać nawet pewne style, sylwetki
rowerzystów: sportowcy, luzacy, oldskulowcy, no i panienki idealnie ubrane na
swych błyszczących rowerach, nie zwracające żadnej uwagi na otoczenie,
kierujące się filozofią, że by ominąć przeszkodę należy wyłącznie używać
dzwonka 🙂
Zrobimy niebawem
sesję z rowerem, to zobaczycie to cudo (przypominam, że niebawem w
terminologii tego bloga wynosi czasem więcej niż miesiąc, czasem więcej niż
trzy). Póki co, mała próbka, która zaostrzy Wam apetyt na więcej!
2. Bicycles. This is a thing, that
completely absorbed my attention last moth. I was dreaming about the city bike
with a wicker basket for a long long time and this month my dream finally came
true! I had an obsession to observe every single person that was passing by on
the bike, which is quite strange – before I didn't pay attention to that. I
must admit that I've started to distinguish some bikers styles, like a sporty,
cool, oldschool, and this pretty girls with the shiny bikes that don't care
about everything around, who think that to miss the obstacle you need to ring
the bell.
We will prepare
the photo shooting with my bike soon so that you can also admire this miracle
(just want to recall that "soon" in the terminology of this blog means
something about one month, sometimes even three). By now, some little sample to
whet your appetite.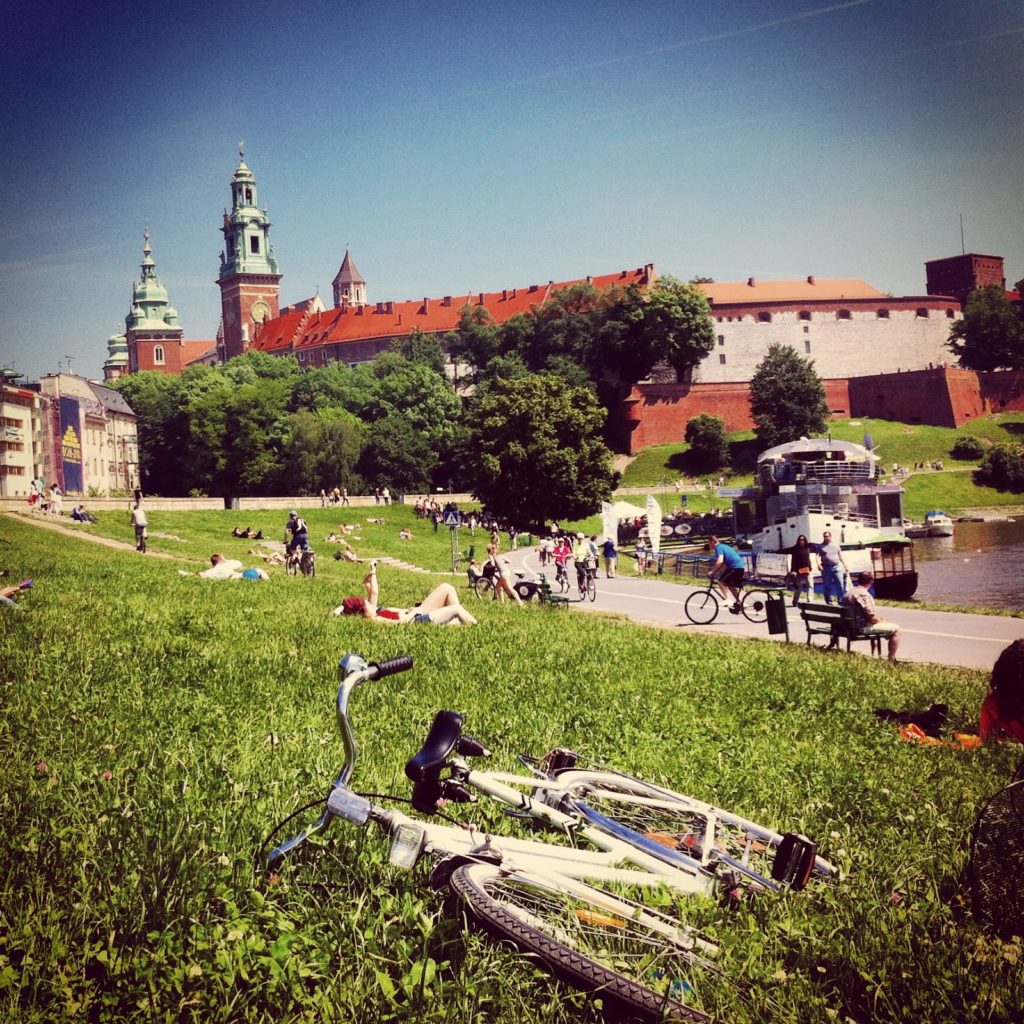 3. Kąpiel mineralna w basenie "Wojciech" w
Lądku Zdrój. Spędziłam jeden dzień w tym malowniczym miasteczku, ale 45-ciu
minut zabiegu nie zapomnę do końca życia. Takich przeżyć estetycznych nie
doświadczyłam chyba nigdy wcześniej. Argumenty zdrowotne (kąpiel w wodzie
siarczkowo-fluorkowej) niezbyt do mnie przemawiały, natomiast piękny marmurowy
basen w tureckim stylu, pochodzący z XVII wieku i znajdujący się pod
neobarokową kopułą po prostu nie pozwalał mi zamykać oczu. Myślałam, że to
jakiś piękny sen – od teraz inaczej będę sobie wyobrażała sanatoria. Dodatkowo,
w dekoracjach przeważał styl secesyjny, którego jestem wielbicielką, woda miała
kolor błękitny i 30 stopni, a podczas kąpieli byliśmy tylko w 5 osób! Takie
cudowne zakończenie niedzieli, w iście królewskim stylu! Jeśli tylko będziecie
mieli okazję pojechać do Lądka, pamiętajcie, by wziąć ze sobą kostium i czepek.
To obowiązkowy punkt programu!!!
3. The mineral bath in the swimming pool "Wojciech" in
Lądek Zdrój. I've spend one day in this picturesque village, but this 45 minutes
of mineral treatement I'll never
forget. I've never had this kind of aestethic experiences in my entire life.
The healthy reasons (bath in the sulfido-fluoride water) wasn't so important
for me, but beautiful, marble swimming pool in a Turkish style, created in XVII
century and placed under a Neo-Baroque dome, just did't let my eyes shut for a
single second. I felt like I was dreaming – now my vision of sanatorium is
quite different. What is more, the secession style that I admire, was so
visible on the decorations, the water was so blue and had 30 degrees, and
during the bath we were only 5 person! Such a wonderful end of Sunday, in a
royal wayJ If you ever have a chance to visit Lądek, just
remember to take a swimsuit and swim cap with you. This is an obligatory point
to see!
Miłego weekendu :*
Have a nice weekend :*