Oglądałaś Pocahontas? Ja byłam jej wielką fanką! Rozpuszczone włosy, pióra, bieganie boso po pokrytej rosą polanie, kąpiel w wodospadzie, ach… Ta fascynacja pozostała mi do dziś i wyraża się zamiłowaniem do dzikiej natury i …frędzli.
Dobrze się składa, bo królują one niepodzielnie już od kilku sezonów i nic nie zapowiada, by miały łatwo ustąpić. To dobrze, bo bardzo lubię uczucie wolności, które dają. To taka namiastka indiańskiego życia.
Dlatego gdy zobaczyłam tę pelerynkę na wieszaku w sklepie, nie zastanawiałam się długo. Muszę przyznać, że nie jest to najbardziej praktyczna rzecz, jaką mam. Przez brak rękawów i wcięcie na ręce trudno się ją nosi. Jest wykonana ze sztywnej skóry,
więc nie dopasowuje się do ciała. Ale przez to trzyma formę i ładnie się prezentuje. Zdjęcia robiliśmy w bardzo wietrzny dzień (co widać po moich włosach) i bardzo dobrze chroniła od wiatru.
Frędzle – jak je nosić?
Peleryna jest bardzo mocnym akcentem, więc reszta stroju jest stonowana: proste dżinsy, czarne buty, t-shirt w paski nawiązujący do morskiego klimatu.
Jeśli chcesz nosić frędzle, najlepiej żeby była to tylko jedna rzecz z całego Twojego zestawu. Inaczej możesz wyglądać jak w przebraniu kowboja. Zawsze lepiej zachować umiar, wtedy dobrze podkreślisz oryginalną część garderoby.
Le Touquet
To już druga sesja, którą robiliśmy w bardzo klimatycznym miasteczku Le Touquet na północnym wybrzeżu Francji. Z jednej strony, ze swoimi pięknymi posesjami, równo przyciętymi trawnikami i podjazdami bez ogrodzeń przypomina amerykańskie przedmieście, a z drugiej, w centrum prezentuje piękną, typowo paryską zabudowę. Miasteczko znajduje się zresztą dwie godziny drogi pociągiem od Paryża, dlatego wielu Francuzów przyjeżdża tu ze stolicy na weekend. Co jest charakterystyczne, to pastelowe drzwi w różnych odcieniach, znajdujące się tuż przy plaży. W małych pomieszczeniach ludzie przechowują swoje rzeczy na plażę.
To super rozwiązanie i tak uroczo wygląda, nie sądzisz?
Pozdrawiam Cię serdecznie!
---
Did you watch a Pocahontas movie? I was a big fan of her! Loose hair, feathers, running barefoot through the dewy meadow, swimming in the waterfall, ah … I have this fascination even today which is expressed by love for wildlife and … fringe.
As you know, the fringe is strongly present for several seasons and is not predicted to have easily give way. That's good, because I like the feeling of freedom that it give. It is the ersatz Indian life.
So when I saw this cape on a hanger in the store, I did not think long. I have to admit that this is not the most practical thing I have. By the lack of sleeves it is hard to wear it. It is made of a rigid skin, so do not adapts to the body. But it keeps the form and presents nicely. Pictures were taken in a very windy day (as seen through my hair) and the cape protected me very well from the wind.
How to wear the fringe?
It is a very strong accent, so the rest of the outfit is subdued: simple jeans, black shoes, t-shirt striped referring to the maritime surrounding.
If you want to wear fringe, the best is to choose only one thing like that on your entire outfit. Otherwise you look like dressed as a cowboy. It is always better to stay simple, which will well-emphasize the original piece of clothing.
Le Touquet
This is the second session we did in a very nice town of Le Touquet on the northern coast of France. On the one hand, with its beautiful buildings, evenly trimmed lawns and driveways without fences it looks like in an American suburb, and on the other, the city center presents a beautiful, typically Parisian architecture. The town is indeed two hours by train from Paris, which is why many French people come here from the capital to take a rest during the weekend. What is typical is the door in pastel shades, located right on the beach. In small spaces, people store their stuff on the beach. This is a great solution and looks so cool, don't you think?
Kisses!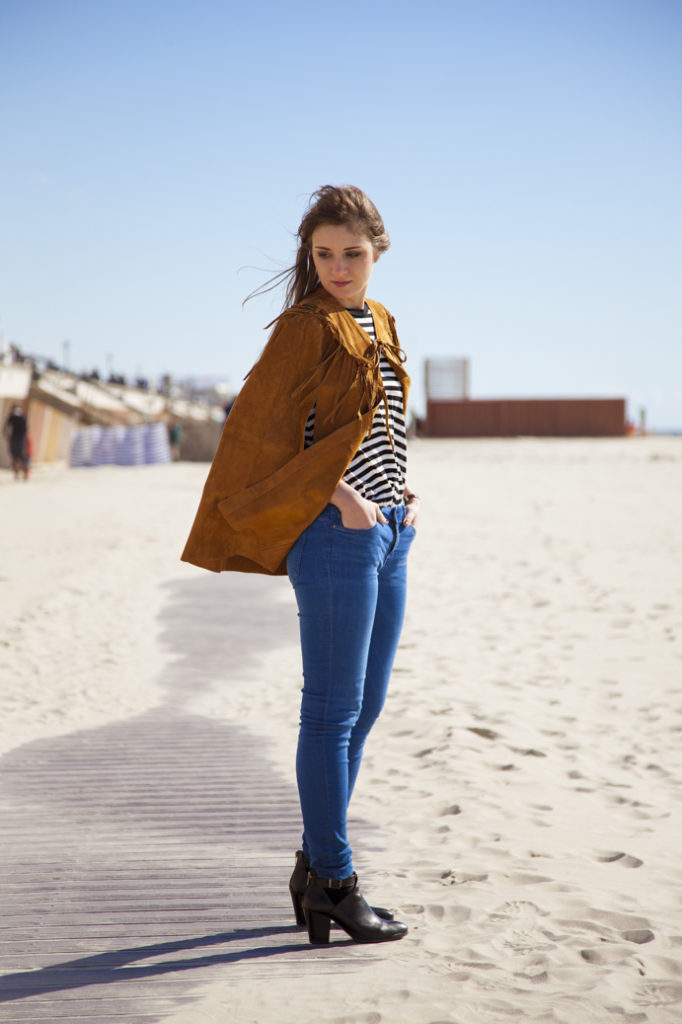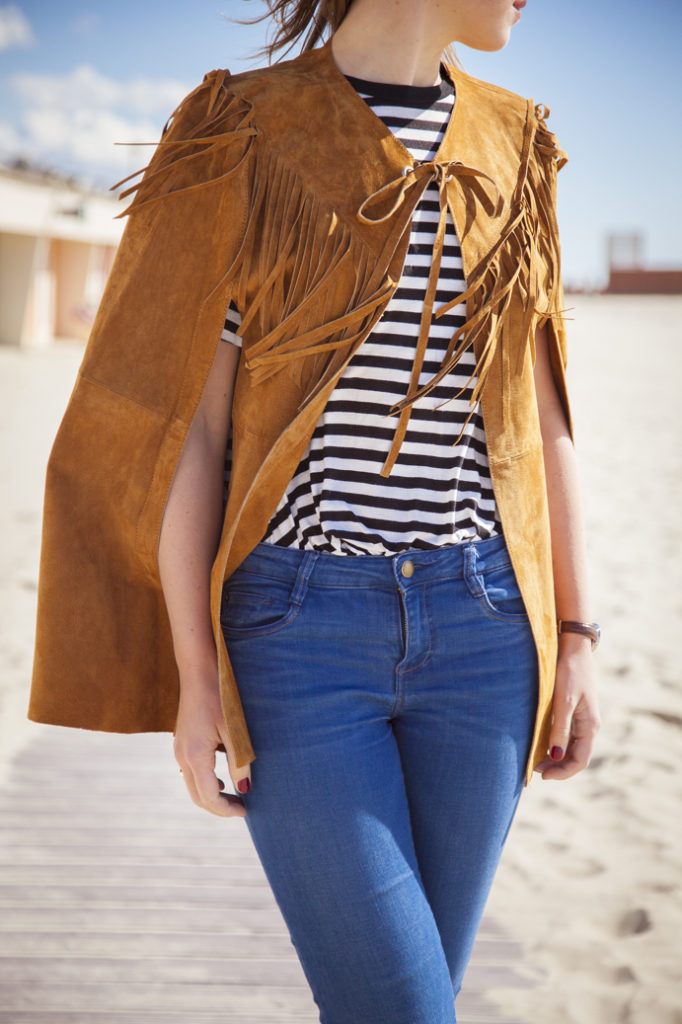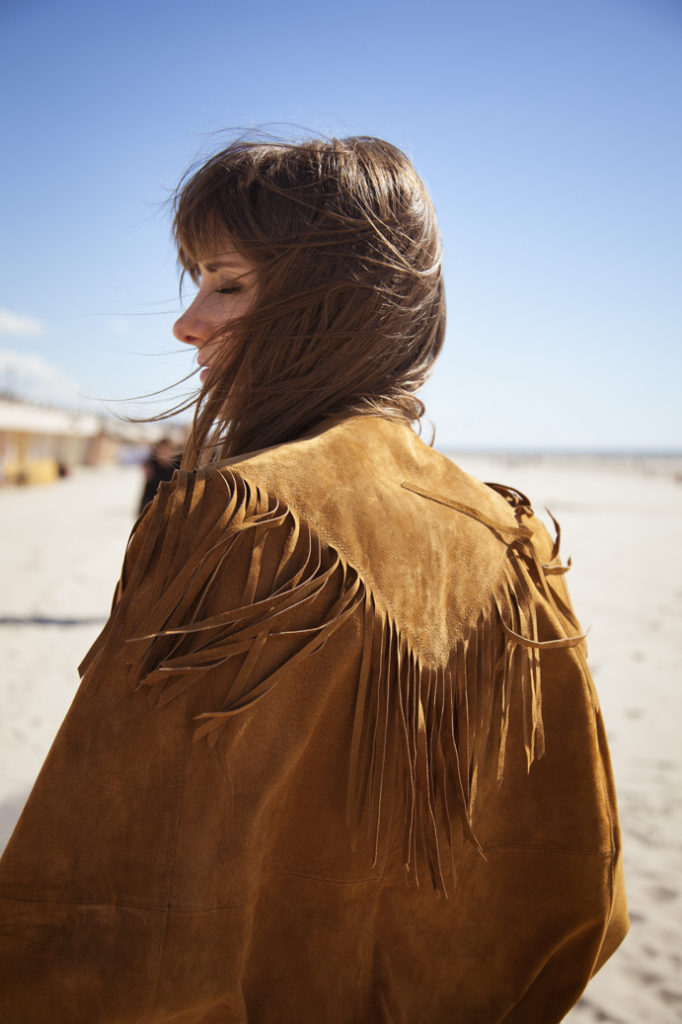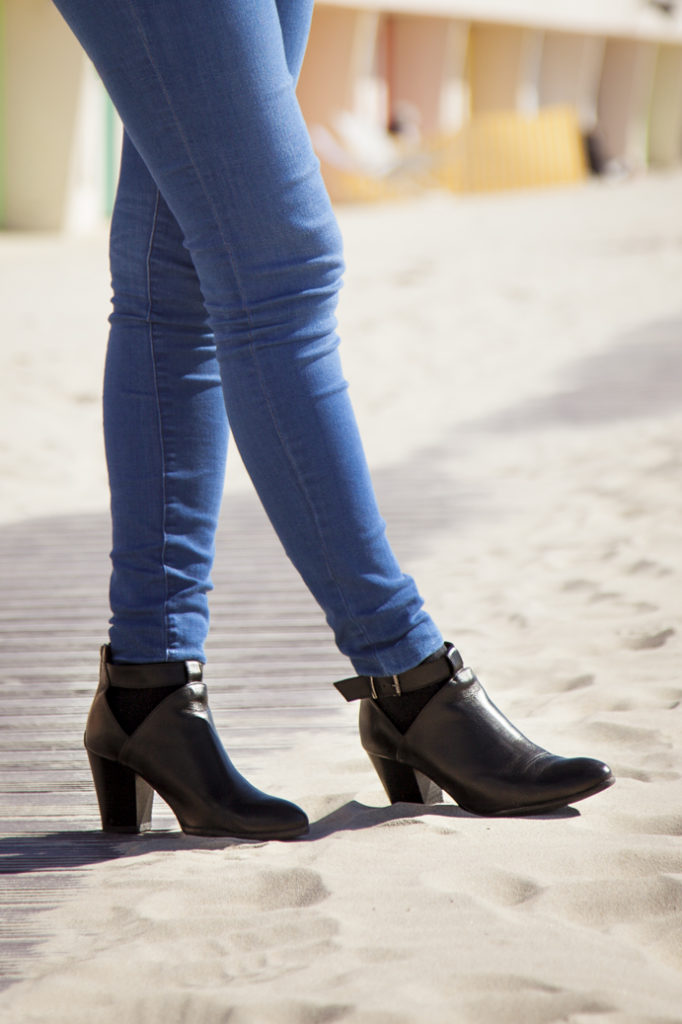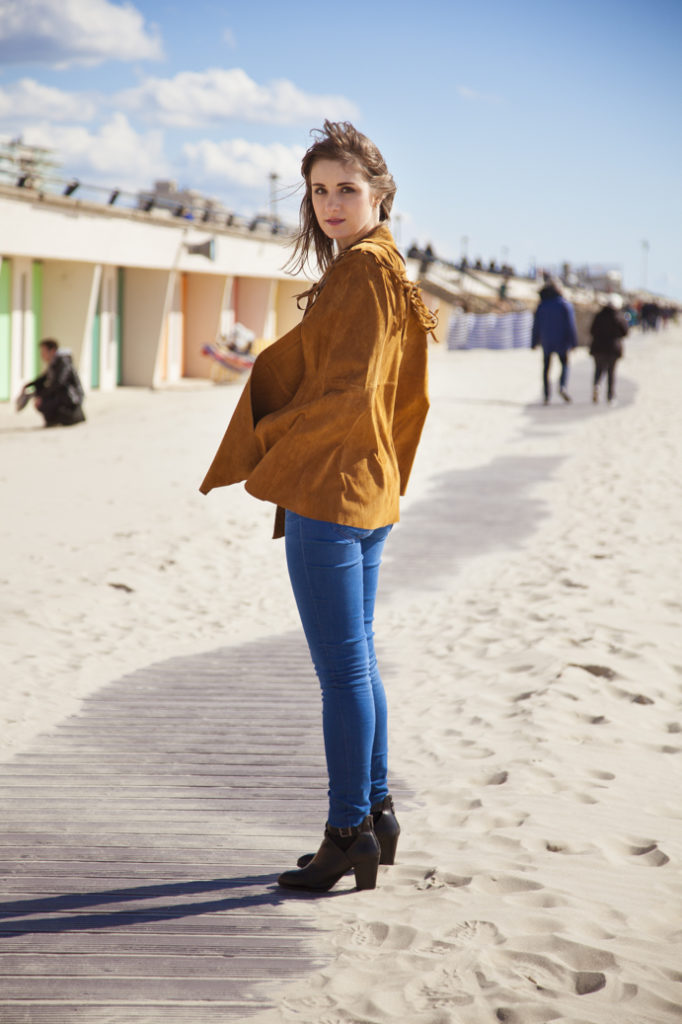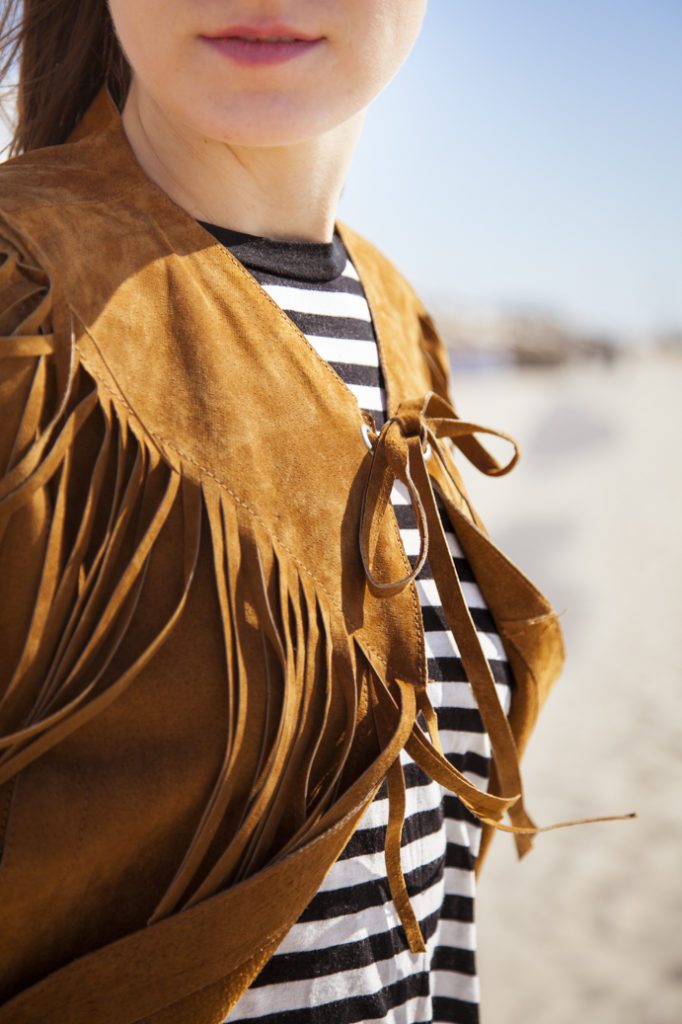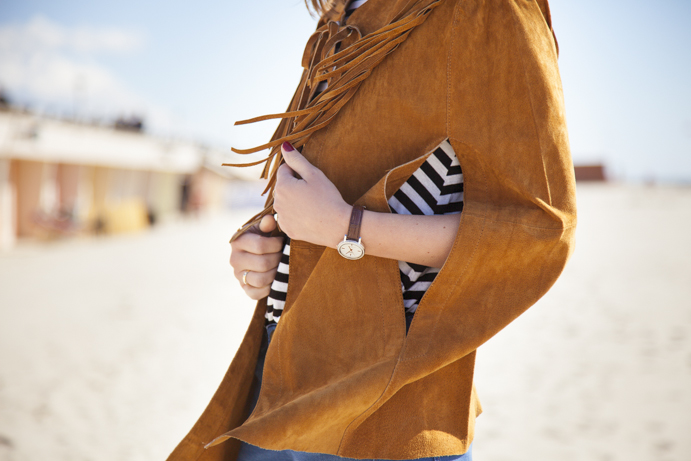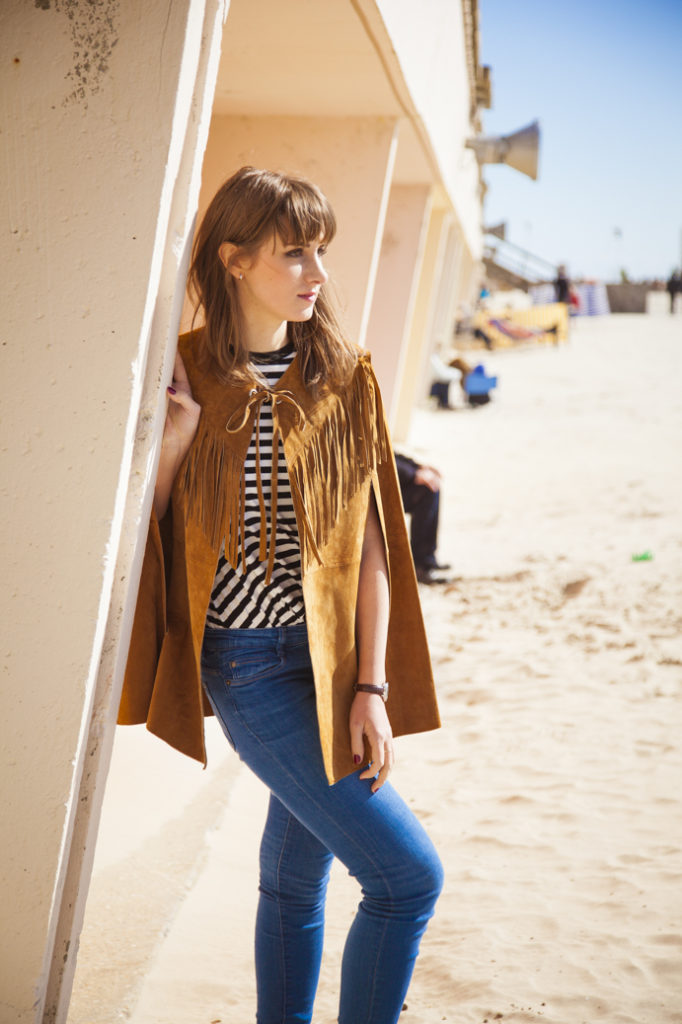 Peleryna i jeansy Zara | T-shirt H&M | Buty Lasocki
Jacket and jeans Zara | T-shirt H&M | Shoes Lasocki