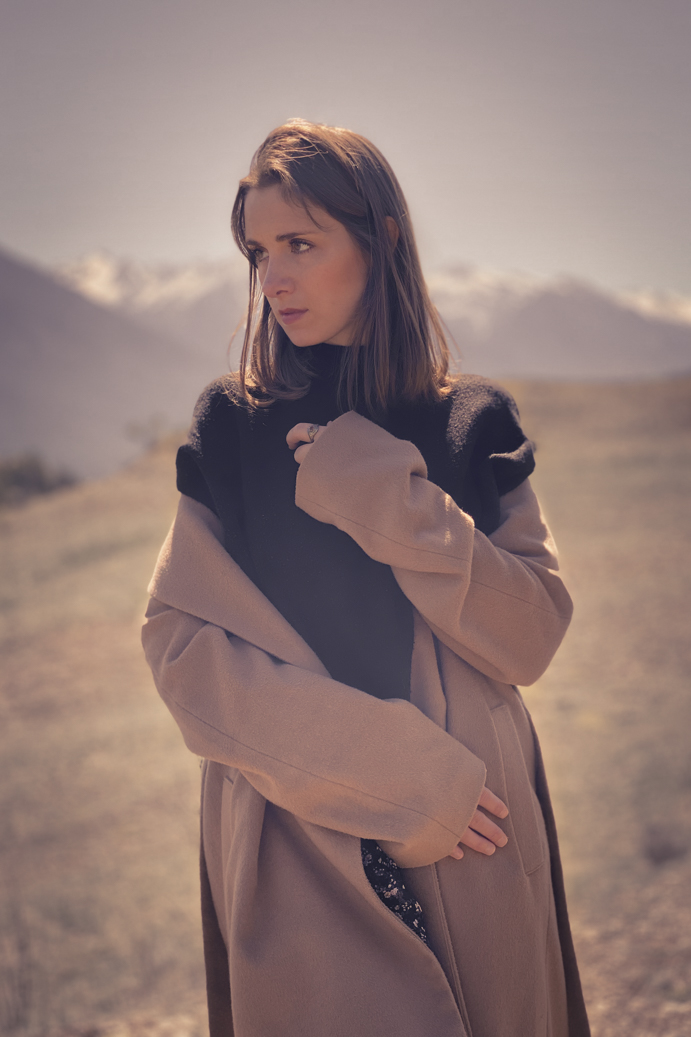 Co wybrać: dom czy mieszkanie? To pytanie z serii co było pierwsze: jajko czy kura.
I tutaj każdy ma swoje zdanie, bo każdy z nas potrzebuje czegoś innego na danym etapie swojego życia.
Miejskie życie
Do 18 roku życia mieszkałam w domu z wielkim ogrodem. Później, idąc na studia, zmieniłam styl życia, mieszkając w dużych miastach: Łodzi, Paryżu, Strasburgu i Krakowie. I choć ten tryb życia bardzo mi odpowiadał, tęskniłam czasem za naturą. Weekendowe wypady na łono natury pozostawiały jednak niedosyt. Jednocześnie nie potrafiłam sobie wyobrazić życia bez gwaru miasta, gdzie cały czas coś się dzieje. Gdzie można wyjść na kawę, do kina, na zakupy, bez organizowania większej wyprawy. Pomysł na zamieszkanie w domu z ogrodem pojawił się nieśmiało wraz z narodzinami dziecka. Jednak szybko go odrzuciliśmy, bo nie czuliśmy się gotowi, by zamieszkać z dala od miasta. Było to dla nas trochę jak życie na pustelni. Temat powrócił wraz z koronawirusem.
Dom na odludziu
Od początku czułam, że cała sprawa tak szybko się nie skończy. W momencie wybuchu pandemii byliśmy, od ponad miesiąca, poza domem. Mój mąż miał dwumiesięczny kontrakt na drugim końcu kraju, więc pojechaliśmy tam wszyscy w trójkę. Jak tylko padła informacja o propozycji zamknięcia w domach, stwierdziliśmy, że nie możemy wracać do małego mieszkania w centrum miasta. Nawet nie mamy balkonu! Nasz maluszek rozniósłby wszystko po kątach. Mamy jednak to szczęście, że nasza rodzina dysponuje wakacyjnym domkiem w górach, na zupełnym odludziu. Wszystko mówiło mi, że to będzie najlepsze miejsce dla nas.
Życie w trybie slow
Na początku zadawałam sobie pytanie: tylko co ja tam będę robić? Przecież to nie dla mnie! Jednak już po kilku dniach okazało się, że żyje mi się tu znakomicie. Wcale nie potrzebuję miejskiego zgiełku, butików, atrakcji. Wyrobiłam sobie zdrowe nawyki i codzienną rutynę. Lubię wyjść do ogrodu w dowolnym momencie dnia. Nawet w piżamie – to dla mnie całkowity luksus! Mam czas na przygotowanie syropów i konfitur z wiosennych ziół: mniszka lekarskiego i pierwiosnka. Wokół słychać śpiew ptaków, szum strumyka, bicie dzwonów w pobliskim kościółku. To życie składające się z małych, codziennych chwil. Proste i spokojne.
Tego mi było trzeba. Wiem też, że w przyszłości tego będziemy szukać.
Eksplorując
Korzystając z pięknych, naturalnych terenów wokół, chciałam stworzyć sesję przypominającą klimat dzikiego zachodu. Z bezkresną przestrzenią skąpaną w słońcu. Bohaterką jest cudowna spódnica polskiej marki Laurella, o której pisałam Ci w poprzednim wpisie o moich ulubionych polskich markach.
Jest lekka i zwiewna, cudownie się ją nosi. Składa się z trzech rzędów falban, które swobodnie falują na wietrze. Świetne jest w niej to, że można ją nosić cały rok – zimą z kozakami, latem z sandałkami. Ja zestawiłam ją z moimi klasykami z Uniqlo – czarnym półgolfem i płaszczem. Muszę tutaj dodać, że jestem zachwycona jego jakością: od listopada do kwietnia nosiłam go prawie codziennie i dalej wygląda jak nowy! Do tego dodałam parę oryginalnych, bo błyszczących sztybletów, które znalazłam, sama nie wiem jakim cudem, na promocji w H&M za niecałe 30 zł!
Bardzo podoba mi się ta sesja. Bije z niej taka wolność. I chyba widać to też na mojej twarzy – ten spokój i pewność, że jestem na właściwej drodze.
A Ty? Wolisz mieszkać w mieście czy w domu, na łonie natury?
---
What is your choice: house or flat?
This is a question type: what was first: egg or chicken?
And there is no correct answer, as everyone has their own opinion. Each of us needs something different at a given stage of our lives.
Big city life
I was living in a house with a big garden until I was 18. Then I started my studies moving to the city. I changed my lifestyle, living in large cities: Łódź, Paris, Strasbourg, and Kraków. And although this lifestyle suited me very well, I missed nature sometimes. However, weekend getaways in nature were unsatisfied. At the same time, I couldn't imagine living without the hustle and bustle of the city, where life doesn't stop. That is to say, where you can go out for a coffee, a movie, or shopping without organizing a major trip. The idea of living in a house with a garden appeared shyly with the birth of our child. However, we quickly rejected it because we didn't feel ready to live far from the city. For us, it was a bit like living in a hermitage. Subsequently, the idea came back with the coronavirus.
A house in a remote area
From the beginning, I felt that the whole thing would not end so quickly. We were out of home for over a month when the pandemic started. My husband had a two-month contract at the other end of the country, so we decided to go there together, the three of us. As soon as information about the proposal of lockdown was released, we found that we can not go back to a small apartment in the city center. We don't even have a balcony! I other words, our toddler would destroy literally everything. Although, we are lucky that our family has a holiday home in the mountains, far from everything. Meanwhile, something was telling me that this would be the best place for us.
Life in slow mode
In the beginning, I asked myself: but what will I do there? It's not for me! Surprisingly, after only a few days it turned out that this kind of lifestyle is perfect for me. I don't need any bustle, boutiques, or attractions at all. What is more, I developed healthy habits and daily routines. I adore going to the garden at any time of the day. Even in pajamas – it is a total luxury for me! Moreover, I have time to prepare syrups and confitures from spring herbs: dandelion and primrose. At the same time, I like to listen to birds singing, the sound of a stream, the ringing of bells in a nearby church. A life consisting of small everyday moments. Simple and calm.
That was what I needed. I also know that we will be looking for it in the future.
Exploring
Using the beautiful, natural areas around, I wanted to create a session inspired by the Wild West. With endless space bathed in sunlight. The heroine is the wonderful skirt of the Polish brand Laurella. In addition, I wrote about it in my previous post concerning my favorite Polish brands.
The skirt is light and airy. It consists of three rows of frills that freely wave in the wind. What is more, it's great that you can wear it all year round – in winter with boots, in summer with sandals. So I matched it with my classics from Uniqlo – black turtleneck and coat. To clarify, I must say it: I am delighted with the quality of this coat. For instance, I wore it almost every day from November to April and it still looks new! I styled it with a pair of shiny Chelsea boots, which I found on promotion at H&M for less than 7 EUR!
I really like this photo session. It evokes such freedom. And I think it can also be seen on my face – this peace and confidence that I'm on the right path.
And you? Do you prefer to live in a city or at home in the countryside?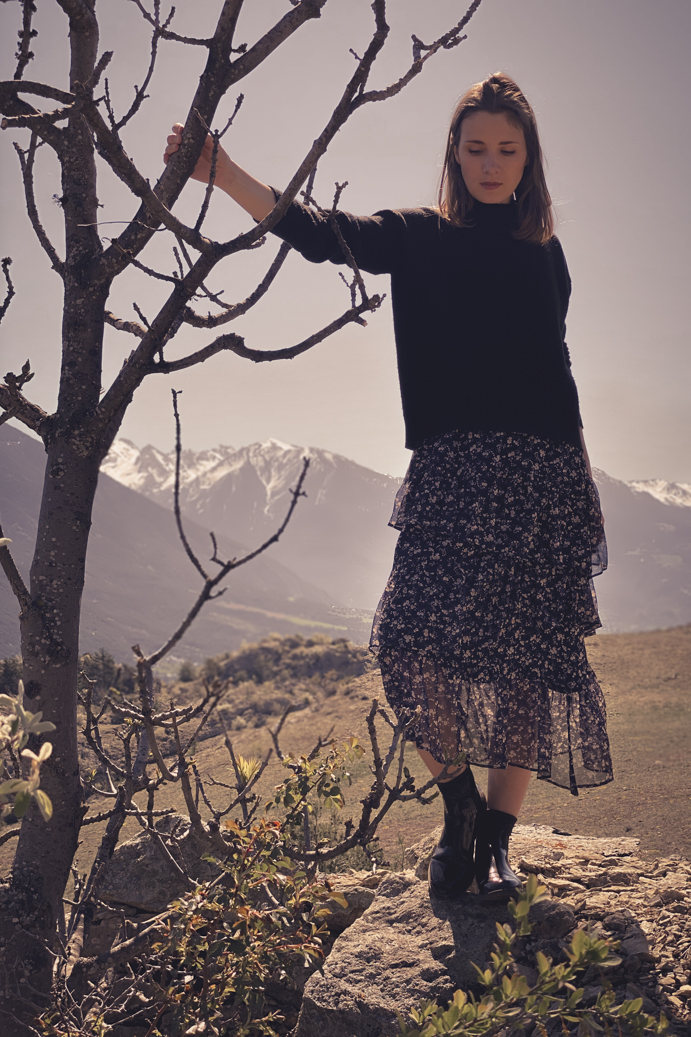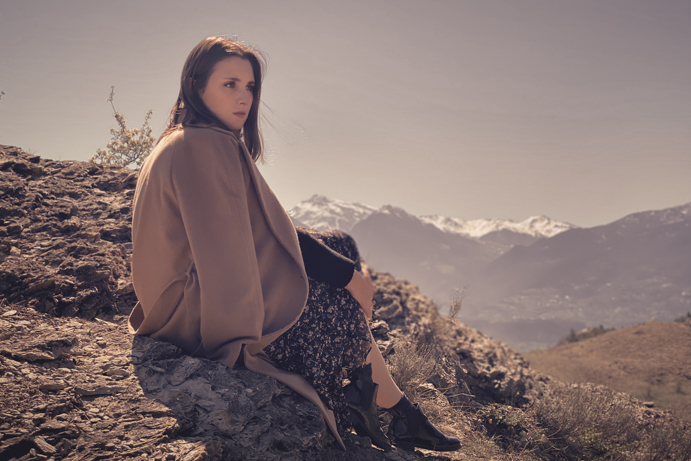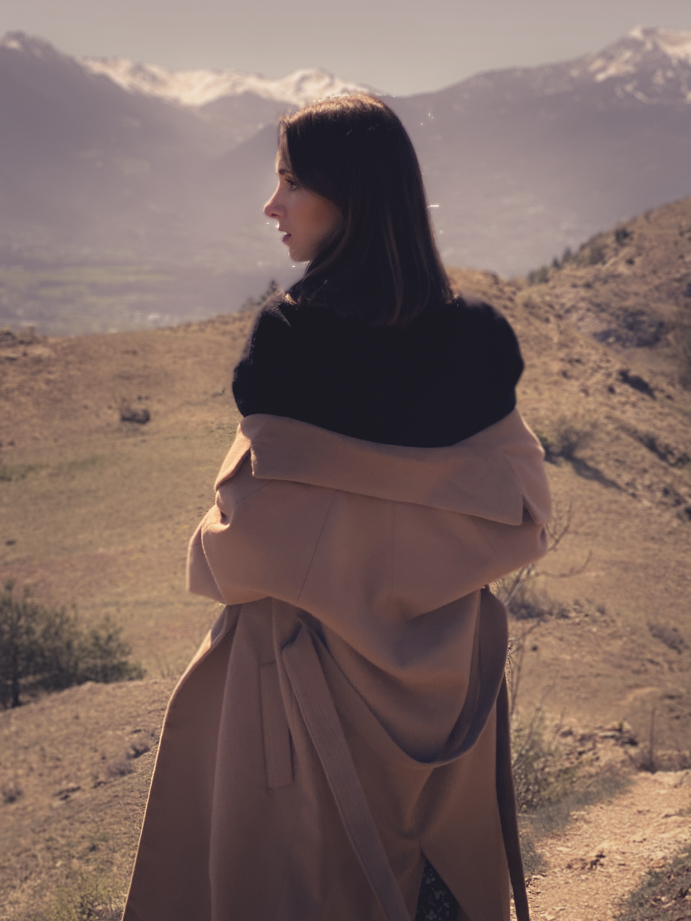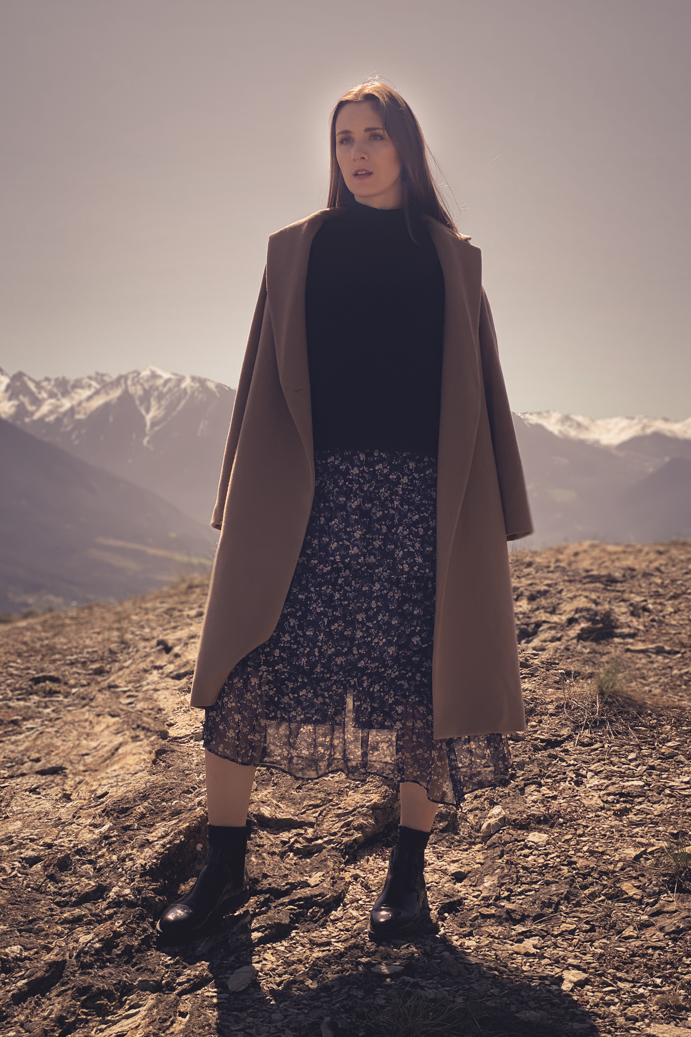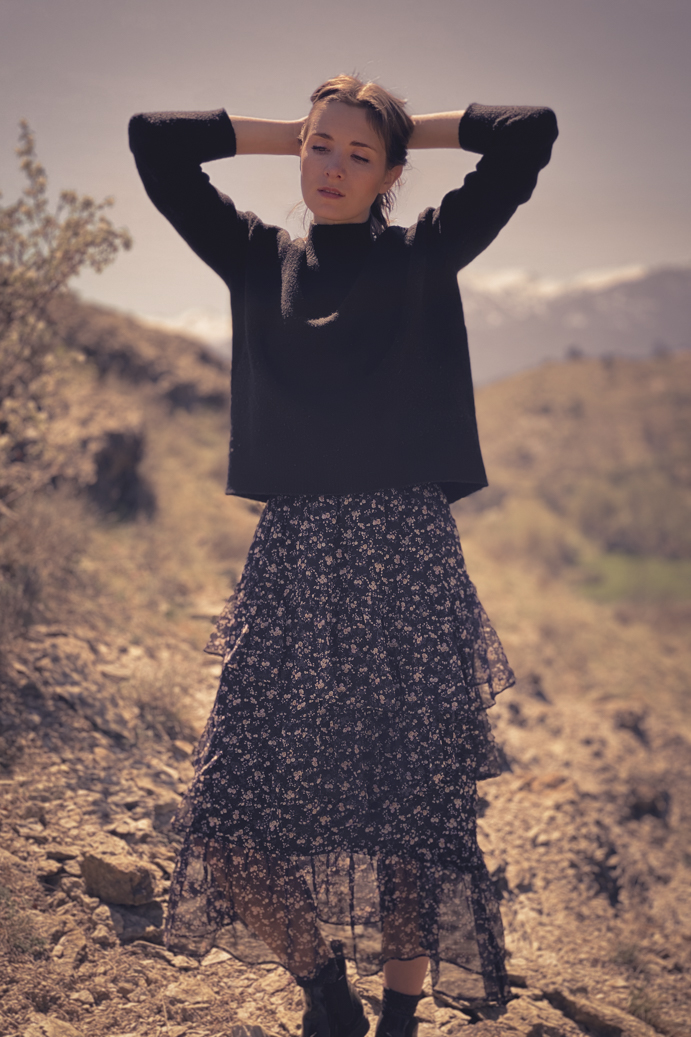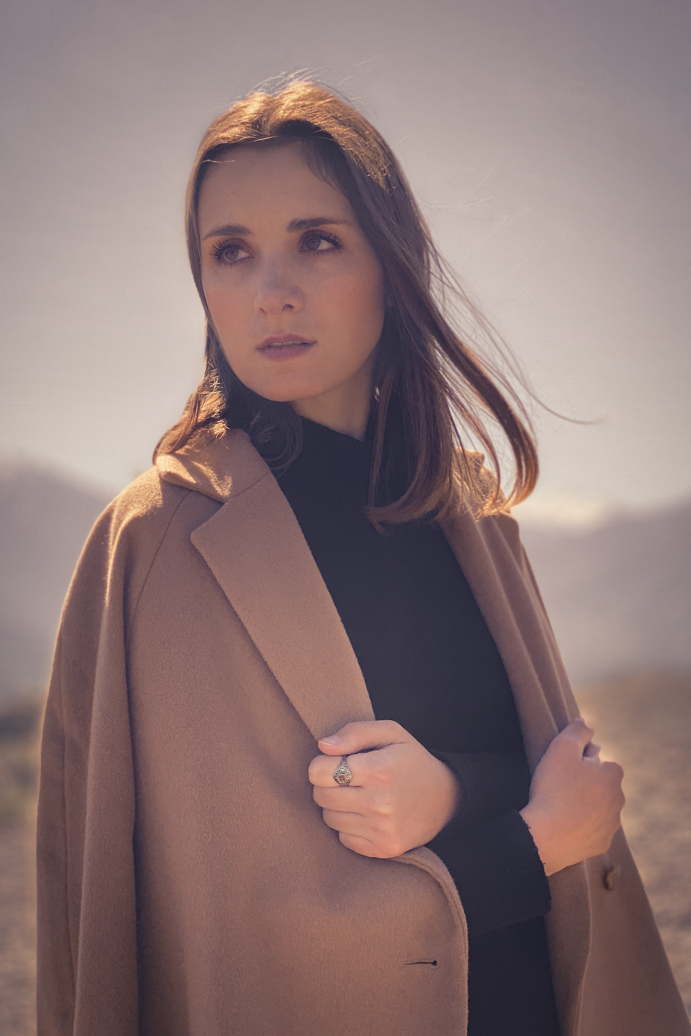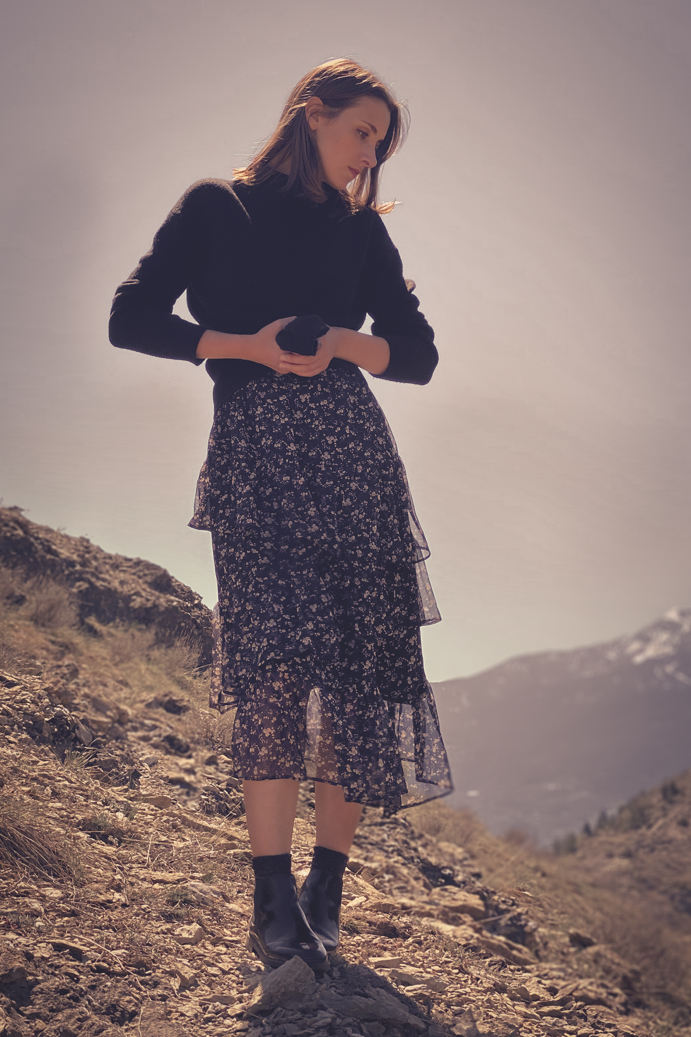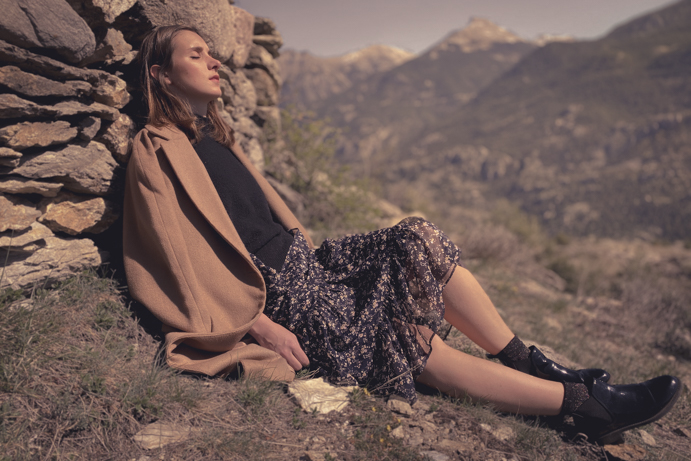 Spódnica Laurella | Golf i płaszcz Uniqlo | Buty i skarpetki H&M
Skirt Laurella | Turtleneck and coat Uniqlo | Shoes and socks H&M