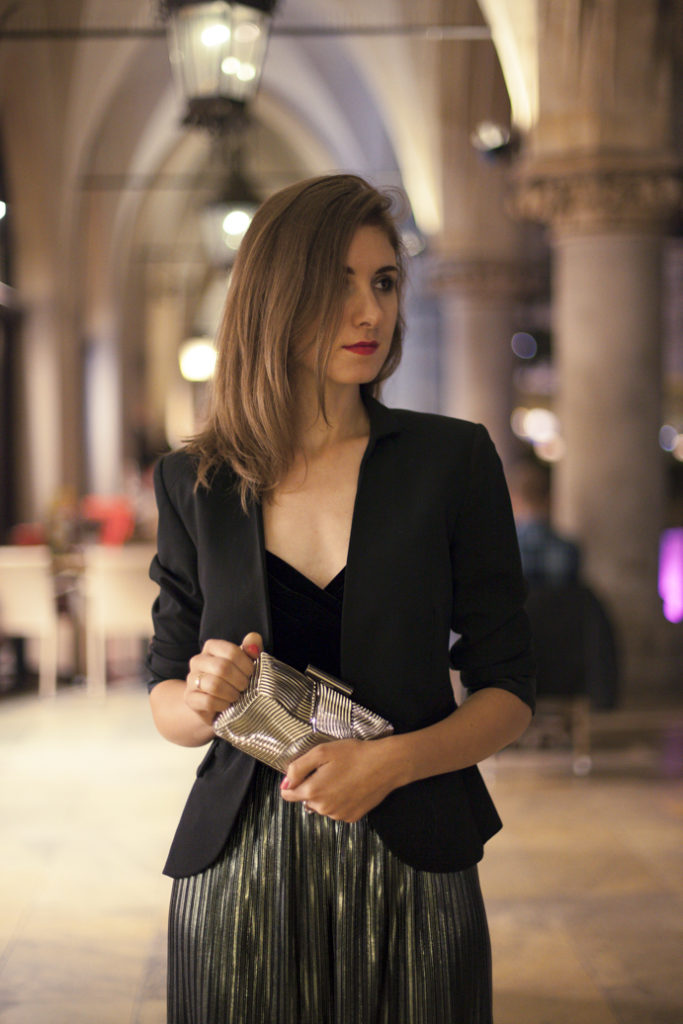 Wielkimi krokami zbliża się sylwestrowa impreza i karnawał. Okazji do świętowania będzie niemało. Wykwintne bale, klubowe imprezy, kameralne wieczory ze znajomymi …
Jesteście gotowi?
Ja powoli się przygotowuję, dlatego postanowiłam podzielić się z Wami pomysłem na sylwestrową kreację. Jest tak jak lubię: bez zbędnego kombinowania i przesytu.
Jak ubrać się na imprezę sylwestrową/karnawałową?
By podkreślić tą prostą stylizację, wybrałam spódnicę z połyskującego, plisowanego materiału. Dodaje elegancji i takiego świątecznego charakteru. Jest bardzo wyrazista, dlatego zrównoważyłam ją czarnym zamszowym topem i czarnym klasycznym żakietem, przypominającym smoking.
Srebrna torebka i buty nadają całości lekkości i kokieterii.
Takie dyżurne zestawienie uratuje Was nieraz w różnych sytuacjach. W zależności od okazji, można zmieniać jego charakter poprzez makijaż, fryzurę czy dodatki. Ale to już zostawiam Waszej inwencji twórczej.
Kochani, bawcie się wyśmienicie w tą sylwestrową noc, jak i przez wszystkie 364 następnych dni! Niech nic nie powstrzymuje Was przed sięganiem po Wasze marzenia.
:*
---
The New Year's Eve party and carnival are getting closer and closer. There will be a lot of opportunities to celebrate. Exquisite balls, parties in the club, intimate evenings with friends … Are you ready?
I slowly prepare, so I decided to share with you the idea for New Year's Eve look. This is the way I like it: simple and class. To emphasize this styling, I choose a skirt with a shiny, pleated material that adds elegance and such a festive character. Black suede top and black classic jacket, resembling a tuxedo looks so good together.
Silver handbag and shoes give the whole outfit lightness and modernity.
This look will save you more than once in different situations. Depending on the occasion, you can change its character through makeup, hairstyle and accessories. You should turn on your creativity.
But what is the most important, have fun in this excellent New Year's Eve, and all the next 364 days! Let nothing prevents you from reaching for your dreams.
Spódnica i buty Promod | Top Orsay | Żakiet Monnari | Torebka Parfois
Skirt and shoes Promod | Top Orsay | Jacket Monnari | Bag Parfois